Dominic Moore gets ready to serve up Smashfest X
Set for July 20 at Steam Whistle Brewery in Toronto, Smashfest, makes its return to Toronto.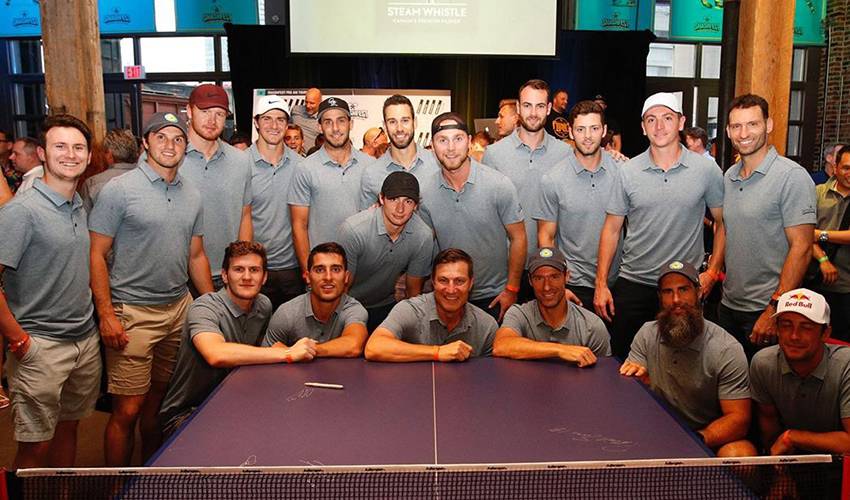 ---
The 10th rendition of the Smashfest Charity Ping-Pong Challenge once again promises to be a smash hit.
Set for July 20 at Steam Whistle Brewery in Toronto, Smashfest, the annual charity event that's hosted by Dominic Moore, and supported by the NHLPA, makes its return to Toronto after a two-year hiatus from the city as a result of the global pandemic.
The fan inspired event will once again bring together current and former NHL players, celebrities and other sports personalities, along with fans and supporters, as they compete in spirited ping-pong matches with championship honours and bragging rights on the line.
"It's hard to understand unless you've been to Smashfest," said Moore, who played 897 career NHL games and currently is an NHL broadcast analyst for ESPN. "For those who have been in years past, they are blown away at how interactive it is, and how they are truly able to meet their favourite players and get to spend some time talking to them. It really is special. The Pro-Am part of the night, when the players and fans play together, that is a lot of fun. I look forward to that as much as I do the singles tournament."
Past player participants include familiar NHL names like Mitch Marner, Taylor Hall, William Nylander, Adam Fox, Chris Kreider, Mark Scheifele, Steven Stamkos, five-time champion Patrick Eaves, defending champ Alexander Kerfoot, and several others.
Announcements about which players will be attending the 2022 event will be made in the coming days.
"It never ceases to amaze me, the generosity of NHL players," said Moore. "One of my ESPN colleagues, a SportsCenter anchor, he talked to me recently and was mentioning how nice the NHL players are to deal with. You hear it everywhere. Smashfest is another great example of that. The support from the players over the years, now going into our 10th event, has been nothing short of spectacular."
Kerfoot should have plenty of competition in his quest to repeat as singles champion.
"Someone is going to have to try and knock him off if they want to claim that title," said Moore. "But I think it's pretty wide open. 'Kerf' is an excellent player, but he should have plenty of competition."
The money raised from Smashfest, which has brought together over 100 professional athletes since 2012, helps assist research into rare cancers with the Broad Institute of MIT and Harvard through the institute's Rare Cancer Cell Line Factory, as well as concussion research through the Steve Moore Foundation and Dr. Arthur Brown and his associates, at Western University's Schulich School of Medicine & Dentistry and Robarts Research Institute.
To date, Smashfest has raised over $1.1 million collectively for concussion and rare cancer research.
"The goal of the event is to support two distinct causes that have affected so many people. The resources surrounding rare cancer and concussions are very limited, so this event is important in driving awareness and research while having fun."
The million-dollar question for Moore when it comes to the event is if he has a few wins in him for the night of July 20.
"As for my ping-pong skills, I have to say that I haven't been keeping up with my game quite as much. I do have an outdoor table, but the net broke and I need to get a new one. It's just one of a litany of excuses that I have. I have not played much, so I have no claim to be a favourite of any kind going into Smashfest this year."
Win or lose, Moore remains grateful for the widespread support he continues to receive for the event that originally began in 2012 as a way to showcase players' personalities off the ice while raising money for concussion and rare cancer research.
He is looking forward to many more years of spearheading the one-of-a-kind charity gathering.
"When we started out, we had this idea of creating this great event. What makes ping-pong so great is that no matter good or bad you are, it's a lot of fun and anyone can play. We've been doing this interactive, inclusive event for 10 years, and people continue to love it. I hope we can continue to put it on. The players continue to give of their time for this and I'm just so grateful for that."
Tickets for Smashfest are on sale now.