Smashfest surpasses million-dollar mark in eighth year
The NHLPA-supported Charity Ping-Pong Challenge, in the name of concussion and rare cancer research, hit new heights as Patrick Eaves earned a fifth straight title.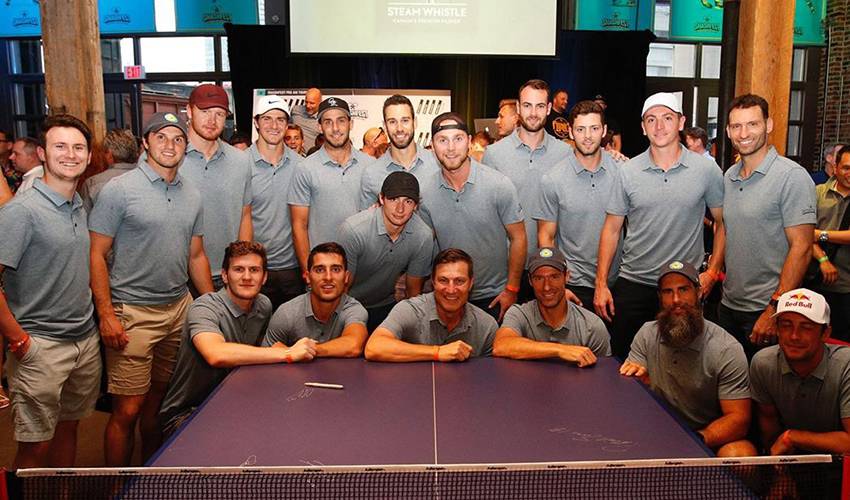 Nearly 20 current and former NHL players came together Thursday to help Smashfest, the NHLPA-supported Charity Ping-Pong Challenge founded by Dominic Moore, reach the million-dollar mark in its eighth year at Steam Whistle Brewing.
"Surpassing the $1-million mark is something that everyone involved in Smashfest should be incredibly proud of. From the players, to the guests, as well as the sponsors, we are thrilled to commit these much-needed dollars to concussion and cancer research," said Moore, 12-season NHL veteran.
Also hitting a special mark was tournament regular, Patrick Eaves, who picked up his fifth straight tournament win in the single's competition – where current and former NHLPA members square off at the table.
"Equally important is the awareness we've been able to generate for the causes through our event. We look forward to bringing Smashfest to more people in more places in the very near future," continued Moore.
Moore forecast a strong showing from fellow Harvard alum Alexander Kerfoot, who made his tournament in his new city. Newly acquired by the Toronto Maple Leafs, Kerfoot bowed out before Eaves and Jeff Skinner showed down in the single's final, but he was crowned the Pro-Am champ in the competition which pairs players, celebrities and charity ambassadors with fans.
Fans were also treated to a surprise guest – Maple Leafs netminder, Frederik Andersen. The night also lent the perfect opportunity for Andersen to get to know new teammates Kerfoot and Ben Harpur.
That doesn't mean that anyone went easy on each other.
Eaves, Harpur, Kerfoot, Skinner and Moore were joined by Sam Bennett, Chris Campoli, Anthony Cirelli, Carlo Colaiacovo, Jason Dickinson, Adam Fox, Nick Kypreos, Josh Leivo, Steve Moore, Mark Scheifele, Cam Talbot, Brandon Tanev and Jimmy Vesey.
Throughout the evening, Danielle Michaud (Sportsnet on-air talent) hosted interviews with several players for Smashfest on the NHLPA's Facebook page.
With another successful event in the books, Moore looks to the future of the tournament and expanding the reach.
"We started this with a small idea, so to see what it has become, is extremely gratifying to see what we've been able to do with the money... we want to embrace growing it," Moore told reporters.
You can find all of the highlights from #SmashfestVIII on Instagram and Twitter – and if you're interested in learning more about the tournament or donating to the causes, visit smashfest.ca!