Dominic Moore serves up ninth annual Smashfest
Smashfest continues to attract some of hockey's biggest names both past and present.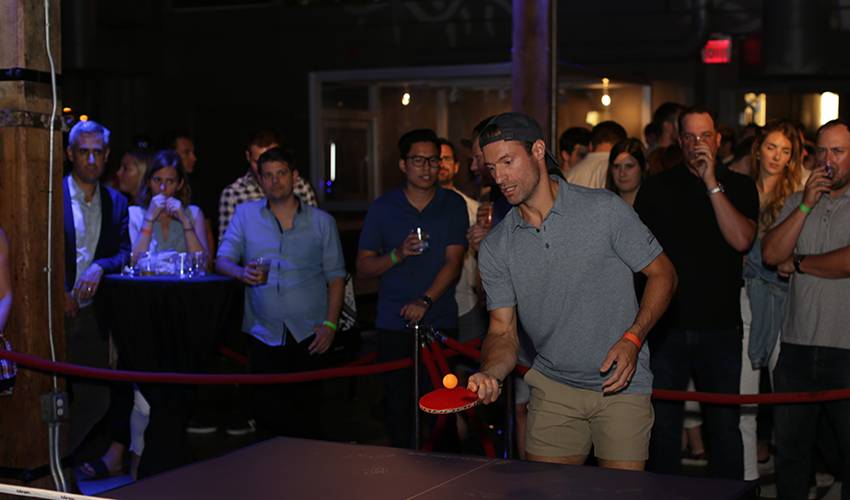 The venue has changed, but Dominic Moore expects this year's edition of Smashfest to once again be a smashing success.
Having earned a reputation as a unique and popular player-driven event, the charity ping-pong tournament founded by Moore in 2012 – entering its ninth year – will be held outside of Toronto for the first time in Stamford, Connecticut, on August 12.
While the effects of COVID-19 prompted the cancellation of the 2020 event and a change in location this year (Smashfest is scheduled to return to its traditional location at Steam Whistle Brewing in Toronto next summer), the widespread support and attendance from players across the league has remained very much consistent for the event that raises funds and awareness for concussion and rare cancer research.
"It would have been our ninth annual event last summer, so we're doing our ninth one this summer," said Moore, who played 897 regular-season NHL games along with 101 career playoff games. "We've held it in Toronto for all of the years we've done it. We had been thinking of doing more events at different places, which I mentioned at Smashfest [VIII]. We were waiting to see what would be possible this year – and it didn't seem like it would be possible to do in Canada – so we thought it might be a good time to do it in the U.S. We've got great support from all the people who have helped us every year – the NHLPA, the players, sponsors. It's going to be awesome."
The event, one that brings players together with fans while they vie for ping-pong bragging rights, continues to attract some of hockey's biggest names both past and present. Previous participants include five-time reigning Smashfest champion Patrick Eaves, along with Logan Couture, Jason Spezza, Phil Kessel, Mitch Marner, Tyler Seguin, Jeff Skinner, Steven Stamkos, Doug Gilmour and Eric Lindros – just to name a few.
This year, some more heavy hitters are making their way to Stamford.
"We're going to have Martin St. Louis, a Smashfest veteran and [Hockey] Hall of Famer," noted Moore. "I'm excited that we're going to have Mike Richter, a Rangers legend and Stanley Cup winner. This is largely Rangers territory, so that should make a lot of people happy. We also have Chris Kreider, who has been to Smashfest in the past. We have Charlie McAvoy – my teammate from my one year with the Bruins – and Connor Clifton, another Bruins player, will be coming down to be part of it. We also have Spencer Knight and Trevor Zegras."
A studio analyst with the NHL on NBC this past season, Moore could easily offer up dozens of reasons as to what's made the charity initiative so successful. In 2019, Smashfest eclipsed the $1-million mark in funds raised.
"When we started it, it was kind of a unique idea. You see a lot more ping-pong events now, but back then, it was a quirky idea. We weren't sure how it would be received, but with the support of the NHLPA and the players right out of the gate, we had created something special. We raised $40,000 our first year, but more importantly, everyone came away having a blast. And each year, we've kept on doing that. It's just continued to grow and I'm thankful for that. I'm even more thankful this year because everyone has been through such challenging times with COVID. I think everyone is eager to get together and to connect with others, which is what this has always been about."
Throughout all of that support and good-natured trash talk between the participating players while bringing fans together with their favourite NHL players, Smashfest has provided a major assist to a pair of very worthwhile causes close to Moore.
Smashfest has helped aid research into rare cancers with the Broad Institute of MIT and Harvard through the institute's Rare Cancer Cell Line Factory, as well as concussion research through the Steve Moore Foundation and Dr. Arthur Brown and his associates, at the Western University's Schulich School of Medicine & Dentistry and Robarts Research Institute.
"The thing that they share is limited data and lack of collaboration," offered Moore of Smashfest's chosen causes. "I think we're seeing more and more collaboration as awareness has grown. One of the big facets of the event is that awareness part. For rare cancers in particular, I think getting the word out on how we can make progress on it is so important. Being a founding partner of the project we've done with the Broad Institute, we've seen that bear real and significant fruit. We want to continue to drive as much money as we can to those causes, and everyone that comes to Smashfest is part of our ability to do that."
Players, alumni, fans and the entire hockey community are happy to lend a helping hand to Moore, the 2014 Bill Masterton Memorial Trophy recipient.
Adam Fox, the New York Rangers star defenceman coming off an exceptional sophomore campaign highlighted by Norris Trophy honours, will be making his second appearance at Smashfest.
Moore's fellow Harvard alumni isn't expecting to add another piece of hardware to his trophy case, however.
"I went to it [Smashfest] two years ago before my rookie NHL season," said Fox. "I know Dom from when he was at Harvard – he was skating with us a little and I got to know him a little bit. It's a great event. It's a lot of fun. I'm not the greatest ping-pong player, but going there and supporting the causes, having a good time – it's a really great event."
Moore is grateful of the players' contributions over the years.
"Some of the players are intimidated by the ping-pong element when you first talk to them about it," said the 95th overall selection of the New York Rangers in 2000. "You have to assure them that it's pretty casual, at least the doubles part. There are some pretty talented guys and they come to play. Patrick Eaves won't be able to join us this year, so the title is up for grabs. It really means a lot that guys would take the time to do this, to support the causes, in what is always a short and busy summer."
Moore is thrilled to see Smashfest continue to be a smash hit.
"It will be an unforgettable evening, just like it always has been. The biggest thing for me is when I see people at the event with a smile on their face or leaving the event with a smile on their face. That's what we love to see, the authentic connection between people."
Visit smashfest.ca for more information.