After the Buzzer | Julie Petry
From dressing her family for peak playoff style to cheering on husband Jeff, Julie Petry on the Montreal Canadiens post-season and more.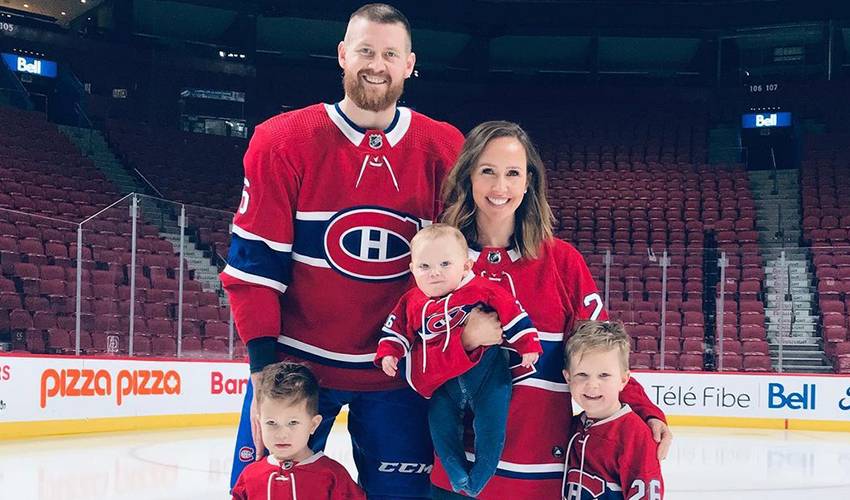 Feature Photo: Instagram / @the_dailyjules
From their bond with fans to their efforts in the community – and everything in between – 'After the Buzzer' is a weekly series taking readers beyond the rink to shine a light and provide insight on players' lives away from the game.
---
Julie Petry, wife of Montreal Canadiens star defenceman Jeff Petry, and proud member of The Better Habs, stopped by NHLPA.com last week following the Habs booking their ticket to the Stanley Cup Semifinals.
From the positive energy of The Better Habs crew, to making sure the Petry family is dressed for success and handling the pressure of the playoffs, Julie gives hockey fans a unique look into the world of Canadiens playoff hockey.
HEART ON HER HOCKEY SLEEVE
When it comes to watching the Canadiens during this year's playoffs, Julie has run the gamut of emotions – from calm, cool and collected, to loud, energetic and expressive.
"I'm a mix of both. It really depends on the game and the pressure that comes with each one. This past series [against Winnipeg], I felt weirdly calm, just a super-calm confidence, which is a great feeling to have. In the first series [against Toronto], from Game 6 on when we started getting to go to the games, my blood pressure was through the roof. I could feel my chest pounding. But I definitely run the range of emotions. I will yell at the TV or say something, but this last series, I was strangely mellow. But I'm not complaining. I liked it."
ROCKING THE BLEU, BLANC ET ROUGE
Jeff isn't the only one who can look the part during the NHL season. Julie, and the couple's three young sons, Boyd, Barrett and Bowen, definitely share a passion for Canadiens fashion throughout the year.
During the playoffs, the trio takes their flair for the red, white and blue to the next level.
"The boys are head-to-toe in Canadiens clothes. If we're at home watching the game, they have their Montreal pajamas they put on. The older brothers get to stay up later – sometimes it's a full game and sometimes it's two periods – depending on what we have going on. If we go to the game, they are in the jerseys and they have their temporary tattoos. It's cute."
"Every day there is a playoff game, their school allows them to wear Habs stuff. That's really fun to see, not just our kids, but seeing all of the kids dressed up and so excited for these games. With the clothing line that I did with my good friend Angela [Price, wife of Canadiens goaltender Carey Price], we definitely have stepped up the women's gear with the fans. We're always rocking those pieces. It makes us so happy when we see other female fans wearing the clothing line, and it's even better knowing a portion of the proceeds go to charity. I can definitely say I'm a total fan with my Habs gear."
A DAY IN THE PLAYOFF LIFE
What's a typical playoff day like in the Petry household? Perhaps the best word to describe it would be … busy.
"All days are different. It really depends what day the game falls on. I love when games fall on school days. Our kids only go to school three days a week right now – they're in pre-school. When the games fall on school days, there's less pressure on me, in that the boys are out of the house all day until Jeff is gone to the rink, so I don't have to worry about them being quiet for naps, and that sort of thing. If they are home, we do something in the morning, maybe go to the park, and then we have lunch together. Then, all of us will go down for a nap at the same time. If we are going to a game, everyone has to take a nap because we know it's going to be a late night. Jeff will wake up, have his coffee and then the boys have this special 'high five' they do with him."
EYES SHUT OR OPEN?
When the Canadiens have a road game and the team gets into Montreal late, Julie might not always be awake to greet Jeff when he arrives home, but she certainly gives it her best shot.
"If he's on the road, like when he came back from a Winnipeg recently, then I'm not up. I didn't even hear him come in the house. I was so out of it. It just depends. If they're flying in, there's no chance I'm staying up. After a game at home – all the girls on the team laugh – when Jeff gets home, I have questions about what happened that I like to ask him about. I come from a sports background – I played field hockey in college – and I have that competitive edge still in me. I want to keep learning about hockey. I like learning about it and I want to know as much as I can. We'll talk a bit about the game and if it's not too late, we'll watch a show, just to unwind together. But by that time, my eyes are pretty heavy."
THE BETTER HABS
It's an exclusive club, one that is doing their collective part in helping provide the Montreal players with a positivity boost.
"We have a girls' group chat during the games that is actually called The Better Habs, a play on the term 'better halves.' It's been awesome, especially since we've been so distanced from each other over the past year, for obvious reasons. We have built up this great bond. Most of the girls are here, but some are not in Montreal. We've really got to know each other and we've kept a positive spirit together through this group chat. When a goal is scored, we're all lighting up the chat. Even when something goes bad, everybody lifts one another up. It's really been fun, especially with the girls that aren't here and haven't been able to go to games yet. Hopefully, they're feeling the energy we have in the chat."
FINAL THOUGHT
"I feel like with this group of girls we can give so much of our positivity to the guys when they're home. That's the least we can do right now. Sometimes we can't be there, but we're the first person that they talk to. We want to be optimistic and positive for them. I feel The Better Habs are doing their job. I feel lucky to be part of the girls with this team." – Julie, on the energy boost The Better Habs brings to the fold.