Canadiens trade Petry for second time in just over a year in deal with Red Wings
The defenseman was traded from Montreal to Detroit in exchange for Gustav Lindstrom and a conditional fourth-round draft pick in 2025.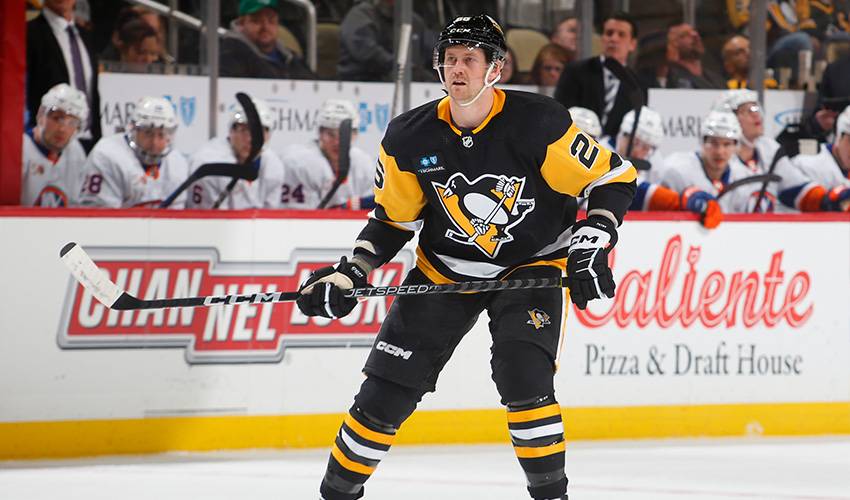 MONTREAL — Kent Hughes admits he never really intended to reacquire Jeff Petry about a year after trading him. But the Montreal Canadiens general manager felt he could capitalize on a situation where they could help facilitate a trade between two other teams.
Nine days after acquiring Petry from the Pittsburgh Penguins, the Canadiens traded the veteran American defenceman to the Detroit Red Wings in exchange for defenceman Gustav Lindstrom and a conditional fourth-round pick in the 2025 draft.
The Canadiens will retain 50 per cent of Petry's remaining salary.
Petry had moved from the Penguins to the Canadiens in a three-team trade where Pittsburgh acquired Norris Trophy winner Erik Karlsson from the San Jose Sharks. The Penguins had then retained 25 per cent of Petry's salary.
"I believed we were on Petry's no-trade list, and I learned in discussions (with Penguins president and GM Kyle Dubas) that we weren't," Hughes said on Tuesday.
"The objective became to help the teams complete their trade and get something interesting for us," Hughes added. "The idea wasn't to bring Jeff back to Montreal because he had already requested a trade. 
"Ideally, we would have had another trade in place immediately, but there were deadlines in the other trade (between the Penguins and the Sharks), and it was difficult to quickly complete a second one."
The pick acquired by the Canadiens in the trade with the Red Wings will be the latest of their two 2025 fourth-rounders. The Red Wings own their own fourth-round pick and the Boston Bruins' fourth-round pick.
Petry had played eight seasons with the Canadiens before requesting a trade. The Canadiens sent him to the Penguins last summer along with forward Ryan Poehling in exchange for defenceman Mike Matheson and a 2024 fourth-round pick.
Petry, from Ann Arbor, Mich., has two years left on a contract with an annual cap hit of US$6.25 million. However, according to NHL contract website CapFriendly.com, the Red Wings will only have $2.34 million on the books thanks to Pittsburgh and Montreal's salary retentions.
"Ideally, we would have preferred to be in a situation where we didn't have to retain money for a second year," said Hughes. "But we also have to consider contracts that will expire in 2024-25 and the possibility of the salary cap increasing."
Last season, the 35-year-old Petry produced five goals and 26 assists in 61 games with the Penguins. In 864 NHL games with the Edmonton Oilers, Canadiens, and Penguins, he has 92 goals and 261 assists.
As for Lindstrom, the 24-year-old right-shot defenceman recorded one goal and seven assists in 36 games with the Red Wings last season.
"Our pro (scouts) like him. They feel like he's a really smart, puck-moving defenceman," said Hughes. "He has a lot of room to grow in the game, I believe the number they threw out was that he was at about 70 per cent of what his potential is. And he's young — he's 24 years of age."
Selected by the Red Wings 38th overall in the 2017 draft, the defenceman from Ostervala, Sweden, has played 128 NHL games with the Red Wings, accumulating two goals and 23 assists.
The Canadiens also acquired goaltender Casey DeSmith in the trade with the Penguins on Aug. 6.
Like Petry, DeSmith was not immediately made available to the media after his acquisition, leading to speculation that he could be in the same position as the defenceman and change teams before the start of training camp.
Hughes said he had told DeSmith that the Canadiens did not intend to send him to the minors.
The Canadiens therefore find themselves with four netminders hoping for an NHL spot next season: Jake Allen, Samuel Montembeault, DeSmith and Cayden Primeau.
"We continue to look at things to trade or make other changes with our goalies," Hughes said. "Patience is needed with the goalie market. It doesn't move that quickly."
DeSmith, 32, has 134 games of NHL experience, all with the Penguins. Last season, he played 38 games, posting a record of 15-16-4 with a 3.17 goals-against average and a .905 save percentage.
This report by The Canadian Press was first published Aug. 15, 2023.
Alexis Bélanger-Champagne, The Canadian Press