George Laraque, NHLPA, and World Vision Team Up for Hockey for Haiti
NHLPA donation will launch fundraising initiative that features an online auction as well as NHL player and fan donations for medical facilities in Haiti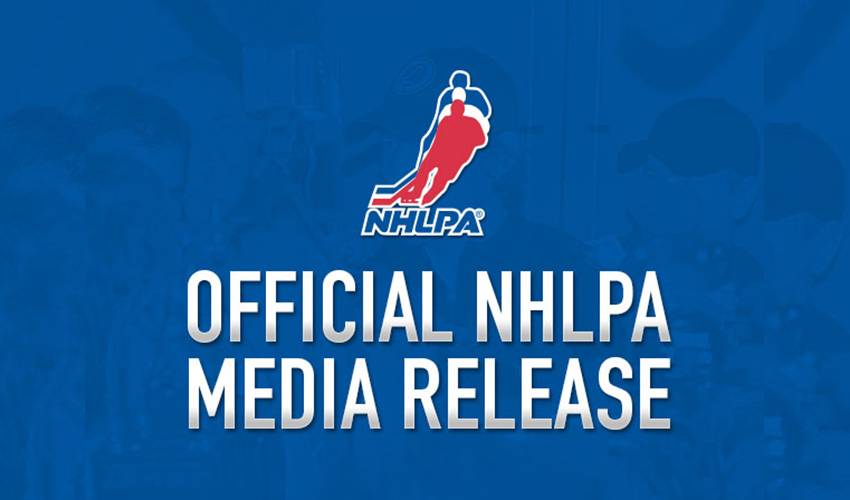 NHL PLAYER GEORGES LARAQUE AND NHLPA TEAM-UP WITH WORLD VISION FOR HOCKEY FOR HAITI INITIATIVE
MONTREAL (January 21, 2010) – The National Hockey League Players' Association (NHLPA) and veteran NHL player, Georges Laraque, have partnered with World Vision to support the people of Haiti through the Hockey for Haiti project. To launch the players' relief support for Haiti, the NHLPA Goals & Dreams fund is beginning the initiative with an initial donation of $100,000 to Hockey for Haiti, through World Vision.

"World Vision is proud to stand with Georges, the NHLPA and hockey fans around the country to respond to this catastrophe. I've just come back from Port-au-Prince and the scale of the devastation is just overwhelming. World Vision has been in Haiti for 30 years and we are committed to help rebuild and restore the lives of children and their families for the long-term. Whatever you can give, know that your contribution makes a tremendous difference," said Dave Toycen, President and CEO of World Vision Canada.

In order to raise even more funds and encourage fan participation in this initiative, the NHLPA will be hosting an online auction – beginning on Monday, January 25th – through its website, www.nhlpa.com, which will feature unique memorabilia donated by the NHLPA and its members. The auction, which is expected to last more than a month, will feature such unique items as Winter Classic jerseys worn by stars such as Pavel Datsyuk, Patrice Bergeron, Chris Pronger and Brent Seabrook. Other items will include autographed Sidney Crosby and Alex Ovechkin jerseys, autographed game-used sticks from Scott Gomez and Andrei Markov, as well as numerous framed autographed photos of NHL players. Many more one-of-a-kind memorabilia items will be added throughout the auction, and nhlpa.com will also encourage and enable fans and players to make a financial contribution directly to the Hockey for Haiti project through an online link to the World Vision website.

"The people of Haiti, including my family and friends, have been through so much devastation since the earthquake hit their country," said Laraque. "The NHLPA donation will help World Vision strengthen Haiti's ability to provide critical healthcare and medical care, which the Haitian people desperately need more of after the destruction."

Laraque, whose family in Haiti has been directly impacted by this earthquake, added: "I'm extremely proud that the hockey community, including NHL players and fans, are uniting through Hockey for Haiti to make significant contributions toward this cause. Please open up your heart to these people. This is our chance to do something big to help a nation rebuild itself."

The NHLPA is enthusiastically supporting Laraque in the players' initiative to raise money for this World Vision relief effort. Laraque has also sent a personal note to his fellow NHL players, requesting their support, and the NHLPA has posted all pertinent information on its players-only intranet site for players to get involved in Hockey for Haiti.

"The NHLPA, together with Georges Laraque, is proud to support the players' efforts to help rebuild Haiti through an important partnership with World Vision," said Devin Smith, Chairman of NHLPA Goals & Dreams. "The recent earthquake in Haiti has affected Georges personally, and the tragedy itself has touched us all. We believe that we can work together toward a common goal of building Haiti's capacity to deliver essential medical and healthcare thanks to the commitment and compassion of NHL players and fans."

The earthquake, the most devastating to hit in 200 years, has affected roughly three million men, women and children. World Vision is on the ground with 800 staff providing emergency relief to thousands of the survivors. World Vision is urging Canadians to remember that almost 40% per cent of the Haitian population is under the age of 14.

To learn more about the entire Hockey for Haitiinitiative, log-on to www.worldvision.ca/hockey on World Vision's website.
Le joueur de la LNH Georges Laraque et l'AJLNH s'associent à Vision Mondiale pour l'initiative Hockey for Haiti Un don de l'AJLNH marque le début d'un appel de fonds qui inclut notamment une vente aux enchères en ligne ainsi que des dons de la part de joueurs de la LNH et de leurs fans
MONTRÉAL (22 janvier 2010) – L'Association des joueurs de la ligue nationale de hockey (AJLNH) et Georges Laraque, un vétéran de la LNH, se sont associés à Vision Mondiale dans le projet Hockey pour Haïti pourvenir en aide aux Haïtiens. En guise de lancement de cette initiative de soutien de la part des joueurs, le fonds Goals & Dreams de l'AJLNH a effectué, par l'intermédiaire de Vision Mondiale, un versement initial de 100 000 $ à Hockey pour Haïti.
« Vision Mondiale est fière de s'associer à Georges, à l'AJLNH et aux fans de hockey de tout le pays en réponse à cette catastrophe. Je reviens de Port-au-Prince et l'ampleur de ce désastre est tout simplement inouïe. Vision Mondiale est présent en Haïti depuis 30 ans et nous sommes déterminés à aider les enfants et leurs familles à reconstruire leurs vies pour le long terme. Quelle que soit la taille de votre don, sachez que votre contribution sera vitale », déclare Isabelle Depelteau, directrice de Vision Mondiale au Québec.
Afin d'amasser encore plus de fonds et de mobiliser les fans dans le cadre de cette initiative, l'AJLNH organisera, à partir du lundi 25 janvier, une vente aux enchères en ligne par l'intermédiaire de son site Internet, www.nhlpa.com. Cette vente aux enchères concernera des souvenirs uniques donnés par l'AJLNH et ses joueurs. La vente aux enchères devrait durer plus d'un mois et proposera des articles inédits comme les chandails portés par des stars telles que Pavel Datsyuk, Patrice Bergeron, Chris Pronger et Brent Seabrook. Parmi les autres articles, on trouve des chandails signés par Sidney Crosby et Alex Ovechkin, des bâtons utilisés au court d'un match et signés par Scott Gomez et Andrei Markov ainsi que de nombreuses photos signées de joueurs de la LNH. Une multitude d'autres souvenirs uniques sera ajoutée tout au long de la vente aux enchères et nhlpa.com encouragera les fans et les joueurs à verser directement, par l'intermédiaire d'un lien en ligne, une contribution financière au projet Hockey pour Haïti, sur le site Internet de Vision Mondiale, www.visionmondiale.ca/hockey. « Les Haïtiens, y compris ma famille et mes amis, ont énormément souffert depuis que le tremblement de terre a dévasté le pays », explique Laraque. « Le don de l'AJLNH aidera Vision Mondiale à renforcer la capacité d'Haïti à fournir les soins médicaux dont les Haïtiens ont tellement besoin suite à ce cataclysme. »
Georges Laraque, dont la famille a directement subi le tremblement de terre, a ajouté : « Je suis très fier que la communauté du Hockey, y compris les joueurs et les fans de la LNH, s'unisse à travers Hockey pour Haïti pour apporter un soutien considérable à cette cause. Donnez de bon cœur pour aider les Haïtiens. C'est l'occasion de les aider à reconstruire leur pays. » L'AJLNH supporte avec enthousiasme l'initiative de Laraque et des joueurs pour amasser des fonds afin de financer les efforts caritatifs de Vision Mondiale. Laraque a aussi envoyé un appel personnel aux joueurs de la LNH en leur demandant leur soutien. De son côté, l'AJLNH a publié toutes les informations pertinentes sur son Intranet réservé aux joueurs, afin de les inciter à s'engager en faveur de Hockey pour Haïti.
« Aux côtés de Georges Laraque, l'AJLNH est fière de soutenir les efforts des joueurs pour aider à la reconstruction de Haïti à travers un partenariat important avec Vision Mondiale », déclare Devin Smith, président du fonds Goals & Dreams de l'AJLNH. « Le récent tremblement de terre en Haïti a affecté Georges de façon personnelle et nous sommes tous concernés par cette catastrophe. Nous sommes convaincus que nous pouvons nous unir pour rétablir la capacité de Haïti à fournir les soins médicaux essentiels, grâce à la détermination et à la compassion des joueurs et des fans de la LNH. »
Le tremblement de terre, le plus dévastateur de ces 200 dernières années, a affecté environ 3 millions, d'hommes, de femmes et d'enfants. Vision Mondiale est présent sur le terrain avec 800 personnes pour fournir une aide d'urgence à des milliers de survivants. Vision Mondiale tient à rappeler aux Canadiens que presque 40 % de la population d'Haïti a moins de 14 ans.
Pour plus de renseignements sur l'initiative Hockey pour Haïti, veuillez consulter le www.visionmondiale.ca/hockey.