Hockey for Haiti' Tops $1M To Rebuild Grace Children's Hospital
Dan Hamhuis, Georges Laraque, NHLPA and World Vision Canada visit Haitian hospital for announcement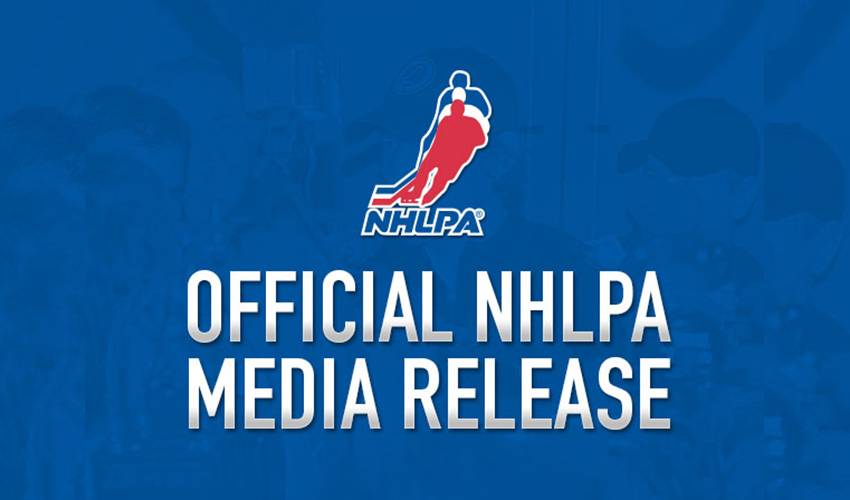 HOCKEY FOR HAITI TOPS $1 MILLION; PROCEEDS TO HELP REBUILD GRACE CHILDREN'S HOSPITAL
PORT-AU-PRINCE/ TORONTO (June 9, 2010) — The National Hockey League Players' Association (NHLPA) and World Vision Canada announced today that more than $1 million has been raised through "Hockey for Haiti" to help rebuild a children's hospital that was badly damaged in the January 12 earthquake. Dan Hamhuis of the Nashville Predators and NHL veteran Georges Laraque, along with officials from the NHLPA and World Vision Canada visited the Grace Children's Hospital in Port-au-Prince today to meet with patients, families and staff to share the good news.
The money was raised through "Hockey for Haiti", a joint initiative of Haitian-Canadian Georges Laraque, the NHLPA and World Vision Canada. It began with an initial donation of $100,000 from NHLPA Goals & Dreams. The NHL also donated $100,000 to this very worthy cause. Private donations, plus all proceeds from the NHLPA's current auction of Olympic hockey jerseys and recent online auction of unique hockey memorabilia, have brought the total amount raised to help rebuild the hospital past the million-dollar mark.
Grace Children's Hospital, operated by International Child Care, is one of Haiti's leading pediatric centres dedicated to the treatment of children with tuberculosis, HIV and other diseases. However, the cracked and crumbling facility is now unsafe to enter, and the inpatient ward is closed. The hospital's staff is currently running an outpatient clinic from tents in the yard.
As part of the NHLPA's ongoing online auction of 140 Olympic jerseys worn by NHL players during the 2010 Olympics, Team Russia and Czech Republic jerseys are on sale now – including the "White" jersey worn by Alexander Ovechkin in Russia's February 18th game against Slovakia. All proceeds will benefit "Hockey for Haiti". Over $150,000 has been raised through the NHLPA's Olympic jersey auction to date. Hockey fans still looking to obtain a piece of hockey history, while also bringing hope to Haitian children, can bid on Olympic jerseys at www.nhlpa.com/auctions. The auction runs until mid-June. Fans can also make a donation directly to "Hockey for Haiti" through www.worldvision.ca/hockey.
QUOTES
"The situation in Haiti remains urgent, especially for children suffering with chronic health issues. Hockey for Haiti will not only help us meet the medical needs of these children, it's keeping Haiti top of mind with Canadians." — Dave Toycen, President & CEO, World Vision Canada

"Hockey for Haiti is an important endeavour to the NHLPA, working towards helping rebuild Grace Children's Hospital together with World Vision Canada. Today was a tough day in seeing the devastation that so many Haitians are dealing with, but it is also a proud day as we know that the players' efforts will help children in need." – Devin Smith, Chairman, NHLPA Goals & Dreams

"Returning to Haiti to see the situation in my homeland and at this hospital today has been an emotional experience for me. My goal is that Hockey for Haiti will bring hope to kids in Port-au-Prince who are going through so much." —Georges Laraque, NHL veteran

"This trip to Haiti with Georges, the NHLPA and World Vision Canada has been very meaningful. It is great to see first-hand the work that is being done in Haiti with the funds raised by our Hockey for Haiti initiative." – Dan Hamhuis, Nashville Predators defenceman

"All of us at International Child Care and Grace Children's Hospital are thankful for the incredible generosity of NHL players and hockey fans. It renews our strength as we work to bring health and hope to children suffering from diseases like tuberculosis and HIV." —Dr. John Yates, International Director, International Child Care
Remaining Schedule of Auction Phases:
June 8th – Team Russia, including Alexander Ovechkin, also the only game the "White" Russian jerseys were worn; and Team Czech Republic, including Tomas Vokoun
June 15th – Team Switzerland, including Mark Streit; Team Belarus, including Ruslan Salei; Team Norway; Team Germany, including Christian Ehrhoff; Team Latvia, including Oskars Bartulis
*Each auction lasts for seven days.