Shaw Gets His Kicks
Andrew Shaw launches both the ball, and his shoe, through the uprights in front of a large crowd at Soldier Field in Chicago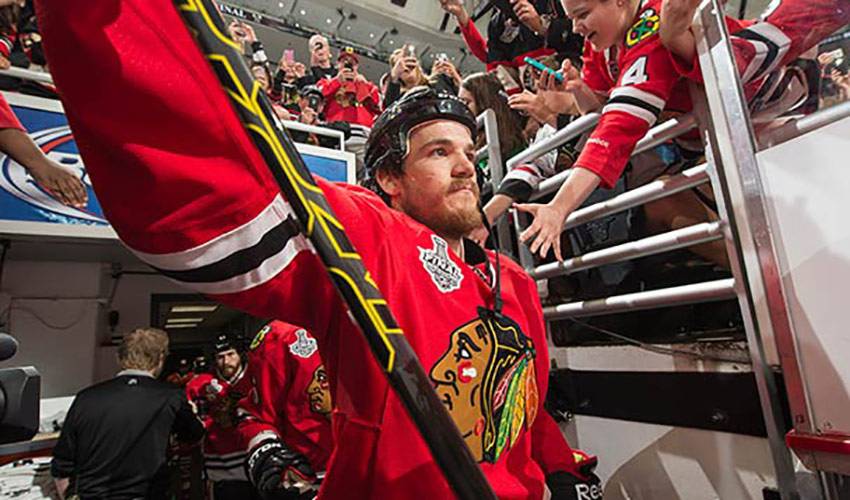 How does Andrew Shaw get his kicks before the NHL season gets underway? Last Sunday, it was at Chicago's Soldier Field from about 27 yards out, straight through the uprights, complete with a flying shoe.
In recognition of the Blackhawks 2016 Stanley Cup triumph, Shaw, along with some of his teammates, took in the NFL game featuring the hometown Chicago Bears and Oakland Raiders.
As part of the festivities (they had the Cup in tow), Shaw, in a No. 65 football jersey, was given the opportunity to kick a field goal prior to the start of the game.
He didn't disappoint when it came to his moment in the spotlight.
With plenty of cameras focused on his moment of gridiron glory, Shaw stepped up and aced the kick.
The real kicker, so to speak, was a flying shoe that sailed through the air the same time as the football.
"I knew I would nail it," joked Shaw. "I played minor football when I was younger – linebacker, quarterback, running back – so I wasn't nervous. I just wanted to get my leg into it and see it go right down the middle."
His plan worked to perfection. And, despite the airborne footwear, Shaw didn't get any ribbing from his fellow players.
"I was wearing boat shoes and when I look up right after I kick it, I'm watching the ball and my shoe," he recalled. "I was just thrilled that it went through."
Could it have served as inspiration for the Bears and their kicker Robbie Gould, who won their first game of the NFL season, courtesy of a 22-20 win via a late field goal?
"I would hope it did," chided Shaw, of the 49-yard game-winner off the foot of Gould. "It was a great game, lots of drama right until the very end. I figured if he didn't make that kick, maybe they'd be calling me."
Joking aside, Shaw is only too happy to lend his time (or leg) to the community he plays in.
"To be honest, it's very surreal to be treated the way we are here in Chicago," said the 24-year-old. "Words can't really explain how fortunate you feel. We're treated top-notch by everyone. People are always quick to say, 'Congratulations,' after a win. Whether they ask for an autograph or want to get a picture taken, it's pretty cool to play in a place like this."
Shaw's most cherished moments are the ones where the people he meets are a little lost for words.
"When you see that smile on a kid's face, where they're maybe a little shy to speak, that's my favourite. It just puts the biggest smile on my face."
A picture-perfect 27-yard field goal in front of thousands of NFL fans isn't too shabby either.