Shaw's road to 17:16 paved with adversity and positivity
It wasn't an easy journey for Andrew Shaw, but the forward for the Chicago Blackhawks found a way to appreciate the good that came along the road to recovery.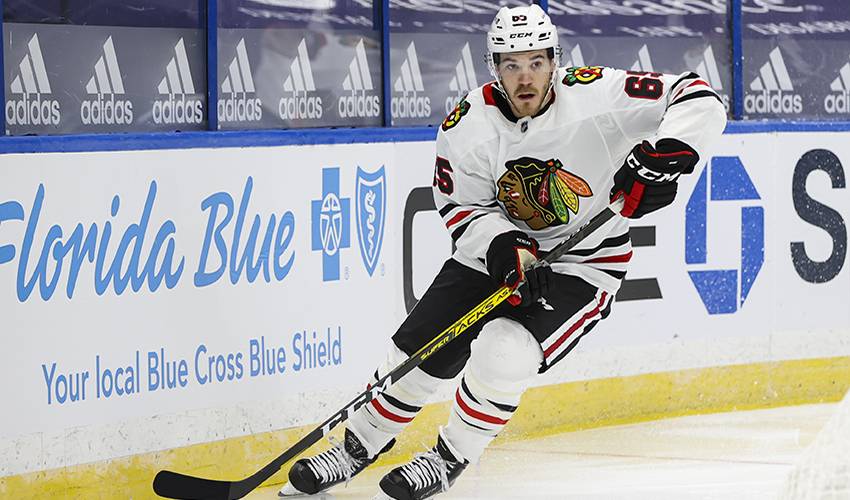 Feature photo: Getty Images
---
The road to 17:16 was not an easy one for Andrew Shaw.
He wasn't sure the day would ever come, the moment he'd strap on his gear and slip the Chicago Blackhawks sweater over his head again for a regular season game.
But January 13, the 29-year-old forward achieved his goal, skating just over 17 minutes in what was his first NHL game in 14 months.
Sitting in his hotel room in Tampa Bay just over 12 hours after the curtain-raiser on Chicago's 2020-21 season, Shaw, a two-time Stanley Cup champion, was still processing the significance of his return to action.
"It was a long haul to get back here, but it was worth it."
The Belleville, ON, native spent the majority of last season rehabbing from a concussion he sustained after 26 games with the Blackhawks.
Luckily, Shaw had plenty of people in his corner after suffering the injury.
"I couldn't have done any of it without my family and friends, but I also couldn't have done it without my teammates and the Blackhawks organization. They gave me all the help I needed, and my teammates supported me. They were also supportive of me not coming back last year and making sure I could do whatever possible to get better."
Being away from the camaraderie of the locker room was admittedly difficult for Shaw, but also necessary in order for him to be dialed-in on his health.
"It's really hard to be away from the room. You want to be part of it. You want to be around hanging out with the guys, but sometimes it's best to take yourself out of the situation and focus on your health, which is always first and foremost. I think having the support of the guys and the organization really helped with my recovery."
Making it back to NHL ice was a journey in itself.
As strange it as might seem, the worldwide pandemic ended up helping Shaw in his recovery process.
"I didn't miss as much as hockey as I could have because of COVID. I was sitting at home back in Canada at my place, grinding every day to get back. I missed the bubble [last year's NHL return to play scenario]. The boys knew I wanted to be there, but they knew it was better for me not to be there, to take the extra few months rest to get ready for this season."
Not surprisingly, there were, at certain points in time, days that knocked Shaw down.
But in keeping with his on-ice approach, he battled through whatever adversity came his way.
Inspiration to continue on was never far away.
"My wife and my kids… they really helped pull me through. Going through such a bad time, there was also a lot of good. We had a son born last January, so with this time off, I got to spend a lot of time with my family. It was fun. It was fun being an everyday dad. I made sure to set aside time each day to do my rehab, whether that was in the gym or getting back on the ice."
More time on the home front gave Shaw a bigger appreciation for his wife and motherhood.
"My daughter is two-and-a-half and my son is one. It's amazing to watch them grow and learn, and get their own personalities. It's very entertaining, but it's very exhausting. Hats off to all the moms out there. I have a lot of respect for moms. Having my wife and kids there – you kind of struggle with getting better, feeling better and staying in shape – and coming home to them was the light at the end of the tunnel."
Shaw reached the other side of that tunnel just over a week ago.
Of the games he has played – 534 regular season and 72 playoffs – the one on the night of January 13 could be one of the most meaningful in his career.
"It had been 14 months since my last game. Game situations are a lot different than practicing and working on your skills. It was a little nerve-wracking leading up to the game, but when the puck dropped, I settled in, and by the end of the game I felt a lot better. It felt just like where I had left off."
For Shaw, the long road traveled was well worth all the twists and turns along the way.
"I skated a lot, I worked out a lot, I was in the gym almost a complete year, and I was on the ice the last six months, just grinding away to be ready for opening night. And I was able to do it."