Shaw, Ducky Brand aim to help public mental health care affordability
For Andrew Shaw, Ducky Brand Apparel is far more than just a fashion statement.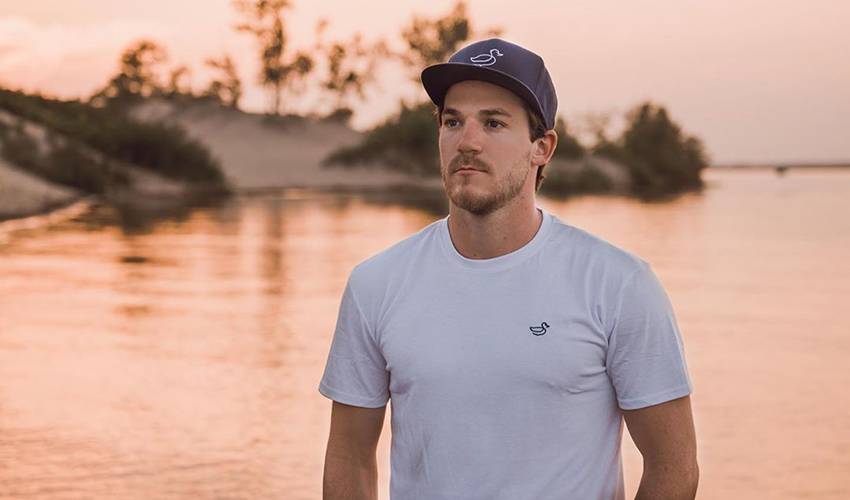 For Andrew Shaw, Ducky Brand Apparel is far more than just a fashion statement.
"I've known a lot of people who have dealt with mental health issues… it's something you can't see," started Shaw. "I thought bringing awareness to it would be a good idea, and a way to give back."
It was a conversation with Aidan Girduckis, a hockey player and good friend of Shaw's cousin, Jacob Panetta, which eventually motivated Shaw to play his part in shining the light on mental health.
Shaw, a two-time Stanley Cup winner, partnered with Ducky Brand.
It's a role he cherishes.

"Aidan, he's a defenceman that plays near Pittsburgh (with the University of Robert Morris)," began Shaw, speaking of the person, who along with his brother, Abbott, founded Ducky Brand. "He grew up in a family that was well off. He played hockey and had a lot of friends, but for some reason, he felt depressed all the time. He wasn't happy with his life, but he knew other people looking in would find that hard to believe. He didn't know why he felt the way he did, but he struggled with it for two or so years. He knew he needed to get help.
"He came to me, told me his life story, and then told me about this initiative he started. After getting help, he realized how expensive that it could be, and that many people might not be able to afford it. He really wanted to find a way to help others."
That way happened to be through what's become known as Ducky Brand.
Launched earlier this summer, Ducky Brand Apparel offers various products, from hats to shirts, to key chains and mugs, all bearing a duck logo. As noted on its website, 'the logo is a symbol of support for anyone who has suffered or currently does suffer from mental health issues, and their battle with it, a symbol of connectivity and compassion among human beings, letting others know that they are not alone in the fight against mental illness, and that it is okay to not be okay.'
One of the key goals of Ducky Brand is to help those who suffer from mental illness, but don't have access to the resources they need to become mentally healthy. Thirty percent of profits (from sales of all Ducky Brand Apparel products) will be placed into a separate savings account, and donated to the Canadian Mental Health Association - Hastings and Prince Edward, on a set date, annually.
"It is amazing to see someone of such stature, and iconic influence [especially local to the Bay of Quinte Region, Ontario] be willing to join in on something that has the potential to do so much for those who suffer from mental illness," said Girduckis. "I think Andrew saw the opportunity to be able to use his influence, abilities and resources to really help turn Ducky Brand into something very useful in terms of bringing awareness to our cause and vision as a whole, and therefore create more funding for our public mental healthcare. It is an absolute honour to have him on board, and we are thrilled he sees the vision of what this brand is capable of achieving for others."
Shaw, and fellow NHLPA member Nick Cousins recently took to Black Bear Ridge Golf Course in Belleville, Ontario, to raise money awareness for mental health.

"They [Ducky Brand] are trying to spread the word, and do whatever they can to help other people," said Shaw, who was traded back to the Chicago Blackhawks during the off-season. "I really like the thought of what they are doing. To see someone so young going through what he has, it just hit me.
"Aidan is a very intelligent young man, and he has a lot of great people helping him out," said the 28-year-old, who had a career-best offensive season (47 points in just 63 games) with the Montreal Canadiens in 2019-20. "He's still in school and he's still getting help himself, so to find the time to do this is very inspirational."
Girduckis is thankful for Shaw's support.
"I think the most impressive part about his commitment to helping our brand grow, and his willingness to be flexible and proactive, is really just how much it shows what kind of person Andrew Shaw really is. Ducky Brand is a very young and new organization. It's not like he is doing this in exchange for any kind of ridiculous compensation. He views himself in the same boat as the rest of the partners, and is proactive and involved at any time he is requested, just like the rest of us. To me, that really shows the kind of person he is.
"To be involved in this, where [as a new business] finances are kept for growing the organization, it's very obvious that there is no intent of doing this for personal or financial gain. He joined and is very involved simply because he wants to be, and he wants to help others. I think that is what impresses me the most, that he is willing to be so committed to this, simply because he wants to help those that struggle from mental illness, and not for any kind of personal gain."
His affiliation with Ducky Brand has been an eye-opening experience for Shaw, a veteran of 504 regular season NHL games.
"Five years ago, most people didn't understand it [mental health issues]. I've had an aunt go through it, friends go through it – it's sad, it's scary. So to help bring awareness to it and end the stigma, it's a very positive thing to be doing. It's something we should be talking about."
Shaw has come to appreciate the significance of sharing his thoughts, especially on the home front.
"Talking about anything going on in your life is important. If I have a bad game – I think the older you get, the more important it becomes – talking it out always does help. The same thing goes with mental health issues. I know some people don't like to share what they are going through, whether it's because they don't trust people or don't believe people would understand what they are going through. But I think opening up and just saying how you are feeling can do wonders."