Mike Matheson fulfills his childhood dream of playing for hometown Habs
Growing up on Montreal's West Island, Matheson recalls cheering for the Habs as a young fan and which player was a household favourite.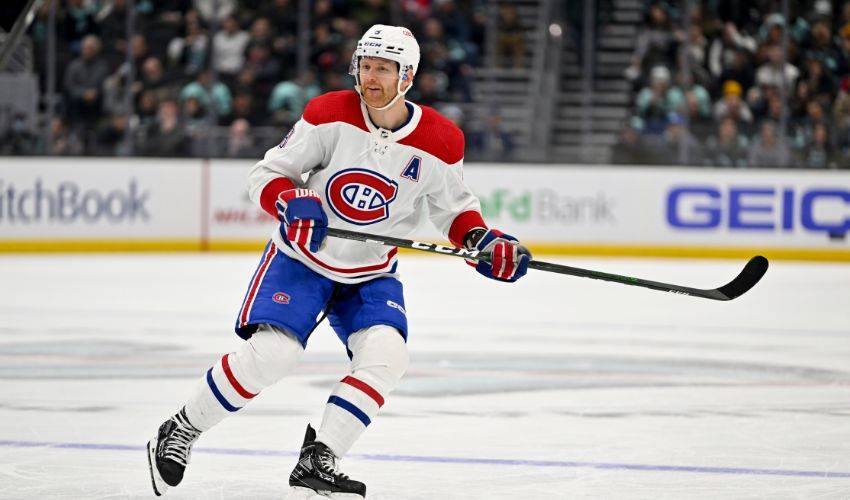 Feature photo: Getty Images
---
Donning the Montreal Canadiens sweater has been a perfect fit for Mike Matheson.
It was a day the Pointe-Claire, Quebec native dreamed of often as a kid, the chance to wear the colours of his hometown team. Drafted by 23rd overall by the Florida Panthers in 2012, the chance to one day play for the Canadiens was not something Matheson necessarily expected.
That all changed, however, on July 16, when Matheson was traded to Montreal from the Pittsburgh Penguins for defenceman Jeff Petry and forward Ryan Poehling.
"I don't know if it's completely set in, but it's definitely been a cool experience to be playing at home," recalled the defenceman, who grew up on Montreal's West Island.
Eager hit the ice at the Bell Centre, Matheson had to be patient to wear his jersey in game action.
An abdominal muscle strain suffered during training camp sent him to the sidelines, delaying his Habs debut until November 19.
His first game, a home tilt against the Philadelphia Flyers, saw plenty of support in the stands. Matheson's brother Kenny, their parents, Rod and Margaret, his wife, Emily, and their young son, Hudson, were all at the Bell Centre for Montreal's 5-4 shootout win.
"It was surreal, in a sense," recalled Matheson. "In a way, you want to prepare for the game like it's any other game, and part of that is not thinking about all that means, all that time I spent idolizing the team. And when you have a chance to wear that jersey, it's obviously really special. But at the same time, you want to make sure that you have a job to do. I definitely enjoyed the moment as much as I could and got goosebumps when I went on the ice the first time, hearing the crowd. But I also quickly made myself snap back out of it and get ready."
For the 28-year-old, it was a completely different experience from the days when he would watch his beloved Canadiens as a fan.
"We used to go to the games every once in a while, maybe once a year. We had sweaters, t-shirts and stuff like that. Saku Koivu was always the household favourite. And now, it's been pretty amazing to be able to wear that sweater. It's been great in every way."
And not just for the No. 8.
His wife and fellow defenceman, Emily, a USA Hockey standout who captured gold at the 2018 Olympic Games, and 18-month-old Hudson, are feeling right at home in the apartment they are renting in downtown Montreal.
"She's been liking it a lot. We've lived here a few summers together in the past, when we were dating and when we got engaged. Then, through COVID, we didn't make it back here that much. So, it's familiar for her too. Obviously, being close to my family now, and them being able to help with my son has been a huge help for Emily. Actually, I think my parents are more excited about my son being back here than me."
Matheson had somewhat of an eye-opening seven days during the summer when Emily went to the USA hockey camp in August.
"I was pretty much by myself for the whole week she was gone. Trying to train and take care of Hudson, that's when I really understood what it's like when we go on a road trip. I always had a lot of respect for all the hard work that mothers do, but this made me appreciate them even more. Now, I really, really get it. The amount of things Emily has to juggle, especially in season … it's unbelievable. It's not like I'm working 9-5, coming home and making dinner. For her to manage all that is just incredible."
Although the couple is familiar with the storied history of the Canadiens, the Mathesons weren't as well versed in the abundance of offerings downtown Montreal presents.
That's changed quickly since they settled into their new surroundings.
"I grew up on the West Island and when you're from there, you don't get to downtown a whole lot. Growing up, we were always so busy. My parents weren't bringing us to a fancy restaurant for dinner. It wasn't worth it with kids. We really didn't get into downtown that often. Basically, the only time we would come downtown was for hockey games, to go watch the Habs play. It's almost been a little new for me, which has been fun. It's fantastic."
Which is a word Matheson uses to describe parenthood.
Being a father has been a game-changer for the veteran of over 420 NHL games.
"First off, just being a dad has been amazing. It's the most fun thing in the world. Just being able to come home from the rink everyday and be in dad mode, whether the game went well or didn't, it doesn't matter. You need to be the best version of yourself because you owe that to your kids. He's really busy and always has a bunch of energy, but he's really happy. It's been a lot of fun to be around him."
While he won't find any Canadiens-themed gifts under the Christmas tree like in years past, Matheson is already in a festive mood.
He expects this holiday season to be one of the most memorable yet.
"We're big Christmas people, especially me. I'm really excited about it. Both Emily and I are excited to see what Hudson is like. I don't think he'll understand what Christmas really is yet, but I think he'll be old enough to be able to read off us and our excitement to know that something is going on. Everything we own is in storage right now, but we'll be decorating the place. It's the best time of the year."
Especially when you get to celebrate the season at home.
"I can't complain about anything. I feel very fortunate with everything in my personal life and hockey."