Bahamas hold special place in Mike and Emily Matheson's hearts
For Mike Matheson and Emily Pfalzer, wanting to lend a helping hand was an easy decision.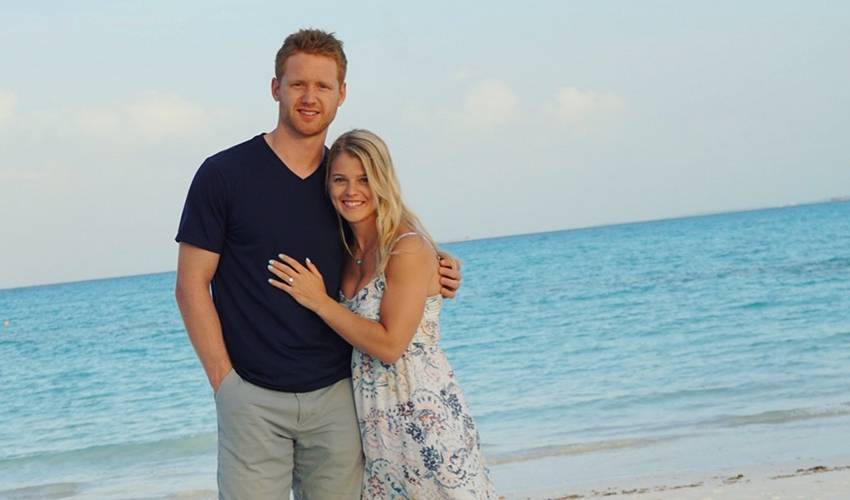 For Mike Matheson and Emily Matheson (née Pfalzer), wanting to lend a helping hand was an easy decision.
It wasn't long after Hurricane Dorian slammed the Bahamas when Mike, who patrols the blue line for the Florida Panthers, and his wife, Emily, a multiple gold-medal winning defenceman for Team USA, began discussing ways they could help the island nation.
The end result was the couple teaming up with UNICEF USA to launch a campaign towards relief efforts in the Bahamas, while matching all donations up to $25,000.
"We ended up leaving Florida during the hurricane because we thought it was going to hit us too," said Mike. "We were watching the news reports about what was happening in the Bahamas. It just sat over top of the country for like what seemed forever because it was moving so slowly. Once we got back home, I started to think, 'We should do something to help.'"
The country holds special meaning for both Mike and Emily.
A year and a half ago, they were engaged in the Bahamas. As a child, Mike visited the popular tourist destination with family.
"It's a very special place to us," said the 23rd overall selection of the Panthers in 2012. "It's about a half an hour flight from where we are. We've both enjoyed such special memories there over time. When I was growing up, my godparents brought our whole family there a couple of times for Christmas vacation. That was the one place we got to go to growing up. It's always been a cool place for me to visit."
Seeing the devastation Dorian left behind quickly put any minor life worries in perspective for the couple, who were married this July.
"I think for everyone, when you look at your own life, wishing that you had this or that, thinking your problems are the biggest ones in the world… when you see that is literally life and death for the people in the Bahamas, it really hits you," offered Mike. "All they are thinking about is surviving. It was definitely an easy decision for us to lend a helping hand. We've found out that a lot of people feel the same way."
"It's (hockey) such a small world, and to see people, from family members to some of our teammates, to people we have never met, step up and help out… it's been awesome," said Emily, whose medal haul includes a gold medal with Team USA at the 2018 Winter Olympics."
in just nine days the couple had raised over $8,000 of their $25,000 goal, of which they will match up to.
Initially, Mike wasn't sure what to expect in terms of how people would support the cause.
It didn't take him long to get his answer.
"It's been incredible, the response. This is my first time doing something like this, and I didn't know what would happen. To see the number of people – some who I know, or fans across the league – who have come together to help out is just amazing. I think the hockey community is really special. Everybody has one another's back. At the end of the day, for the most part, people who have donated have never met Emily and I, but they are still willing to support something that we've jumped into."
Emily, who is playing in the Professional Women's Hockey Players Association (PWHPA) Dream Gap Tour, is equally appreciative of those who have contributed to the cause.
"It's been great to see so many people jump in and offer their support," said Emily, who played a starring role with Boston College's women's hockey team over four seasons (2011-15). "We're really appreciative of that. The Bahamas is very special to us, and we just really wanted to help in some way."
Added Mike, "It's always been a place that's close to our hearts, and it always will be."
To help the Bahamas, and the Mathesons reach their goal, click here.