Friendly competition bonds Matheson, Pfalzer
What does a busy hockey-playing couple like to do in their spare time? Play hockey, of course.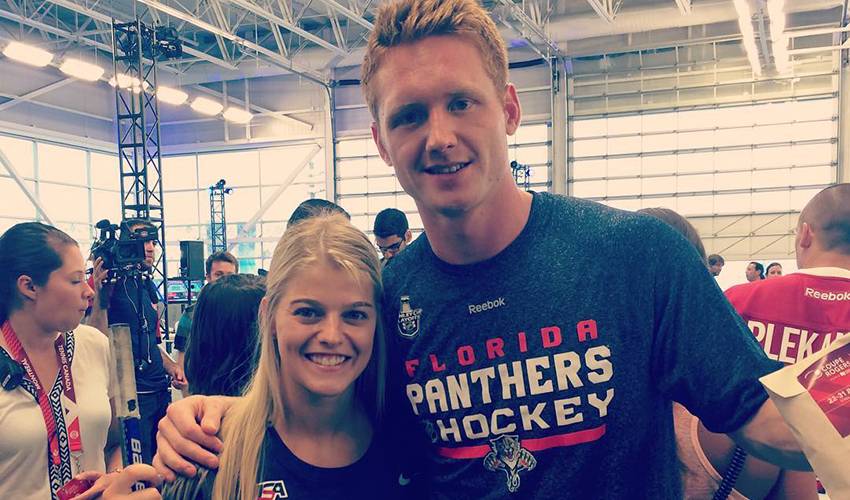 What does a busy hockey-playing couple like to do in their spare time? Play hockey, of course.
Mike Matheson, NHL defenceman, and his fiancée, Emily Pfalzer, U.S women's hockey defenceman and member of the NWHL's Buffalo Beauts, can never quite seem to get enough of the game they share a deep affinity for.
In fact, it might top the list of shared activities for the pair who met at Boston College.
"We're both hockey players, so what do we like to do when we're bored?" offered Matheson. "We go play hockey."
If they aren't on the ice, the two could easily spend the day polishing the medals they've won for their respective countries.
As a member of the U.S. Women's National Team, Pfalzer has struck gold on several occasions. Her impressive haul includes 2018 Olympic Winter Games gold, three International Ice Hockey Federation Women's World Championships triumphs (2015, 2016, 2017) and five Four Nations Cups medals (gold in 2015, 2016, 2017, 2018; silver in 2014).
Pfalzer has also medalled in two International Ice Hockey Federation U18 Women's World Championships (gold in 2011; silver in 2010), and skated in the 2014 Under-22 Series vs. Canada and two Under-18 Series vs. Canada (2009, 2010).
At the 2016 IIHF World Championship, Matheson recorded six points in 10 games, helping Canada win the gold medal, and was named the tournament's best defenceman. He also helped Canada win a silver medal at the 2017 Worlds with seven points.
"Mike has always been so dedicated to his hockey and to watch him live his dream has been amazing," said Pfalzer. "I love watching him play any chance I get."
So, exactly how does a relationship deal with a United States-Canada hockey rivalry?
For Matheson and Pfalzer, it's more than just a fashion statement.
"It's kind of a funny thing with the rivalry, her being from the U.S. and me from Canada. We jokingly argue and have a little competition over it. At the end of the day, I'm just cheering for her and supporting her, and it's the same for her with me. We both have a lot of pride in the country we come from and any time we have that chance to wear that jersey, we're both very proud."
"Mike's support means the world to me," said Pfalzer. "Ever since we started dating at Boston College, we have watched one another's games whenever possible. It's fun to have that in common. We have been through similar situations throughout our careers, and its nice to always have someone to lean on. We don't talk about hockey a lot, but when I need support, Mike is always there for me. Whether it's hockey or life in general, he is always my biggest fan, and I am always his."
That doesn't mean they don't get competitive with one another.
Matheson, in his third full NHL season, wouldn't exactly relish the chance to play against Pfalzer if the opportunity presented itself.
It's understandable why he'd want to avoid it.
"We've had the chance on an off day off to go out on the ice and shoot the puck," said Matheson. "A couple of times we've played some one-on-one and I'm never really able to get by her."
In fact, Pfalzer's skill is recognized around the NHL. When surveyed for the 2018-19 NHLPA Player Poll, 5.9% of the 203 players who responded to the question answered Emily as the best current female hockey player.
As for the couple, they do, however, enjoy other ways to bond outside of hockey.
"In Florida, we're lucky to live in such a beautiful place. Both of us enjoy relaxing, going out on the boat, going out for dinner - things like that. We have a dog, which we got just under a year ago. He takes up a lot of our time. We go on walks and play with him.
"Really, both of us are so busy, we cross paths every once in awhile. When we do get the chance to be together, we just like to relax, lay low, and get away from it all."
And, every now again, they enjoy taking their best shot at one-upping the other.