Logan Thompson's unlikely NHL path pays off with Golden Knights' success
Thompson's nomadic journey to an NHL life is a story of inspiration, perseverance and patience.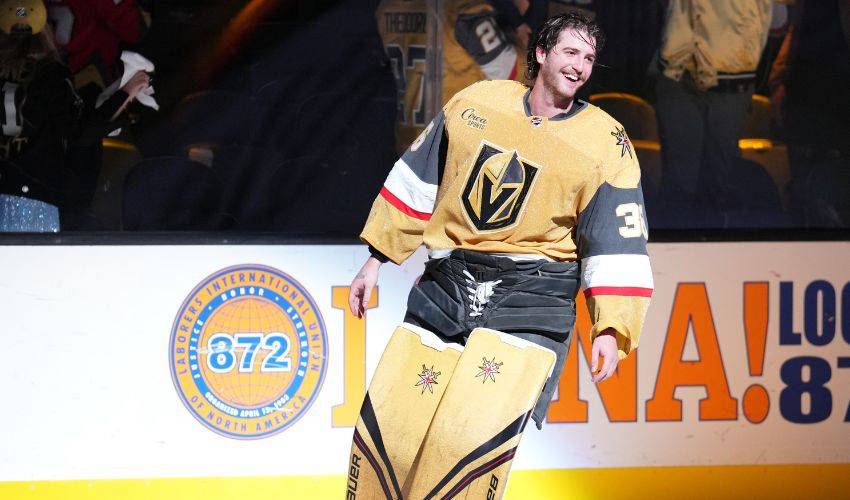 Feature photo: Getty Images
---
It isn't only NHL teammates and rivals that have taken notice of Vegas Golden Knights netminder, Logan Thompson.
After a 2021 campaign that saw him post a 10-5 record, 2.68 goals-against average, a .914 save percentage, and a shutout performance, the backstopper has turned more than a few heads with his play between the pipes.
"It's pretty cool," started Thompson. "I'm starting to be recognized a little in Vegas, especially in the summer. It is different, but it's exciting as well."
Thompson's nomadic journey to an NHL life is a story of inspiration, perseverance and patience.
After 122 games with the Brandon Wheat Kings of the Western Hockey League, the Calgary native was hoping to hear his name called at the NHL Draft, but it never came to be. He received an invite to the inaugural Golden Knights development and rookie camps five years ago but wasn't offered a contract.
At the conclusion of his last junior campaign in 2018, Thompson was invited to the Washington Capitals development and rookie camps where he met two figures who would ultimately play a significant role in helping him land a full-time NHL role.
"I'm grateful for that time in Washington," recalled Thompson, of the time spent with Capitals goaltending coach Scott Murray and minor league goalie coach Alex Westlund, who now holds the same position with the Detroit Red Wings. "I wouldn't be here if it wasn't for those guys. Vegas did cut me three years ago. It was at a point where no one would sign me, but they believed in me."
While that experience didn't result in a contract, it did provide Thompson with a major confidence boost, something that carried over into his one and only season of Canadian university hockey when he posted a .934 save percentage and established the Brock Badgers record for wins.
In 2019-20, he suited up with the Adirondack Thunder and South Carolina Stingrays of the ECHL, along with one game for the American Hockey League's Binghamton Devils. In 2019-20 with South Carolina, he went 23-8-1 accompanied by a 2.25 goals-against average.
The Golden Knights took notice of Thompson's play, which led to a two-way contract with Vegas in July 2020. Thompson, who started his 2021-22 NHL campaign third on the team's depth chart, was named the 2021 Aldege "Baz" Bastien Memorial Award as the AHL's goaltender of the year when he sported a 16-6 mark along with a 1.96 GAA and .943 save percentage with the Henderson Silver Knights.
On March 10, 2021, Thompson made his big-league debut in relief duty, saving the two shots he faced in nine minutes.
Ten months later, on January 4, 2022, he had his first NHL start.
And with it, Thompson became the first Canadian university goaltender to make an NHL start since George Maneluk in 1990 with the New York Islanders.
Although it wasn't a fairytale ending in his debut – Thompson made 23 saves on 26 shots in a 3-2 loss to the Nashville Predators – the now 25-year-old opted to focus on the positive.
Through a series of events, including a long-term injury to Vegas starter Robin Lehner, Thompson has earned the No. 1 spot between the pipes in 2022-23.
"I know it's just over 30 games into my career, but I'm really comfortable with the demands of playing in this league. I'm playing in the NHL, so I don't take anything for granted. Every day at the rink, every game – it's one day at a time for me."
He finds himself part of a team eager to put last year's disappointing season, one in which Vegas failed to qualify for the playoffs, in the rear-view mirror.
It's been an ideal situation for Thompson.
"You take the hockey side of it away, and this is probably the most tight-knit group of guys I've ever played with. There are a lot of veterans and there are only a few rookies, but they make you feel comfortable in the room. They really take care of the younger guys here.
"Obviously, everything on the ice is going well. You see the videos of us with Phil [Kessel] and it shows how close everyone is. He's only been here a few months and he's already a massive part of the team. Everyone loves him and respects him. There are no egos and there are no cliques. Everybody is on the same page when it comes to being ready and prepared every night."
Including Thompson, who heeded the advice of many on his long path to the NHL.
"There are a lot of friends, family, and old coaches who told me to never give up. I've been lucky to have a lot of unwavering support. Even around the hockey world, there have been so many people who have encouraged me and helped me along the way."
When he's not playing his part in helping Vegas get off to a quick start this season, Thompson can be found exploring the city's vibrant downtown area.
Plenty of places remain on his 'to-do' list.
"I'm 25, so I still consider myself a kid in a lot of ways. I play video games, and I like going to shows and restaurants on the strip. There are so many things to do in Vegas. People think it's a party city, but there is so much more to it. Once you get out and see what there is, it's pretty amazing. There's constantly something to do. It's definitely exciting."
Which is no doubt an apt way to describe Thompson's hockey journey.
Gone are the days when he was just a face in the crowd.
"I kind of get noticed in the airports in the summer, coming and going from Vegas. Even in Calgary – there are Vegas fans there – they'll come up to me and say hello. That's pretty cool. I've never really had that before, so it's nice."