William Karlsson brings newly-acquired "dad strength" to the Stanley Cup Playoffs
Karlsson and the Golden Knights are headed to the Stanley Cup Final for the second time in six years.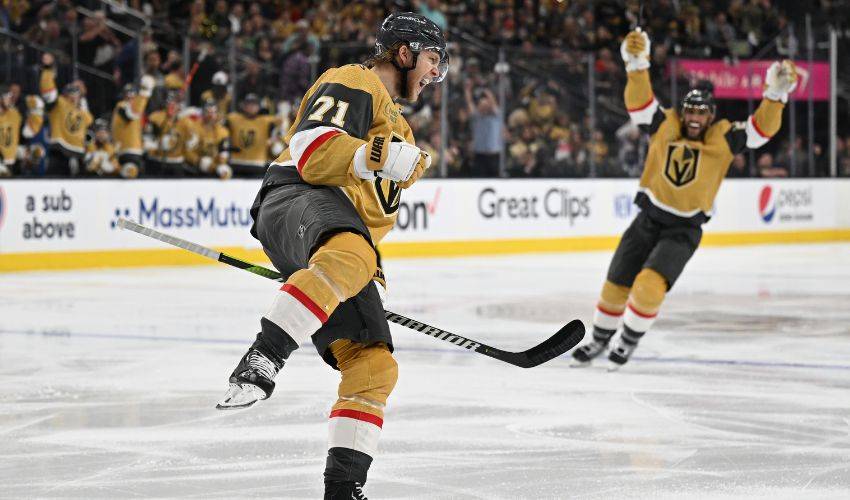 Feature photo: Getty Images
---
Life both on and off the ice, during the Stanley Cup Playoffs has been quite a ride for the man known as "Wild Bill."
Whether it is scoring key goals, shutting down the opposition's top players or witnessing the birth of his first child (a baby boy named Beckham), the past few weeks have been a whirlwind for Vegas Golden Knights forward, William Karlsson.
Not that he is complaining.
"It has been pretty hectic," Karlsson said with a laugh. "Definitely a lot going on, but all of it great. I'm just so excited for Beckham to grow up and to have a bond with him. So, that's the best part I think, his journey."
The elder Karlsson is on a journey of his own.
Karlsson has been front and centre for the Golden Knights throughout their current playoff run. Now, after besting the Dallas Stars in the Western Conference Final, Karlsson is set to make his second appearance in the Stanley Cup Final with the Golden Knights.
While sleep might be at a premium these days, it is obvious the 30-year-old is not bothered by losing a few hours of shut-eye.
Case in point, the night he and his wife, Emily, welcomed Beckham into the world.
In the leadup to Game 5 against the Edmonton Oilers in the Second Round, Karlsson was at the hospital into the early hours of the morning. After Beckham was born at 1:33 a.m., he was sent home, with Emily's blessing, and fell asleep around 4 a.m.
Four hours later, he was up and on his way to take part in pre-game meetings. The team allowed Karlsson to bypass the morning skate, giving him a chance to get some sleep ahead of the game.
It turned out to be a winning formula for both player and team. Vegas won 4-3 and Karlsson chipped in with an assist on Reilly Smith's second period power-play marker.
One of his biggest shout-outs after the game was for Emily.
"When you realize what women have to go through, it's really unbelievable and amazing," said Karlsson. "I was happy that I was able to be there for that moment."
It has been a golden year for the player who endured a tough 2021-22 campaign.
Karlsson, who missed 15 games last season, including time spent on the sidelines with a broken foot, played in every Golden Knights game in 2022-23.
"When things don't go your way, you just keep pushing through. That's what I've always tried to do."
And he most certainly has.
The forward has been a huge contributor in Vegas since arriving on the scene via the 2017 NHL Expansion Draft.
Karlsson flourished in his expanded role with the Golden Knights, scoring a career-high 43 goals and recording 78 points in 2017-18. He also led the NHL with a plus-49 rating and was awarded the Lady Byng Trophy for his skillful and gentlemanly play.
In the 2018 Stanley Cup Playoffs, Karlsson helped the first-year Golden Knights advance to the Stanley Cup Final.
Now, the 2011 Anaheim Ducks NHL Draft pick will get his second shot at a Cup.
For his part, Karlsson has been his typical self, scoring timely goals, creating scoring chances, while also preventing them.
But, in typical fashion, he deflects any talk of his own impact on the team's success.
"I think what makes this team special is the level of talent mixed with all of them being really good guys. That is what makes this team so special to be part of."
One more reason why life is indeed good for Wild Bill.
"There is a lot to be grateful for and I really am very grateful for everything."