Jake Allen tees up support for hometown of Fredericton
Established through Allen's nonprofit organization, The Jake Allen Classic continues to be a must-attend event in the city of Fredericton.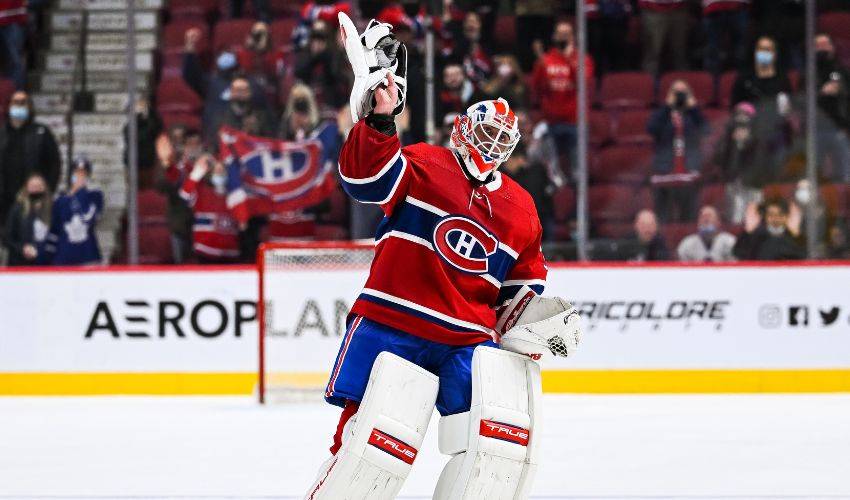 Feature photo: Getty Images
---
Jake Allen's annual charity event is all about support.
The Jake Allen Classic teed off on August 4 for its sixth rendition in the Montreal Canadiens goaltender's home province of New Brunswick. The event, which raises funds and awareness for several local organizations and causes, also offered a meet and greet with none other than Allen himself.
Established through Program 34, Allen's nonprofit organization founded in 2016, The Jake Allen Classic continues to be a must-attend event in the city of Fredericton.
"The event was great," Allen told NHLPA.com. "It was our sixth one and I think at the end of the tournament, it was one of our best ones ever. We got a lot of awesome feedback from players, sponsors, and the golf club who hosted it. We don't have the final total yet, but it looks very promising. We have some really wonderful beneficiaries this year, all within our local region here in Fredericton. Hopefully, it makes a little bit of a difference for their upcoming projects. It was just a great day all around."
A day showcased by giving back to a community Allen has a great affinity for. Money raised from the event will be donated to seven youth-focused initiatives: Upper Nashwaak Arena, Youth in Transition, YMCA Fredericton, Partners for Youth, Jobs Unlimited, Chalmers Foundation, and Kingswood Turnaround Achievement Awards.
Allen, who won the Stanley Cup with the St. Louis Blues in 2019, is a popular figure in his native Fredericton, enjoys mentoring young goalies through his Jake Allen Fantasy Goalie Camp for Bantam AAA youth across the province.
"I'm very fortunate to have always had great support from people in Fredericton and throughout New Brunswick. We don't have too many players that make it to the NHL or who are in it currently, so I have an opportunity to be able to do something for the people here. They've supported me every step of the way before I played in the NHL and throughout my time in it. I want to give that support back. Ever since we took the reins of the foundation, our retention rate at the event is close to 100 percent. I think the community sees what I'm trying to do, and they got on the train and helped me out. I'm very fortunate."
Allen, who will play in his 10th NHL season in 2022-23, is never in a rush to end his meet and greet sessions with those who come to his event each year.
The interactions, with fans of all ages, always yield some interesting questions.
"It's a totally different animal now that I'm playing with the Montreal Canadiens. We're in Habs territory here. It's pretty wild. You see a lot more red, white and blue fanatics coming to these tournaments. You get a big range of questions, especially from the kids. To be able to spend some time with them, whether it's team-related questions, fishing-related ones, it's awesome."
Those moments, especially with the kids, prompt a walk down memory lane for Allen.
"I still remember those days, being in those kids' shoes, and dreaming of what it would be like to play in the NHL. Whether it was a meet and greet or going to hockey camp where you could meet someone, it was a big deal. For me, it was getting the chance to talk to a junior hockey player. To have a quick chat, shake their hand, it was a big deal. If I can answer a question for these kids, maybe that helps spark their dream. Like I said, we're from a region that unfortunately doesn't have the same number of NHL players that other places in Canada does. Giving those kids hope, letting them know that if I can get there so can they, it means a lot to me."
Before he puts on the pads and laces up the skates for the new season, Allen will be angling, literally, for more stories to add to his fishing adventures.
The 34th overall draft pick of the St. Louis Blues in 2008 has been making the most of his fishing time before he heads back to Montreal.
"It's the one thing where you feel secluded, as though the rest of the world doesn't exist. It's the one thing that entrances you during that moment in time. I don't think I've ever found that with anything else. It's a great escape, no doubt."
Allen is still in search of his big fishing tale that he can share.
"I have a few good ones, but I'm still waiting for the one to be true that people won't believe. We're mostly looking to catch some Atlantic salmon. The day hockey ends for me is the day that my amateur fishing career starts. It will hopefully be more of a daily occurrence for me at that point in time."
Regardless of where he finds himself, on the water or ice, No. 34 will maintain his status as one of New Brunswick's most cherished role models.