Allen Pays Homage to Home
Jake Allen salutes his home province of New Brunswick on the back of his new goalie mask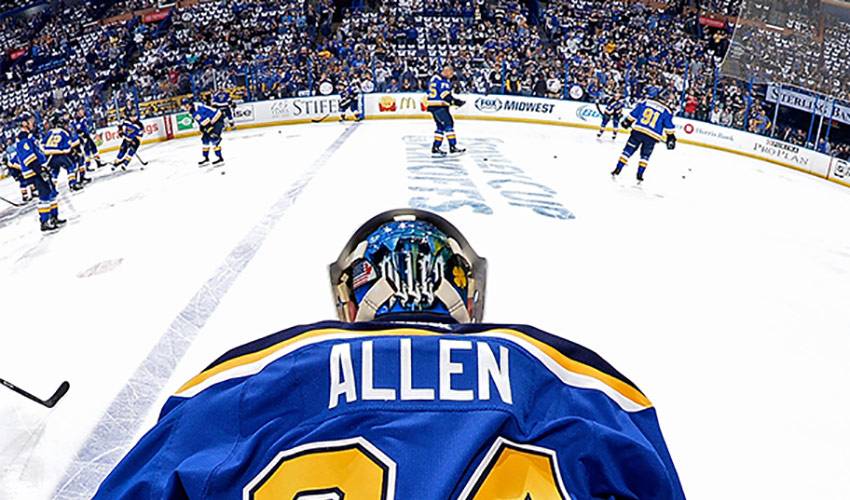 It's a proud and colourful homage to Jake Allen's homeland, artwork that will soon be on display for the entire hockey world to see.
There haven't been many New Brunswick-born players that have made it to hockey's highest level, 50, to be specific. Bordering the U.S. in eastern Canada, the Maritime province is home to just over 750,000 people.
Allen, who hails from the capital of Fredericton, recently took to Twitter (@34jallen) to share a glimpse of his new goalie mask, the back of which bears the provincial flag of New Brunswick. The top third consists of a golden lion on a red base, with a white ship sailing on the water, on a gold base in the bottom.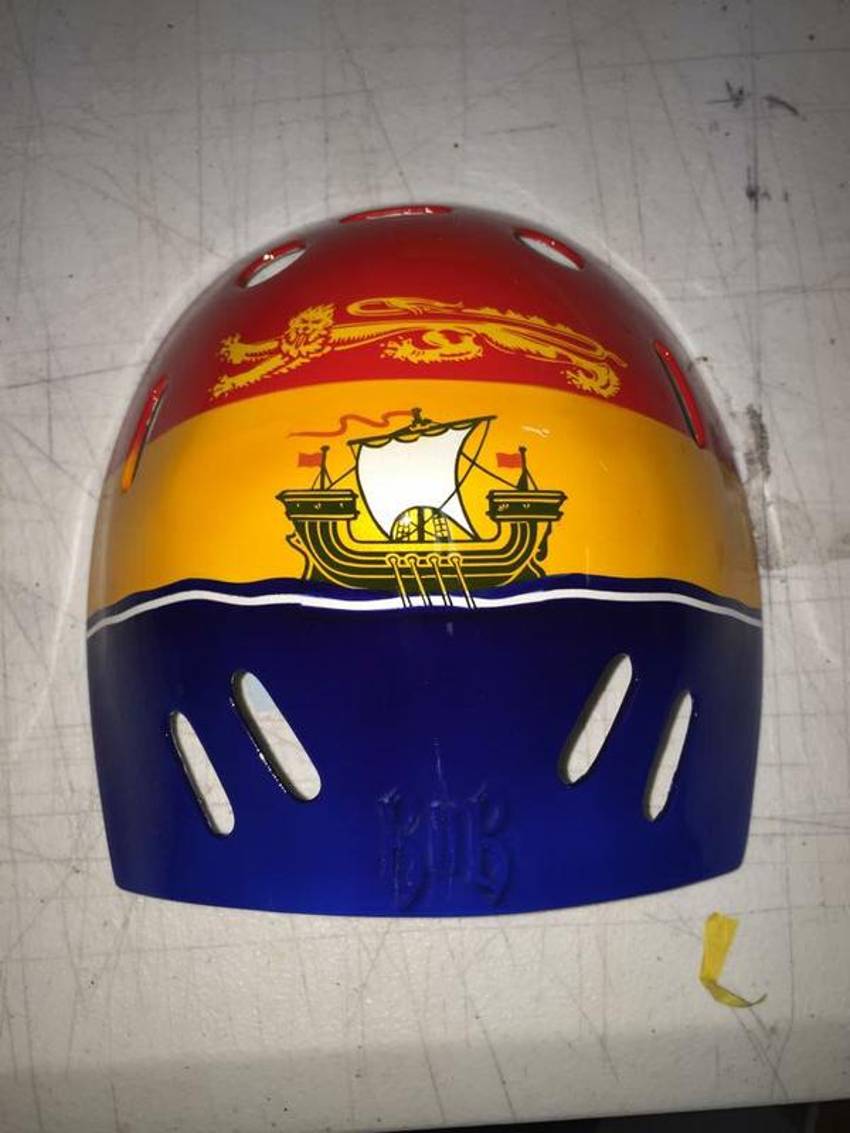 "I really just wanted to pay tribute to where I am from, to recognize all of the people back home for their support over the years," said Allen. "I like the fact that the colours mesh well with the St. Louis colours, too."
While the entire mask hasn't been completed yet, reaction from New Brunswickers has been, not surprisingly, rather enthusiastic.
"I emailed a few photos to my parents, siblings, grandparents and friends," noted Allen. "They thought it was great. Everyone loved it."
The 25-year-old loved the opportunity to grow up in New Brunswick, the place where his passion for hockey began. He returns there every summer.
"I did everything, sports-wise, but hockey was No. 1," said Allen. "I remember we had a backyard rink and you'd be out there seemingly forever, not wanting to come inside. One year, our neighbour had a backyard rink, too, so we ended up connecting the two of them and making one giant rink. There was also a rink at the local school, so we'd get on snowmobiles, head over there, and play hockey until as late as we could."
He didn't begin his hockey life as a goalie.
"When I first started playing, everyone rotated so that you had a chance to play each position," recalled Allen. "I started out as a player, but eventually, when it was my turn to be the goalie, it just stuck. Obviously, it ended up being a great fit for me."
And, speaking of great fits, Allen's hoping that new mask of his is just that come the 2015/16 NHL season.
"It's a pretty cool process, the way it starts out with the idea, then sketches, back and forth emails with the company that makes it, and when you finally see the finished product," he offered. "I love the way the back plate looks and what it represents. I feel very fortunate to come from New Brunswick. As I said before, there aren't a lot of players from there, so it's nice to share it with fans and others through the mask."
Stay tuned for the reveal.