Allen, players step up in wake of Nova Scotia tragedy
Jake Allen is hoping that social media sharing, a signed goalie stick and a game-used blocker can play a part in raising funds for those affected by the Nova Scotia shooting.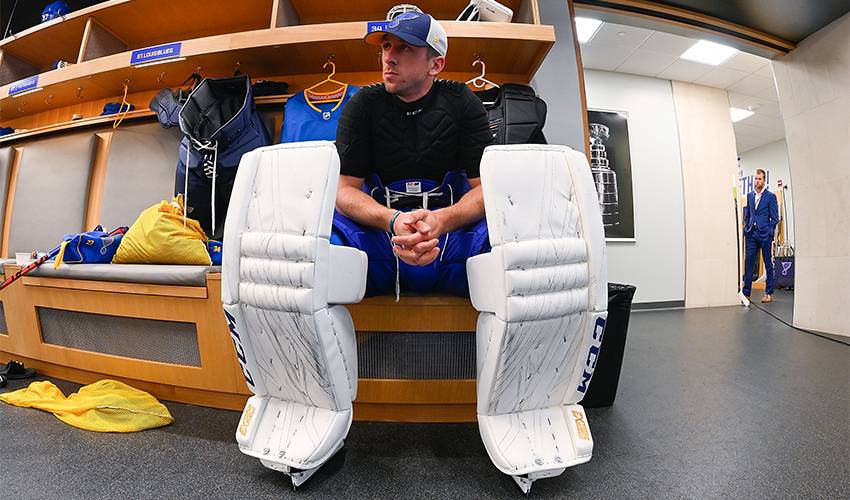 Jake Allen is hoping that social media sharing, a signed goalie stick and a game-used blocker can play a part in raising funds for those affected by the Nova Scotia shooting.
It was just over a week ago when the St. Louis backstopper and New Brunswick native took to Twitter with a heartfelt message.
Twenty-two people were killed and three others injured after a mass shooting this April in Nova Scotia, an act that stunned people throughout the Canadian province and across the country.
Allen recalled the moment he first heard of the shooting.
"We were here at home, in New Brunswick, and I started reading about what was unfolding when I was online. Then I turned on the TV, and the news starts to slowly trickle in. It took a few days for everything to get out and exactly what had happened. It was tough to hear. It's not far from here, I know a lot of people in that area, and my brother lives in Nova Scotia. It's a terrible tragedy and you feel for everyone involved."
When the 29-year-old got a call asking if he'd be willing to offer up some of his hockey equipment for a fundraiser, he quickly stepped up.
"My agent, Allain Roy (Roy Sports Group), is from New Brunswick. He has connections to Atlantic Canada and the Maritimes. Through his agency, he decided to start a fund. There are a lot of things going on locally, provincially and nationally to raise money for those that were directly affected by the shooting. It's great to see people come together to help out. No one has hesitated to do that, and for us, it was a very simple thing.
"We had a big fundraiser going on for our city in Fredericton during those times, and when Allain and his staff reached out and said they wanted to raise more money for what happened in Nova Scotia, it was just an easy thing to do."
Allen has always felt welcome whenever he's visited the place that's home to over 977,000 people.
"We're all part of Canada, but in the Maritimes, we're all very connected. We're such a small community, I guess you could say, but we all have a special bond. In a couple of hours, you can get to three different provinces, so there's no question that there is a Maritime connection, a bond that has been there a long time. I'm sure it always will be that way."
People can visit the fundraising website to bid on items donated by Allen, and other players with ties to the Maritimes.
Eight players have donated items and experiences to help benefit the Red Cross Fund for Families who are impacted by the Nova Scotia tragedy.
A minimum donation of $20 gives entrants the chance to score some memorabilia. The winners and items will be selected randomly at the conclusion of the campaign, at the end of May.
"I donated a signed stick and one of my old blockers that I have at the house," said Allen, who brought the Stanley Cup to New Brunswick after the Blues' celebrated its first championship in 2019. "I have my gear at the house, but I'm hoping I'm going to need it soon. There are a lot of Maritime guys my agent has who have ties to Atlantic Canada. Everyone has helped out for what is a very good cause."
Montreal Canadiens goalie Carey Price showed his support for two children whose parents were killed in the shooting.
The British Columbia native sent a heartfelt video message to Alex and Jack Blair.
Price ended his video call with the young boys with words of encouragement.
"You can and you will get through this because of the character that was given to you by your parents."
Brad Marchand, who hails from Hammonds Plains, Nova Scotia, posted an image of the province's flag on his Instagram page on April 21.

Allen wasn't surprised to see the hockey community come together and offer its support.
"I feel like that's one of the great things about athletes and hockey players, in general. They don't forget their roots and where they come from. Even if it isn't their hometown, the players always step up."