Longtime Sabres fan Alex Tuch thrilled to wear the blue and gold
Alex Tuch is now a member of his hometown Buffalo Sabres, and it's debatable which family is most excited about it.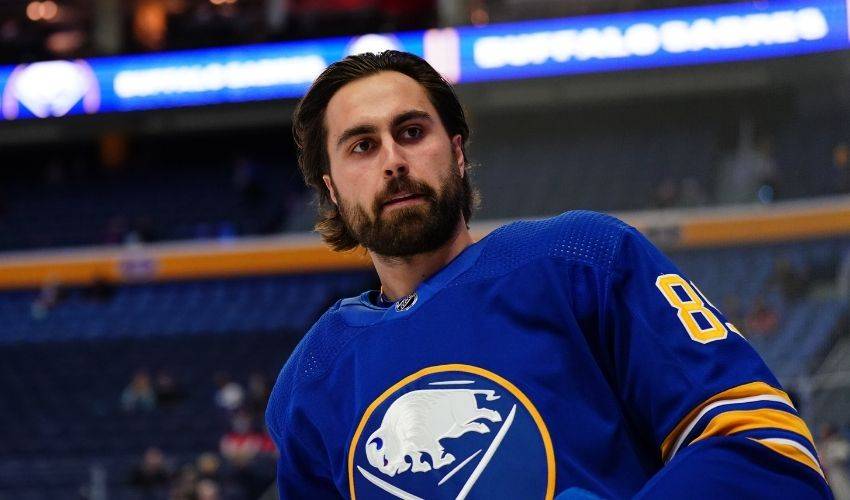 Feature photo: Getty Images
---
You won't find too many Buffalo Sabres fans who are more passionate and knowledgeable about the team than Alex Tuch.
It wasn't long after he was traded to Buffalo in the November, as part of a deal that sent Jack Eichel to the Golden Knights, that 25-year-old Tuch had a chance to meet with members of the Sabres organization in person.
And when he did, the affable winger, born and raised in nearby Syracuse, New York, wanted to make it known that he was indeed a long-time, die-hard fan of the team.
"I wanted to prove to everyone that I was a legit Sabres fan, so I started rattling off the guys that played on the teams that made it to the Eastern Conference Final in 2006 and 2007. I was around 10 when Buffalo made those runs and I remember so much of it."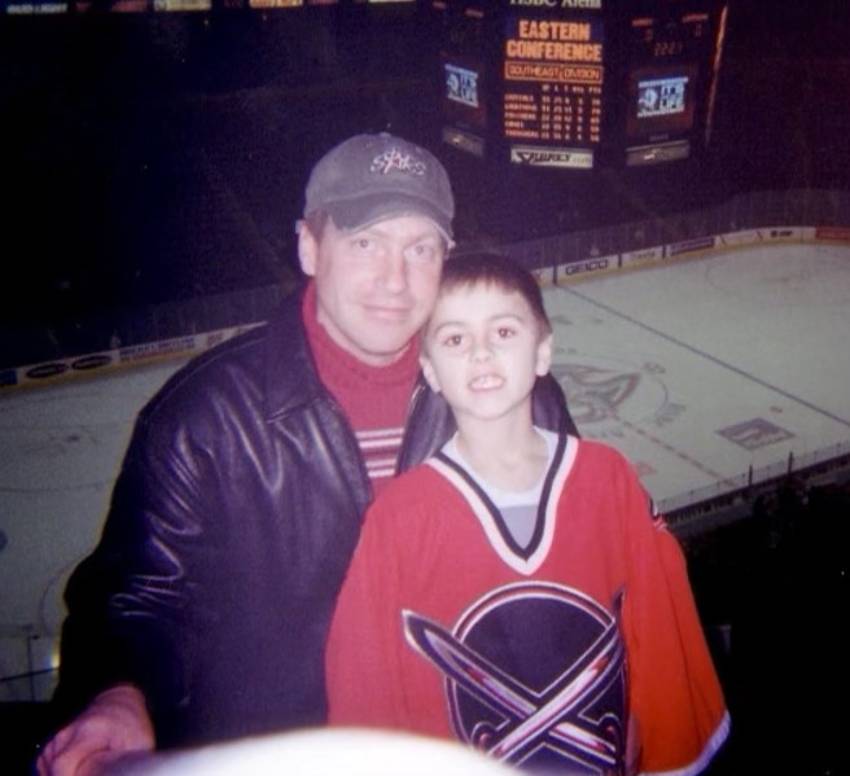 Tuch rhymes off a long list of names from those rosters without missing a beat.
And that's just for starters.
His expertise on the team, and its history, is impressive.
The 6-foot-4 forward, who missed the start of the season recovering from shoulder surgery, is unabashedly thrilled to be part of the franchise that joined the NHL in 1970.
"I loved watching Tim Connolly, who was my next-door neighbour, play for the Sabres," said Tuch, who has trained with current Sabres' assistant coach Matt Ellis in past offseasons. "I really just loved everything about the team. And now, to be able to say that I play on Buffalo, it's just unbelievable. Right away, I felt very welcome and right at home. I can see the excitement in management and the fan base in having a Buffalo Sabres fan become part of the organization."
And Tuch isn't shy in expressing his fandom.
"The first weekend I was in town, I got to meet (longtime Sabres play-by-play man) Rick Jeanneret. That was special for me. As soon as he started talking to me, I heard that voice and it was crazy. I said, 'Rick, I'm such a huge fan. My dad and I listened to you all the time. My dad is going to be so jealous.' And he was so down-to-earth and awesome. He said that he'd love to meet my dad. So, I have to make that happen one day."
Tuch, the 18th overall pick of the Minnesota Wild in the 2014 NHL Draft, isn't the only one in the family enjoying the latest chapter in his NHL career.
His parents, Carl and Sharon, live just over two hours away from Buffalo.
There is a slight difference of opinion, however, as to who is the happiest when it comes to Alex suiting up for the Sabres.
"I don't think you could ever beat my excitement, that's for sure," said Alex, whose younger brother Luke, the 47th overall draft pick of the Montreal Canadiens in 2020, once billeted with former Buffalo forward Andrew Peters. "Growing up a Buffalo Sabres fan, a Sabres player living next door to me – I watched very single game when I was a kid. Pulling on that sweater for the first time, it is something I'll never forget, and I'll never take for granted."
"My wife is the happiest, for sure," noted Carl Tuch. "She gets to have her son home."
The couple also are now able to dog-sit on occasion.
On this day, Alex handed the leash of his beloved pup Teddy to his parents.
"He's in great hands. I met my parents about halfway, in Rochester, so he's getting spoiled at the grandparents' house. He likes it better at their place, I think."
While that might be up for debate, there's no arguing No. 89's desire to be a difference maker in Buffalo.
And not just on the ice.
"Through Andrew Peters, I got to meet (former Sabres right-wing) Pat Kaleta, who runs the Junior Sabres organization. I'm looking, post-COVID, to get involved with the youth organization because I really think there is a lot of potential with Buffalo hockey in general and it's something I want to be part of, to help out in any way I can."
In between dog drop-offs, catching up with his parents and his future plans, Tuch is looking to help play a key role in getting Buffalo back on the playoff track.
So far, he likes what he sees.
"I hope the other guys really see the excitement in me to put on the Sabres sweater each and every time, and to be part of this organization. I take great pride and I'm trying to lead by example in that way. There are a lot of guys on this team that really want to be here. I think we have a really good atmosphere in the locker room. It's been a tough stretch, but I think it's been a really good start. I'm excited as to what the future holds."
He's not the only one.
"It was amazing watching your son's dream come true for the second time, first making the NHL and now a Sabre," said Carl Tuch. "Hard to believe, really. Some people may not believe it, but they will – Alex knows that everything needs to be earned and it's actions, not words, that matter."