Alex Tuch is excited for the future of the Buffalo Sabres
Alex Tuch is looking to build something special, literally and figuratively, as a member of the Buffalo Sabres.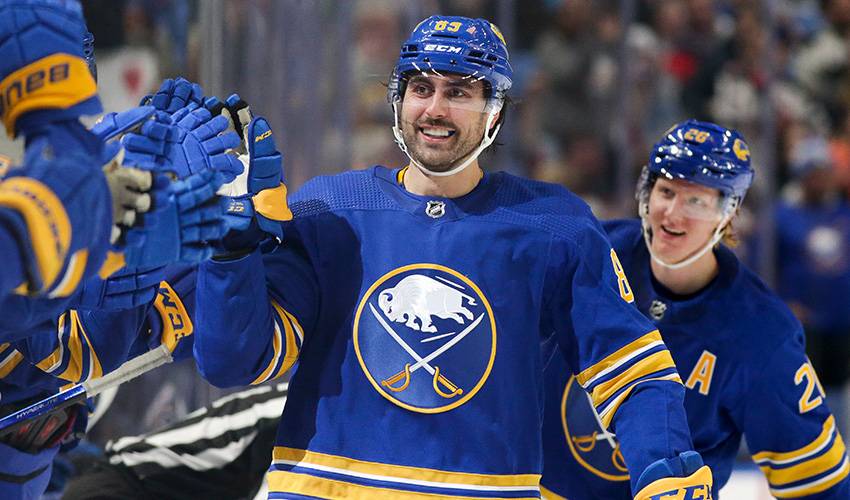 Feature photo: Getty Images
---
It has been 18 months since the 27-year-old forward was brought to his hometown team via trade, an opportunity that Tuch has embraced to its fullest extent.
"We have a whole lot of family and friends in upstate New York, the western part of the state," said Tuch. "They were excited when the trade happened, and I've had so much support. It's been a lot of fun. We started building a house here in Buffalo, in Clarence, so we're really excited about that too."
Tuch, who was born in Syracuse, New York, was a driving force for a Sabres team that missed out on the 2022-23 playoffs by a single point.
The 18th overall pick of the Minnesota Wild in 2014 set several career-best offensive numbers and endeared himself to teammates and fans through his energetic and dynamic playing style.
His impact, however, went far beyond the 36 goals (nine of them game-winners) and 79 points he tallied in just 74 games.
Tuch's versatility was on display throughout the season, one in which he was a regular on the top line with Tage Thompson and Jeff Skinner. He also regularly played alongside Dylan Cozens, Peyton Krebs, and captain Kyle Okposo.

Wherever he happened to find himself, Tuch was a perfect fit.
"It was definitely a good year, an eye-opening year for me personally. I don't think I've reached my full potential. There are things I feel that I can do better and get better at, to continue to be a better player. From the team standpoint, I'm really proud of this team."
Rather than being overwhelmed by the pressures that come with playing for his hometown team, Tuch embraced the opportunity the moment he arrived in Buffalo.
"We were the youngest team in the league by a lot, and we were able to push people's perspectives and expectations of us. We weren't picked to do very well, and we ended up finishing one point behind the Cup finalist, Florida Panthers. That just shows how close we were to getting in. And you never know what can happen in the playoffs, so it was nice to see how far we've come from a few years back. It's huge."
Despite the heartbreak of falling just short of a post-season berth, the Sabres, Tuch included, took away several positives from the 2022-23 campaign.
"We are definitely hungry. There are some guys who came off some big years, and everyone in that room wants to get better. We're having a lot of fun doing it, being on this road. We're going to continue to gain experience and grow together. With the signing of our captain, Kyle Okposo, that's huge. He's been an unbelievable leader and a really good friend to myself and everyone on the team. Just to pick his brain and be around him has helped me grow as a person and a player. Each and every person in the room wants to be better and we're going to be pushing for success every single day. Our expectations are high for next season and we're excited."
Amidst the whirlwind of the regular season, Tuch found himself focused on growing his game.
"I think, in my eyes, that I have solidified myself as a top-line player in the NHL. There had been that talk of, 'He has that potential or that ability exists,' but I hadn't quite grasped on to the reality of it. Maybe there were question marks, but I feel I have answered any of those questions about being a top-line player. I've learned to be more consistent and to be a consistent game-changer. It's something that I learned I'm capable of. I'm excited to see what is ahead for this team. My confidence has grown over the year or so and I've come to understand what kind of player I can be and what is expected of myself."
He is hopeful it all pays off with a 2023-24 playoff spot and a shot at delivering the franchise its first Stanley Cup.
It is something he has thought about often since the Sabres' season ended.
"People are really excited about what we are building in Buffalo. They see it and they see how much we care and how hard we work. They see our potential and what we are chasing. The people of Buffalo care about their sports and their athletes. The support I've received is overwhelming, and not in a bad way. The love my family and I have felt is phenomenal.
Bills Mafia has been strong and now … Sabres Nation is strong. It's a sports town and they support us huge. Hopefully, we can give them some hardware sooner rather than later."
It has already been a whirlwind offseason for Tuch, who was part of the U.S. squad, along with his younger brother Luke, that competed at the IIHF World Championship in Finland and Latvia.

He is also off to Canada's West Coast for the next six weeks to visit family.
"Definitely a lot going on, for sure. We're moving into our new place here in Buffalo on August 1. There's a lot to look forward to. How can you not be excited by all of that?"