Full of fight and smiles, players rally for 'Ax Man'
The wide smile Axl Quincey flashes often leaves his parents speechless.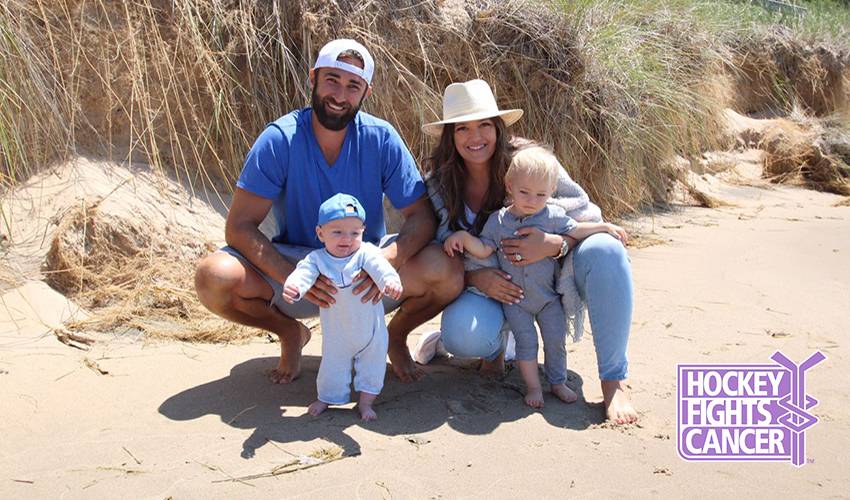 The wide smile Axl Quincey flashes often leaves his parents speechless.
When he opens his eyes each morning, the toddler sports a smile just as big as the ones he sees on the faces of his parents, former NHL defenceman Kyle Quincey, and Rachel.
"He has the best smile," said Rachel, her voice cracking. "It's a smile that can light up a room. We're so grateful that we still have that. When I see him… he has the best personality. He's perfect."
It's a moment the couple never tires of. And once you've heard their story, it's easy to understand why.
"Ax Man", at just one and a half years old, has already experienced more serious health issues than most people will endure in a lifetime.
It was this past March when the Quinceys noticed their youngest son wasn't feeling well. At first, there was mild cause for concern. But when Axl didn't appear to be on the mend, they took him to see the doctor.
Initially, the couple opined it was an ear infection or a cold, or perhaps the flu. On a trip to the emergency room March 20, a CAT scan was suggested.
The results yielded the worst fear for a parent: brain cancer.
Axl was diagnosed with ependymoma, a type of tumor that can form in the brain or spinal cord. Ependymoma can occur at any age, but is typically found in young children.
The first procedure, surgery performed in Denver April 2, removed about one third of the tumor. It was followed by two months of chemotherapy.
After countless hours of their own exhaustive research, the Quinceys eventually decided to have Axl's next surgery take place at Children's Hospital of Philadelphia (CHOP), with noted surgeon Dr. Jay Storm leading the procedure.
June 9, Axl underwent the operation, which took 22-plus hours, and saw removal of 99% of the tumor.
"Ax Man" remained at CHOP for 16 days after the surgery.
"The hardest part was obviously the diagnosis," started Rachel. "But also being in the middle of a pandemic was added pressure. We also have a two-and-a-half-year-old son, Stone, who also needed our attention. I think for us, we decided early on that it was going to be all hands on deck, but also a tag-team situation, where I needed to spend that time with Axl in the hospital. I couldn't be away from him for more than a couple of hours, personally, and I'm so grateful that Kyle understood that. The only sense of control I had in the situation was to be by Axl's side and see the interaction of every nurse, and understand every drug that was going into his body and relay that information to Kyle. I feel that we are stronger as couple after this. We have a newfound appreciation for each other."
They also have a full understanding of the realities associated with Axl's condition.
Unable to consume food through his mouth after his right vocal cord was paralyzed during the first surgery, Axl has a feeding tube attached to his stomach.
He will undergo an MRI every three months until he's three, every six months until he's five and every year until he's 26.
"We will get through this together," said Kyle. "Axl has shown, every step of the way, that he's a fighter. And we know that's just what he'll continue to do."
"He can roll with the punches," added Rachel. "He's so resilient. He's truly definition of a warrior. He has the ability to get through this… I'm just so grateful that he's still here."
Support has come from far and wide, including the NHL community.
Drafted in the fourth round of the NHL Draft in 2003, Kyle played three seasons with the American Hockey League's Grand Rapids Griffins, where in 2006 he met Rachel, who is from Luther, Michigan. They were married 10 years later in Detroit, following Kyle's final season with the Red Wings.
After playing for three teams over the next two years (New Jersey, Columbus and Minnesota), Kyle spent the 2018-19 season in the Finnish Elite League (Liiga) with HIFK Helsinki before he retired at the age of 33.
Although he isn't lacing them up professionally anymore, Kyle hasn't been forgotten by his fellow players. Several of them, along with their significant others, have lent a helping hand in various ways throughout Axl's journey.
Brian Elliott and his wife Amanda offered up their Philadelphia-area home to the Quinceys when they were in Pennsylvania for Axl's second surgery.
"We first met Kyle and Rachel in 2011 when I got traded to Colorado," recalled Elliott. "It was a short time there, but you knew they were good people right away. Rachel helped me find an apartment to rent. We didn't play together long, but we have a lot of mutual friends. They are just the kind of people that everyone loves.
"This summer, my wife got a text from Lauren van Riemsdyk [wife of James van Riemsdyk of the Philadelphia Flyers] that she sent to the Flyers wives, and through the hockey family networks knew that the Quinceys were considering getting care for Axl in Philly, and if anyone would be willing to share their home. Of course, we volunteered immediately. Our hearts went out to them when we heard about Axl. We've got two boys as well, similar in ages. We wanted to help in any way we could, so it was an easy decision for us. We left pretty quickly when the season was cancelled, so everything was set up for Axl and Stone to use – toys, bedrooms, etc. It's a great little neighbourhood, so we thought it would be a good, easy fit for them to not have to worry about."
It ended up being the perfect fit.
Kyle, his mother Debbie, Rachel, Axl and Stone felt right at home in a place that wasn't their own.
"It's hard to explain the gratitude we have for the Elliott family and so many others," said Kyle. "I could not imagine being in a hotel room for three months, just going through what we were going through. It was amazing what they did for this. They made it as easy as possible for us when we were going through a very difficult time. I don't know how to really show the gratitude for the Elliotts and so many others. Guys like [former NHLPA members] Daniel Briere, Scott Hartnell, and then there's [current players] Kevin Shattenkirk, Nazem Kadri and Paul Stastny – it was so important to us that all of these guys and so many more reached out to support us in our time of need."
The Quinceys, who are starting a foundation to benefit childhood cancer, also received an assist from Haley Fowler, the wife of friend and Winnipeg Jets forward Paul Stastny, who contacted a company that produces t-shirts and crewnecks that say, "Team Ax."
"We're really close with Kyle and Rachel," started Stastny. "We're all the same age and Kyle and I played a couple of years together in Colorado and we ended up making that city our home. When we found out about Axl, it really hit home for us. We were with them just a couple weeks before they found about Axl. You feel so helpless when a kid is diagnosed with cancer. You can only say so much or do so many things to help. You just want to console them and be there as a friend to help in any way.
"For us, doing this, it was a way to help raise awareness for Axl and others dealing with a rare form of cancer. Our goal was to help shine the light on his situation, but it just goes to show you how big and tight the hockey community is. Most everyone ordering the shirts are people that knew Kyle through hockey. Everyone started spreading news. It shows how loved they are and the type of good people that they are."
Stastny, only 55 regular season games away from 1,000 for his NHL career, agrees Axl would make an ideal hockey player.
"I'd say he's almost tougher than his dad, and his dad is a pretty tough guy. When you see those pictures of Axl, it reminds you how resilient kids are. You see after those different check-ups, after so many chemo sessions, he's still smiling and he's still battling. It shows you how big of a heart he has and no matter what, he's going to keep on fighting."
The support of Stastny and Fowler, along with so many others, has been huge for the Quinceys.
"The boys reaching out by phone and text to check in, sending dinners, thoughtful gifts for the kids, offering up their homes during Axl's treatment in Philly. And going forward, helping us spread awareness for pediatric cancer research – the wives were also great reaching out and supporting Rachel – it really is impossible to try to put in words what so many people have done for us and meant to us," said Kyle. "The help, people reaching out – it reminds you why the hockey community is so tight-knit."
They continue to be reminded of it nearly every day.
Kevin Shattenkirk, who recently won the Stanley Cup with the Tampa Bay Lightning, was teammates with Quincey in Colorado.
If you can, please take a minute to support my former teammate Kyle Quincey and his son Axl who is battling brain cancer. Help #TeamAx by purchasing a hoodie or tee and all proceeds will be donated to organizations fighting childhood cancer. https://t.co/r1s5U5jz6T

—

Kevin Shattenkirk (@shattdeuces) July 14, 2020
"Kyle and Rachel were two people who treated me so well when I was a rookie in Colorado," recalled the 31-year-old defenceman. "Kyle was my D-partner, but also a great mentor for me as a young player trying to figure out what it takes to stick in the NHL. They have been friends of my wife and I for a long time and when we heard about Axl's diagnosis we really just wanted to support them in any way possible. Their story affected me on a personal level… I'm a parent now and worry for the health and wellness of my son all the time. It's been amazing to see how strong Kyle and Rachel have been through the whole situation."
The couple has also received a boost from inside their own home. Big brother Stone has been a rock throughout it all.
While he isn't able to comprehend everything his younger sibling is going through, it hasn't stopped him from making a huge impact on his brother's life.
"It's hard to say if Stone truly understands what has happened over the last nine months," said Rachel. "He always saw Axl as his brother and never paid attention to Axl losing his hair during chemo or the fishhook scar that goes up the back of his head and over to his right ear. Stone has always just seen him as Ax. It's actually quite amazing to see him understand and acknowledge the role of being a big brother. Stone is constantly looking out for Axl and encouraging him. Recently, Axl started taking his first steps and Stone is right there cheering him on.
"Stone has a happy disposition; positive energy and his smile and giggles are contagious. Smiling and laughing has been very healing. As soon as we would come home from a hospital stay, Axl's demeanor would instantly change seeing Stone – his spirits were instantly uplifted."
In spite of all the challenges they have already faced and will face as a family, the Quinceys, unprompted, wanted to share a message with families going through a similar situation.
"Have hope," offered Rachel. "Hope can get you through the darkest of times. If you can hold on to that, you can get through it… you can get through anything."
"I agree," added Kyle. "You need positivity and optimism. The other option isn't an option."
It's what comes to mind each morning they see "Ax Man" and his million-dollar smile.
---
Since its inception in 1998, Hockey Fights Cancer – a joint initiative by the National Hockey League (NHL) and National Hockey League Players' Association (NHLPA) – has resulted in donations of more than $28 million to support national and local cancer research institutions, children's hospitals, player charities, and local charities. Hockey Fights Cancer unites the hockey community in support of people impacted by cancer and their families.