Brian Elliott gets creative in the crease with mask designs
Known for his creative goalie masks, Brian Elliott discusses his latest creation.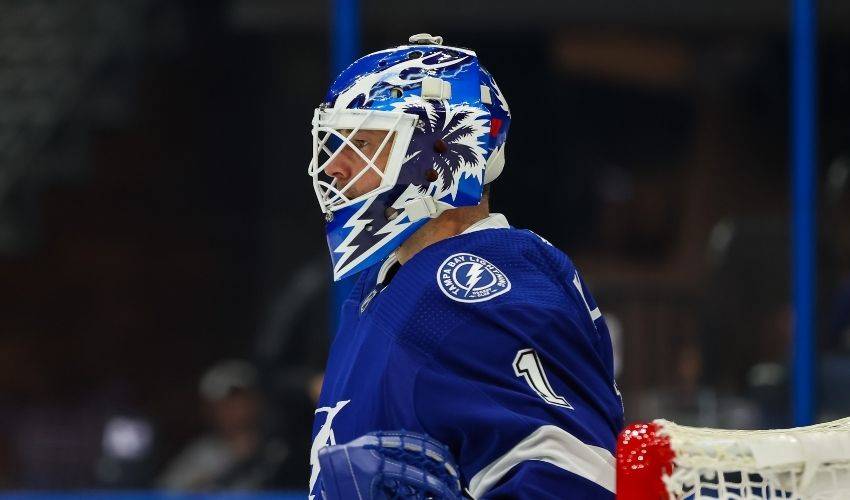 Feature photo: Getty Images
---
Brian Elliott has been on the receiving end of a few shots, literally, after debuting his latest goalie mask.
When asked if his new goalie mask, created by professional airbrush company, Sylabrush, has gone over well with his Tampa Bay Lightning teammates, Elliott, now in his 14th NHL season, wasn't quite sure how to answer the question.
If taking a puck to the bucket is the ultimate compliment, then the veteran netminder has plenty of reasons to smile.
"I think they like it," Elliott told NHLPA.com. "I've been hit in the head a lot in practice lately, so I'm not quite sure. It's definitely getting some good use, so we might have to do some chip work and repair work."
Fashioning colourful, and eye-catching, masks over the years is hardly a new thing for the backstopper, who is closing in on 260 NHL career wins.
As for all those different masks that he's worn during his time in the NHL, the final product is always the result of hard work, teamwork, and more recently, sketch work.
This year, Elliott knew exactly what he wanted from Sylvie Marsolais and Alexandre Mathys, the artists of the Quebec-based, Sylabrush.
"I was a little more picky this time," said the 36-year-old, whose nickname is Moose. "Sometimes I let them do the artistic work, but this time I kind of knew what I wanted. When I described it, Sylvie came back with a rendering, and it was spot on. It worked out really well.
"At this point in my career, I want something you can take from team to team, and we came up with something last year where it was moose antlers, mixed in with the Flyers theme on the side," he continued. "I wanted to stay with that this year, so I said that I wanted to stick with the same style, something that even if you are in the top deck of the rink you can still make out what it is. I wanted lightning bolts on the side and then a lightning bolt in with some palm trees, mixed with my moose antlers, and that's kind of what we came up with."
Working with Elliott and other goaltenders is a labour of love for Marsolais.
"Sometimes he'd draw us a little sketch and send us a quick view of what he would like to have on his mask," she said. "It was perfect for us to show what he wanted. It's not elaborate, but it gives us a quick idea of what he would like on the mask. It's easier for us to understand. With the first mask for the Lightning [Sylabrush also created a third jersey mask for Elliott], he wanted the palm tree to become the lightning bolts at the end of the tree, so he drew a little sketch of that, and that makes it easier for us to do the design.
"We have a little chat and then we, Alex and I, start working on a sketch. He's the main guy for design and has so many great ideas. We start to bring form and put together a little sketch with a computer. We share that with the goalie and if they want to do some modifications, we can make those changes."
Elliott was thrilled with the outcome, even more so when he finally donned it for the first time on the ice.
It was a moment that reminded him of an upcoming holiday.
"When you go to a new team, it's like Christmastime, getting your new gear and get your new helmet," said Elliott, who signed as a free agent with Tampa Bay on July 28. "It's an exciting time for everybody, especially with goalies. We get to be unique with our gear. That's part of the excitement. When it did arrive, you just get this extra energy when you put it on. You have that push to be even better than you were in your last gear. I just got my new black helmet in, the one to go with our third jerseys. She did a great job with that one."
Marsolais' biggest thrill is in seeing her work come to life on the ice.
And just like Elliott, it's similar to the feeling of opening up presents on December 25.
"Honestly, seeing the goalies wearing your helmet in a game, it's like Christmas almost. It's so amazing to see them on the ice and watch them play on TV. I'm watching so many games now because of the masks we do. When I was younger, I was always just watching the Montreal Canadiens, but now I'm watching games from all over the league. I watch many teams now."
Marsolais is hopeful those who head to NHL rinks will take notice of her works of art, no matter where they happen to be seated.
When it comes to Elliott's new goalie mask, she has her favourite aspects of the design.
"It's a vintage-looking mask. When you see it from far, the fans will know what it is. It will really stand out for the fans, and they can see the design from far away."
For Elliott, it's a chance to add some new items to his impressive hockey mask collection.
He'll also continue to keep an eye on other goalies throughout the league, perhaps picking up a tip or two for a new creation down the road.
"My mask now looks really similar to Felix Potvin's," said Elliott of the former big league netminder. "When I was growing up, he was someone I looked up to. Right when I was getting into being a goalie, he was the goalie for the Leafs, right where I was growing up in the Toronto area. I loved that mask. I tried not to copy it too much, but every mask I liked growing up and from guys I played against, I try to take a little bit of what I like from each one and put it into my stuff."