Eichel connecting with fans through Music Madness bracket
One of hockey's most creative players is putting a creative (and classic) spin on an iconic sports event.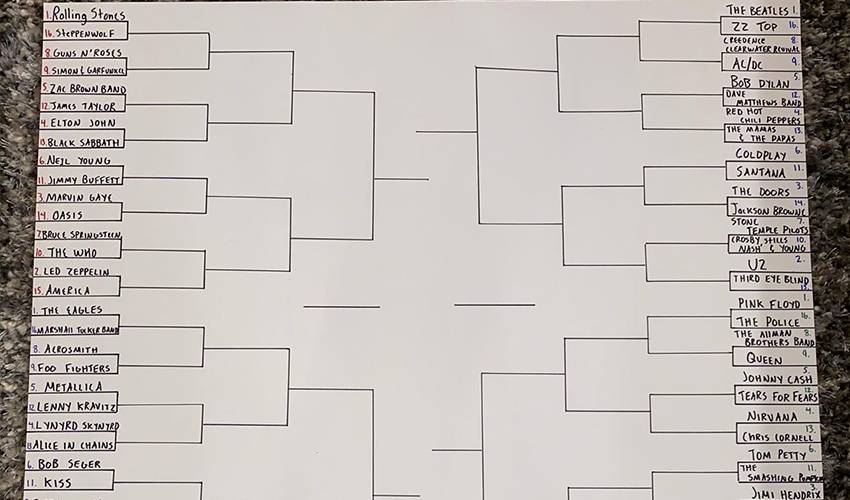 Even with no NHL action, Jack Eichel is proving he's got game.
The star forward recently devised a unique concept that showcases his musical taste presented in the format of March Madness, the wildly popular NCAA men's basketball tournament.
Welcome to "Music Madness"!
The Buffalo Sabres captain recently took to Instagram to announce he has put together a bracket including 64 bands and artists for fans to select their top acts of all time from.
Eichel's announecment post featured album covers of some of music's most legendary acts, including The Beatles, The Doors, Marvin Gaye, The Rolling Stones, Pink Floyd, Fleetwood Mac and others. The tournament isn't limited to the bands depicted in the photo.
Each day, he'll post one poll per matchup for fans to vote on. At the conclusion, Eichel will announce a champion and unveil his personal picks for the bracket winner.
It's presented in a similar format to the annual NCAA March Madness tournament, which attracts 68 teams (ranked from 1 to 68) who then compete over seven rounds for the national championship. Four of the teams are eliminated in the opening round of the tournament, leaving a field of 64 for the first round.
Eichel's inspiration for the Music Madness idea drew from a former Sabres teammate.
"Tyler Ennis had a bracket that was similar to this, but instead of musicians and bands, it was comedy movies," said Eichel. "He had posted it on his Snapchat and I saw it. I filled one out one of his brackets and I was going back and forth with him about it, and I thought it was a really good idea. The next day, I started putting together the music one."
The 23-year-old did some serious homework for his musical tournament.
"I listen to music a lot and I thought it would be a cool idea. I started by just writing down a list of my favourite musicians and bands, past and present. The majority of them are rock 'n' roll, but you'll see other genres on there too. I tried to keep it as easy as possible for people to decide. It's tough when you start comparing two different genres of music. I had about 80 music acts on my original list and from there I cut it down to 64. With the help of some people, we did the rankings. I went through and ranked the bands. I gave four No. 1 seeds (The Eagles, The Beatles, Pink Floyd and The Rolling Stones) and so on.
"I went over it and I showed it to a buddy of mine who I share a lot of the same music interests with. We went back and we revised it a bit, reseeding the bands, things like that. My personal opinion of who I think the No. 1 seeds should be – or my favourite ones – might be different than the what fans think. I tried to make it as easy as possible, where it wasn't strictly my opinion. It would be what other people would find the most popular."
Eichel's project was far from complete.
In all, there were three revisions before Music Madness was officially introduced on Instagram.
His father, Bob, was brought in a consultant-type role.
"I called my dad and we went through all the bands. The seeding was the toughest part. I just wanted to keep it as creative as possible."
A perfectionist when it comes to hockey, Eichel saw that trait carry over into his Music Madness efforts.
"I got a big piece of paper, then measured out the bracket on there with a ruler. I went through the whole process of doing it. When you do something like this, you want it to come out well, and you want people to have a good opinion of it. I thought if I did it the right way it would come off well and people would enjoy it. I think that's what's happened and I'm pretty proud of it."
During times of self-isolation, social distancing and the sporting world at a standstill, Eichel was looking for a way to connect with fans.
The 2015 Hobey Baker Award recipient thought music was a perfect way to achieve that goal.
"I filled out my bracket and trying to figure out who I like better – I've taken some time to do that. I'll get a band that's in a matchup and what I'll do is listen to their music for an hour or so, and do the same with another one. Some of the bands that I'm not as familiar with – it's been good to get a better feel for them before I make my decision. It's been good. I've discovered a lot of new music because of this. That's been one of the best things about doing this. Music is a great way to bring people together."
It's also a great way, he found out, to initiate some good-natured chirping from his Sabres teammates.
"I've had a couple messages from my teammates… usually complaining about a band they like and the seeding. There are so many great groups out there and everyone is certainly entitled to their opinion."
All of it is music to Eichel's ears.
In fact, this might not be the last bracket you see from the Massachusetts native.
"I was a big fan of Tyler Ennis' comedy bracket, so I figured I'd do a music-based one. I think it's a pretty cool idea and a lot of the people I've sent it to have really enjoyed it. I've really enjoyed the process of doing and seeing what people think, reading their comments on each post. Maybe I'll do another one."
Just don't ask Eichel for advice when it comes to filling out a March Madness bracket.
His music game may be strong, but his U.S. college basketball prediction skills are a little off-key.
"I've never really been good at that. But I did pick (champion) Virginia last year. We were cut short of having March Madness this year, and I think people really like that chance to fill out their brackets and sharing their picks, so I'm glad I did it."