Martin: There's a whole lot more at stake than just yourself
For Matt Martin, practising physical distance is taking on a big role in his day-to-day life, considering the increased risk COVID-19 presents to people who are close to him.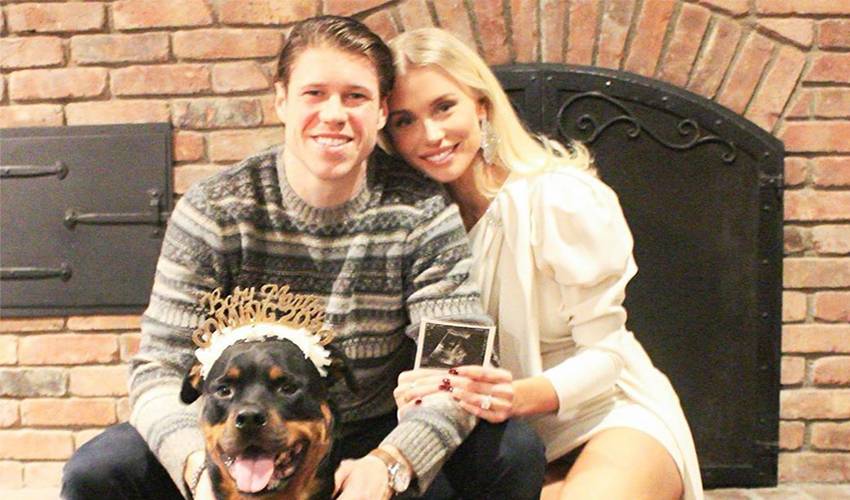 Feature photo via Instagram @MattyMarts27
---
For Matt Martin, practicing physical distance is taking on a big role in his day-to-day life considering the increased risk COVID-19 presents to people who are close to him.
Seeing the impact the coronavirus is having on a global scale because of its ability to spread has reinforced the necessary precautions Martin has had to take while being in self-isolation because of the risk it poses to his wife Sydney Esiason, who is currently pregnant and his brother-in-law Gunnar Esiason who has cystic fibrosis.
For Gunnar living with CF — a hereditary disease that affects the lungs and digestive system — makes him more vulnerable to get COVID-19 and experience complications if he were to unknowingly come into contact with someone who may not even have symptoms.
Understanding the risks has made Martin realize the importance of self-isolating and that the benefits don't extend to just himself.
"You'd like to think that as athletes, we are in pretty good shape and can kind of fight it off," Martin told NHLPA.com. "But when you start thinking about your mom and your dad and your loved ones, in my case Sydney who's pregnant, Gunnar... there's a whole lot more at stake than just yourself."
The New York Islanders forward really understood the dangers COVID-19 when he was on the road in Calgary and hearing about the new cases being talked about on the radio, and how cities were planning to ban fans from attending games.
When the NBA had two players test positive (Rudy Gobert and Donavan Mitchell) and put their season on pause, he knew it was only a matter of time before the NHL made a similar decision.
"Being in a hockey locker room here with 25 other people, then you have the medical staff, coaches, and then all the fans in the building, I had a feeling where it was gonna happen sooner or later," Martin recalls. "It kind of got real really quick. There wasn't a whole lot of time to process it at all."
Martin's father-in-law, Boomer Esiason, has been keeping him informed about the virus through the connections he has with people in the medical field and he's making sure that people close to him are informed.
"People are like, 'isn't it just kind of the flu?' I'm like, 'Listen, guys, it's not the flu. I'm living in the middle of it right now. Something different. We need to take necessary precautions,'" Martin said. "Thankfully, I was able to get my family back home to listen to me."
The other difficult part for Martin is that his side of the family lives in Canada. His mother works in finance and does tax work during this time but Martin has been doing his best to make sure she stays home as much as possible even though it's not always feasible for everyone.
He also hopes everyone is taking the government's recommendation to avoid getting into large crowds because, at the end of the day, COVID-19 hasn't shown any signs of slowing down. This is why Martin hopes people can look at the big picture and take it a little more seriously.
"All they're asking is everybody stays home for 14 days and then reassess from there," Martin said. "The vast majority of people have definitely followed along, but there are still people out there going places and that's pretty disappointing."
Martin certainly sympathizes with people who have to find a way to pay bills or have been temporarily laid off during these times. What he wants to make sure they understand that if they should only go out to get the essentials and wear gloves and a mask as well.
It helps that his mother-in-law has been giving him advice on how to limit the risks considering her experience raising a child with CF.
"Anytime I touch cardboard, anytime I get a package, anytime I go grab some groceries, whatever. When I get home I have gloves on, I have a mask on. I walk through the front door, wash my hands. As soon as I take the gloves off, or in some cases I've actually even had to take my clothes off outside, go upstairs and shower. So she has been on top of these kinds of things."
"We're obviously very thankful for her because she's been a calming influence for Sydney. She's been a great help to me. She's been prepared for a situation like this for the last 28 years."
With NHL facilities closed, Martin understands how tough it can be to remain patient during these times but says that trying to do different things every day has helped him from getting bored.
He also hopes that people who are at home are taking advantage of being with family something that is tough for him considering how much time he spends on the road or at the rink.
"Obviously, everybody would love to get out of the house and go do something else. And we'd love to get back to work and play hockey, but there are more important things right now," Martin explained. "I'm just trying to make the most of the time I have to spend with Sydney which is pretty much 24/7 and being around each other and enjoying each other."