Duchene feeling at home, helping build another in Nashville
It's not just the post-game texts that are music to Matt Duchene's ears.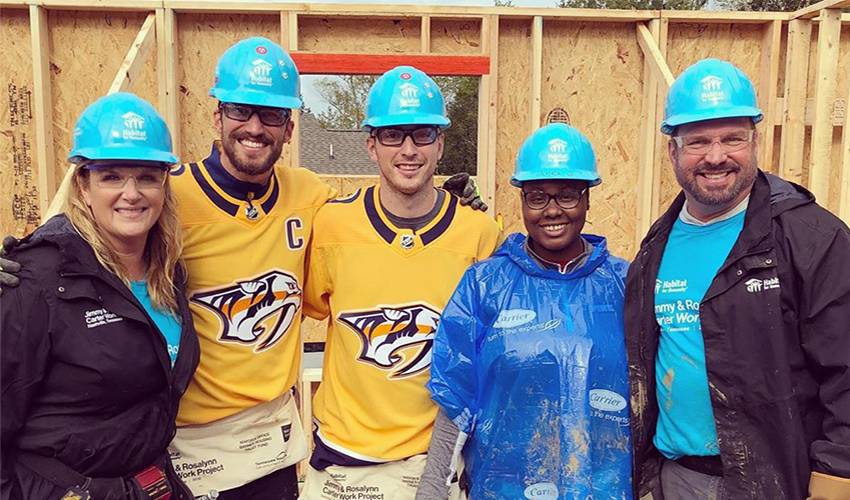 It's not just the post-game texts that are music to Matt Duchene's ears.
Not long after Nashville's 5-2 home win over Minnesota in the season opener for both teams, Duchene's cell phone started to ping. And ping. And then it pinged some more.
It's the kind of thing that happens when you have a three-point night in your first game with your new team.
Matt Duchene had three assists in his debut with the Predators, a season-opening 5-2 win against the Wild. Nashville trailed 2-1 before scoring four straight goals in the third period.https://t.co/sKC2gf2J5H

—

NHL.com (@NHLdotcom) October 4, 2019
One day removed from the memorable game, Duchene is sitting on his back porch, taking in the view, thinking about the whirlwind it's been since he signed as a free agent with the Predators on July 1 – and the support he's received from teammates and friends.
Life is indeed good for the 28-year-old.
"So far, we've been trying to get everything in order, living-wise, for our new place," said Duchene. "We have people in and out of here all the time, just getting things finished. And with our little guy (son, Beau) just being shy of nine months, we haven't really had the chance to explore the city a ton yet. But we've been here enough to know what the city brings. It's been so cool to get so much support from the music community, something I've already been involved in – just a lot of friends around town who are recording artists in the country genre."
Singer-songwriter Thomas Rhett's drummer, Chris Kimmerer, one of Duchene's closest friends, sent a congratulatory text to Duchene. So too did Russell Dickerson (currently on tour with Rhett), and Ryan Hurd, a country music star who hails from Kalamazoo, Michigan.
"I think he [Hurd] was at the Atlanta Braves game, and he posted a story the night of our first game. He was right behind home plate and he had a TV with our game on. Storme Warren, he's a big-time radio personality on Sirius XM's The Highway, texted me also. A couple of other guys' managers texted me… when I signed here, the amount of people that reached out, it was crazy.

"When I looked at my phone after the game, I got some really nice texts from some of those guys… pretty cool. It's been a lot of fun. Not just the music part, but lifestyle-wise, it's us. I'm sitting on my back porch right now. We live in a subdivision, but it feels like you we are right out in the country. You have this side to it, but you also have the city of Nashville, so it just makes for a great spot to be."
Especially for someone who wants to take his passion for playing guitar to the next level.
Would Duchene, whose affinity for music is at an all-time high, consider joining one of his country music friends on stage?
"I don't know what kind of possibilities are out there for me, but I think something will just fall into my lap, and I'll think, 'You know what? I'll do it.' I'm not the type of guy to say no to very much. I definitely want to start taking some guitar lessons. I think I'll probably do that within the next month. I have some friends in Thomas Rhett's camp who I'll probably have over to our house, and have them teach me some stuff. I haven't really learned much in a long time, so I'm ready to improve upon that."
Don't anticipate seeing Duchene on tour in the foreseeable future though, especially not with the on-ice talents he brings to the rink. In his first two games with Nashville, he has five points.
"Not that I'm going to pursue anything with it, I just want get better for myself. It's a passion of mine, and I want to be as good as I can be – on the side. It's definitely not my day job, but I love it. Music is something I was brought up with. It's been in my life as long or longer than hockey has been."
For the moment, Duchene will sit back and enjoy what he sees from his back porch, and beyond.
"The views are great, and it's my kind of living, for sure. It was really cool to see how much my teammates love being in Nashville too. To see their passion for the city – even the guys that have been here for a long time – they love it. It's great because that's looking into your future. Four, five years down road, the honeymoon phase is gone, so to speak, but at the same time, you can see that these guys still have a love affair with the city."
It's a love affair Duchene has quickly fallen into himself. Alongside team captain, Roman Josi, Duchene recently traded in his helmet for a hard hat (and safety goggles, course) to help give back to his new community through Habitat for Humanity.