Preds players families growing together
It's a bona fide baby bonanza in Tennessee's capital and most populous city these days.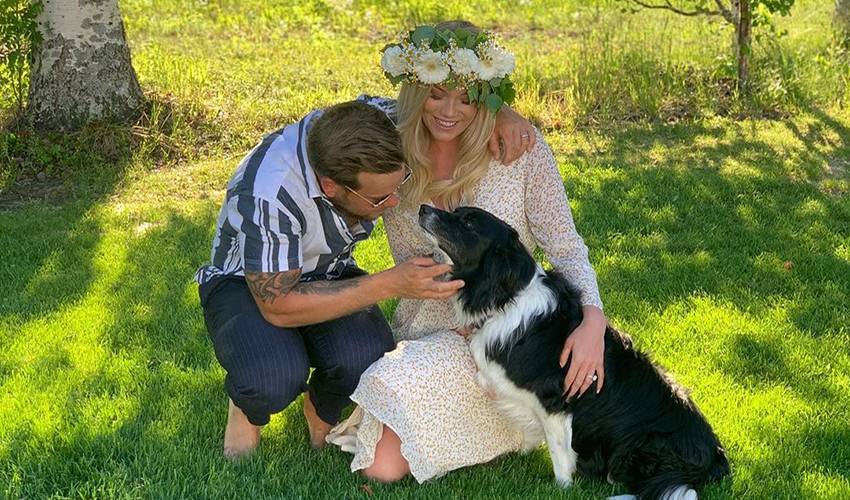 Thanks to Nashville Predators players and their significant others, "Music City" might soon be dubbed "Baby City."
It's a bona fide baby bonanza in Tennessee's capital and most populous city these days.
First up is Nashville forward Matt Duchene, and his wife, Ashley, who welcomed a girl, Jaymes Olivia Duchene, to their family on November 9. The couple also has a son, Beau, who was born on January 9, 2019.
But the Duchenes are far from the only headliners when it comes to Predators baby news.
"I think they had this type of thing here in Nashville a couple years ago," recalled Duchene. "I was playing in Ottawa and they came into town to play us. I remember talking to [Predators Manager of Hockey Operations] Brandon Walker – I've known him for a while – and he was telling me how many guys were about to have kids. Now, it looks like it's round two for everybody."
For those keeping score, Roman Josi, forwards Viktor Arvidsson and Calle Jarnkrok, defenseman Mattias Ekholm, and goaltender Pekka Rinne are all set to become fathers.
Rinne and his partner, Erika Parkko, are expecting a baby boy this month. Ekholm, and his wife, Ida, will welcome their second child in February, Josi and his wife Ellie are having a boy – the due date is February 14 – while the next month will see Jarnkrok and his partner, Sanna, celebrate the birth of a boy.
Did the teammates get together at a certain point and map out a baby schedule?
"It's crazy," said Arvidsson. "We had it happen a couple of years ago too. And now it's so many of us who are having babies. A bunch of the guys are having their second child and we're on our first. Almost everyone is here in Nashville and we're talking about it almost every day."
The Arvidssons are expecting their first child in April, and preparations for the arrival are well under way in the couple's Nashville home.
It turns out the 27-year-old forward isn't just an on-ice talent – he's also equipped with some home renovation skills.
"We want to do something special and we wanted to do it ourselves," said Arvidsson, who has been taking to Instagram to share photos of the baby-to-be's nursery. "We saw some pictures on Pinterest and Instagram that we liked and we're trying to make it as much alike to the pictures as we can. We're also trying to have fun with it, especially during this time with the pandemic. It's good to not just be sitting at home and doing nothing.
"And it's exciting to be doing the nursery. I like that kind of stuff. I'm a creative person and I like to challenge myself. It's just fun. I have everything from my dad and my brother. They're both carpenters, so I've learned a lot from them. They are a huge inspiration for me when it comes to that."
Arvidsson's creative flair isn't solely confined to building a top-shelf nursery.
Along with his wife, Moa, the player who struck gold with Team Sweden at the 2018 World Championships has been upping his culinary game during the pandemic.
Admittedly, Arvidsson is better at constructing a nursery than he is at creating a four-course meal.
"You spend a lot of time watching television in the evenings, but we try to find things to do. We will hike with our dog a little bit. Both of us like to cook, so we try to something creative and new. It's just trying to find things to do. We're creative people, so we're trying to make the most of it. When you have time on your hands – we'd usually be playing now – you find ways to keep your mind busy. It's a different approach than you usually have, but you get to learn stuff about yourself."
And you also have certain things reinforced.
"Cooking, Moa is way better than I am. I won't take credit for any of the meals. She's awesome, but it's nice to be able to do things like that together."
Soon enough, the Arvidssons will be making their contribution to the Predators players' baby boom.
And with it, will likely come plenty of parenting advice.
Duchene's words of wisdom?
"Arvy is going to be a great dad. He's an awesome guy, Moa is a sweetheart and will be a fantastic mom. For me, I didn't really know what to expect and that's okay. You learn on the job. I don't think there's a way you can prepare for it until it happens. You try as best you can, take everything in stride and learn as you go. Everybody finds their own way – there's no secret recipe to do any of it."
Regardless of when their respective babies arrive, the players will all share something in common once the lineup is complete according to Duchene.
"It's amazing to be a parent. It's a real blessing. I'm sure that's what everyone feels. It's great for all of us to go through this together and it's a bonding experience for the wives as well. Going through it, you realize how amazing it is for your wife to carry the baby. You can't imagine going through that."
Arvidsson is counting down the days until the nursery welcomes its new resident.
"I don't even know what to say. It's going to be awesome. My wife and I have been together for 10 years, so this is something special for us. To become a father is a huge responsibility and I'm ready for that. It's going to be fun and I'll get to learn a lot of new things. I'll get to learn a lot about myself too."