Norris Trophy finalist Josi focused on ultimate team hardware
What's a good word to describe life as an NHL captain these days? Roman Josi has one.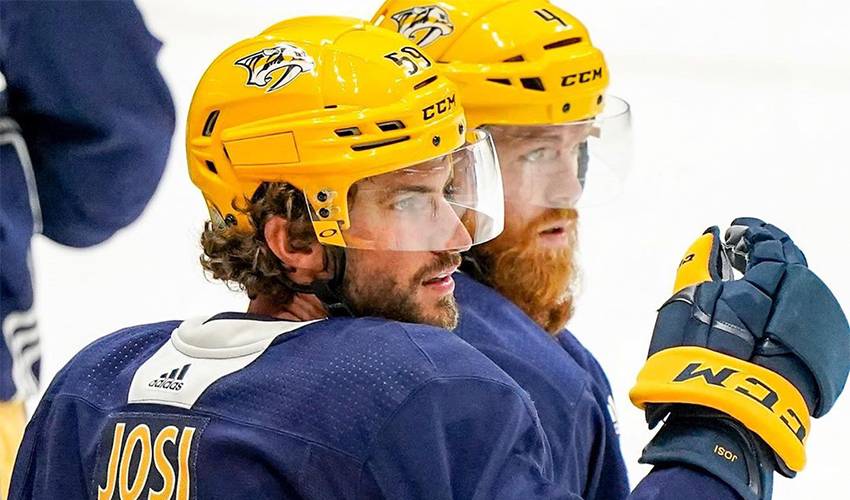 Feature photo: @PredsNHL
---
What's a good word to describe life as an NHL captain these days? Roman Josi has one.
When the current NHL season was put on temporary pause due to COVID-19, the 30-year-old defenceman went into captain mode the moment games were halted.
"Well, I can tell you it's been interesting, that's for sure," Josi told NHLPA.com from the Nashville Predators team hotel in Edmonton. "I think one thing that comes to mind is that throughout these times, maintaining a strong team bond has been extremely important."
While there were plenty of question marks as to if and when the 2019-20 campaign would start up again, Josi, named Nashville's captain on September 19, 2017, monitored the situation closely, getting a helping hand from the team's alternate captains - Mattias Ekholm, Ryan Ellis, Filip Forsberg, and Ryan Johansen – as well as NHLPA player rep Yannick Weber.
"I think Weber got a lot more questions than I did," said Josi with a laugh. "There are a lot of things that have been so different this season compared to last season. There have been a lot of times where the leadership group has had to make decisions – it could be anything – but for everyone on the team, a huge key has been to make sure there has been constant communication between all of us.
"I think the main thing was to get back into playing shape because there's not a lot of time. You wanted to make sure you practiced hard as a team, and I thought we did a pretty good job of that. Our team had a really good camp, and I think that was very important. As a captain, you want to lead by example. I think that by getting out there and practicing hard, it sets the tone for what you want to achieve in the playoffs."
Josi's teammates are lauding his leadership skills.
"Roman handled the uncertainty of the situation extremely well," praised Austin Watson. "As our captain, from off the ice stuff to when we got on the ice, Roman's focus didn't waver. He encouraged us during the time off to make the most out of the situation and to not be sidetracked by what ifs and complaints."
Matt Duchene, a veteran of 793 regular season NHL games, serves up similar praise for Josi.
"He helped organize team zoom calls along with our head coach, which was good to keep guys connected and focused on the restart," said the 29-year-old forward, who signed as an unrestricted free agent with Nashville last July. "It was good to stay in touch with the guys during the break."
When the players returned to the ice ahead of the restart to the season, it wasn't Josi's words that made his teammates take notice.
Instead, it was the Swiss-born veteran's actions that served as inspiration.
"When we showed back up on the ice he led by example," said Watson. "For us, when we see our captain and the best defenceman in the league come back from this time off better and even more hungry, the only option for everyone else is to follow his lead."
And speaking of best defenceman, Josi, along with John Carlson and Victor Hedman, are the finalists for the 2019-20 Norris Trophy.
A first-time Norris finalist, Josi set NHL career highs in goals (16), assists (49) and points (65), ranking second among defencemen in each category. He was third in average ice time per game (25:47) and had 23 power-play points, 108 blocked shots and a plus-22 rating in 69 games.
"If you look at all the guys who won it [Norris] and were nominated, it's a lot of guys you look up to," said Josi, who would be the first Predators player to win the award. "Even those two guys, John and Victor, you love watching those guys play. So it's definitely a huge honour to be nominated with those guys."
Josi's focus, however, isn't on individual accolades.
Delivering the city of Nashville its first Stanley Cup championship is.
The Predators, who start their Cup chase with an opening-round series against the Arizona Coyotes, are happy with where their team chemistry stands these days.
Josi likes what he sees ahead of Game 1 of the series that starts August 2.
"We've had a lot of guys who have played together for a while, and I think that stuff [chemistry] comes back pretty quickly. We had scrimmages, which helped, and the pre-tournament game will be huge, too. Those are the things that really help you get back into that competitive mindset. With so little time to get prepared for the tournament, you need to find that chemistry quickly."