Morrissey, Skinner recognize impact of teachers extends beyond classroom
Jeff Skinner and Josh Morrissey are happy to dole out A-pluses during Teacher Appreciation Week.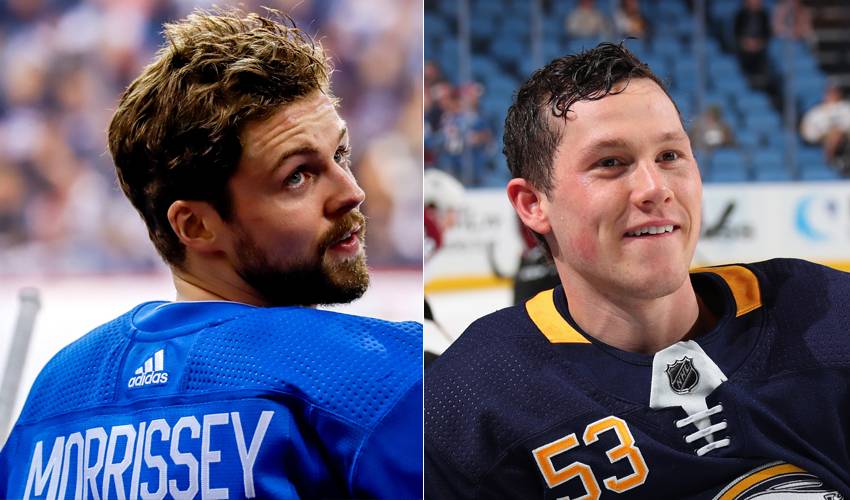 Jeff Skinner and Josh Morrissey are happy to dole out A-pluses during Teacher Appreciation Week.
A week-long celebration in recognition of teachers and the contributions they make to education and society, Teacher Appreciation Week is held in the first full week of May of every year. It provides an opportunity for students, their parents, and school principals to show their appreciation for the hard work teachers do and the long hours many of them put in.
For these two NHLPA members, it's an ideal way to honour those who make a difference inside and outside of the classroom.
"I think it's important to acknowledge teachers because of the impact they have on young people," Skinner told NHLPA.com. "The more prepared and educated young people are, the better off future generations will be."
In 2016, Skinner, then with the Carolina Hurricanes, launched his own initiative to honour local educators, called 53's Difference Makers. With his support, the charity recognized teachers at 15 Hurricanes home games throughout the 2016-17 season. Those selected received a $1,000 donation to their school, a $100 gift certificate to a teacher's store, four tickets to a Hurricanes game, and a postgame meet-and-greet.
"I think it's important to recognize teachers because of how big of an impact their job has on the future," said the seventh overall pick in the 2010 NHL Draft. "Also, a lot of teachers spend time and energy that goes above and beyond, and any time you can recognize and show appreciation for that kind of selflessness, it is a good thing to do."
Morrissey, who was named the 2012-13 Canadian Hockey League Scholastic Player of the Year Award, agrees.
"Teachers should be recognized for their work because they really are some of the most important people in shaping our future society," said the 24-year-old Winnipeg Jets defenceman who maintained a 92.4 percent average in his Grade 12 year at Carlton Comprehensive High School. "They make such a difference in so many peoples' lives, and there are countless stories of teachers doing whatever they can to help, often without recognition."
Skinner is happy to make sure teachers get acknowledgment for their efforts.
And while he doesn't point to one particular teacher for helping him along the way, the 26-year-old left wing, who had a career-best 40 goals in 2018-19 with the Buffalo Sabres, remains grateful for all the guidance he received over the years.
"I can't think of one specific name, but I was fortunate to have many great teachers growing up," said Skinner. "I don't think it always has to be how they teach a subject in school either. Sometimes, for me, it was a positive attitude or the way they approached a certain subject that can have the biggest impact on you as a student."
Morrissey, who had a career-high 31 points despite skating in only 59 games in 2018-19, is grateful for the numerous teachers that understood his commitments to both hockey and education.
"I was fortunate to have many great teachers and it wouldn't be fair to single anyone out," he said. "That being said, they each shared some of the same qualities that really made them great teachers. I think what made them the best teachers were that they really cared about me as a student and wanted me to succeed, and they also went above and beyond to help me succeed even with a busy hockey schedule."
It's not only what Morrissey learned in the classroom that made his connection with teachers special.
"One of the most important qualities, I think, is the fact that teachers are there for students to talk to when they're going through tough times. The best teachers truly care about their students and whether they know it or not, people really appreciate all they do."