Josh Morrissey fashions Hockey Fights Cancer tribute to his late father
Hockey Fights Cancer is taking on a special meaning for Josh Morrissey this November.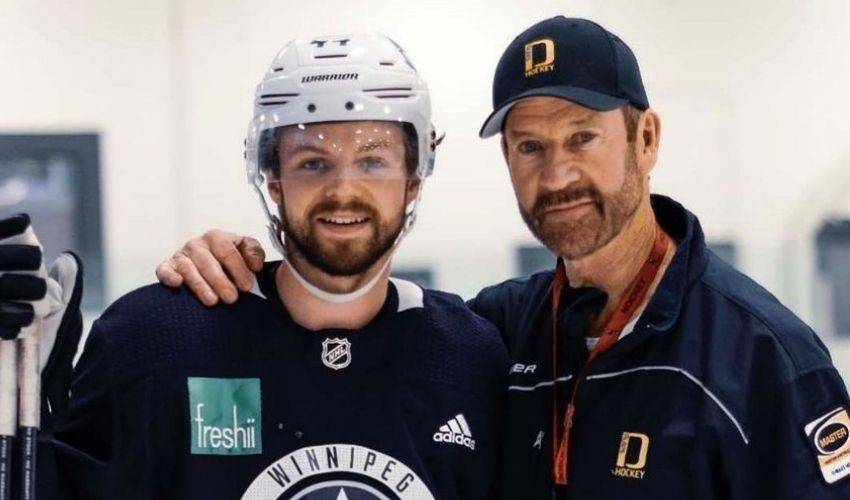 Feature Photo: IG / @joshmorrissey44
---
Josh Morrissey recently came up with the perfect way to pay tribute to his late father.
The Winnipeg Jets defenceman had kept very quiet about the cancer battle that his father, Tom Morrissey, had been locked in for more than a year.
On August 8, just one day shy of his 70th birthday, the man who had an enormous impact in both the sporting and financial worlds, passed away at his home in Calgary.
"I guess I've been pretty private throughout his illness and his cancer fight," started Josh, now in his sixth NHL season, all with the Jets. "After his passing, I began thinking of ways that I could honour him."
The 26-year-old started to give more and more thought to those ideas as November – Hockey Fights Cancer month – drew closer.
"A big part of my relationship with my dad was always hockey. And knowing about the Hockey Fights Cancer campaign and what it does to shine the light on all cancers, I wanted to do something special for my dad and to support the initiative. I don't know why it came to me, but my dad, he was a sharp-dressed guy. He was in the business world and needed to wear suits when he was in the office. I thought it might be cool to get a suit jacket for the Hockey Fights Cancer Night and have it auctioned off to help make some money to support the cause."
The jacket isn't the only way Morrissey's father is being honoured.
In September, Morrissey received a surprise phone call from the Jets' equipment manager. He found out that Winnipeg captain Blake Wheeler and team owner Mark Chipman had met and came up with the idea for Jets players to wear a helmet decal in memory of Morrissey's father, as a way to show their support for him and his family.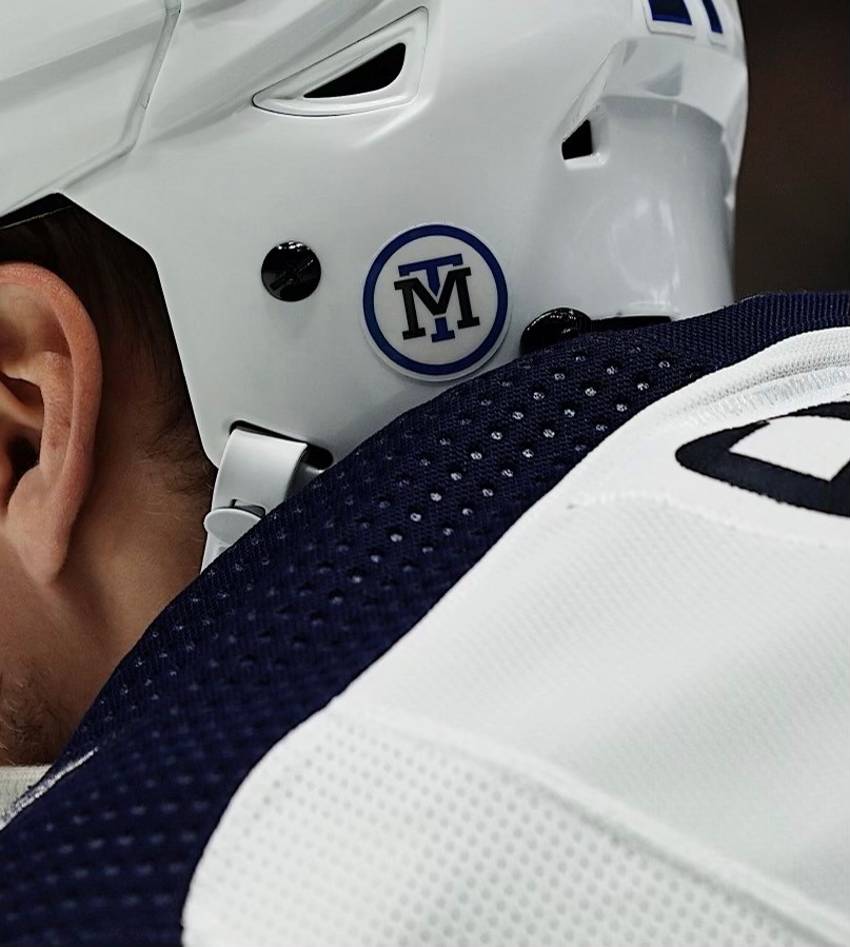 "When I found out I was absolutely shocked, I was speechless," recalled Morrissey. "It was really emotional for me because it wasn't something I could've ever expected. To have that kind of support from Wheels, who's my close friend and the captain of our team, and our owner Mark Chipman, meant so much. I just couldn't believe it. To me it was just such a massive show of support, and I felt so much pride, and I knew how much it would mean to my whole family.
"My dad hadn't missed a Jets game since I made the team, and he had never missed one of my games throughout my entire life, so having the decal on our helmets and seeing it every time I grab my helmet to go on the ice makes me feel like he's still there in a way. It's still really emotional for me to think about and know that our whole team is wearing the decal to support me and my family and to remember my dad. It really just goes beyond words for me, and I can't thank my teammates and our organization enough."
While the jacket being auctioned off in honour of Tom Morrissey might not have been his preferred style, the garment and what it stands for would certainly bring a smile to his face.
"It would also be a nice homage to him because he was always so nicely dressed. I know he would certainly approve and would like the idea as well. Purple is the main colour for Hockey Fights Cancer, so we basically decided to go all out and go a little bit wild.
"It's a purple velvet jacket, basically, it's a James Bond-type look, a tuxedo-style jacket. Purple and fancy, that's how I'd describe it. I think a fan would like something special on the inside, so we did a light-coloured lining. I'm going to get the whole team to try and sign that. So that's what people would be bidding on."
Whenever he walks into any NHL arena, be it Canada Life Centre in Winnipeg or on the road, Morrissey's personal fashion style is very much a tribute to his father.
During his son's early days in the game, Tom helped Josh and his brother, Jake, pick out the dress clothes they would wear to the rink.
"When I was a kid and we had to get our first dress shirt and tie to go to the games, he was always there for my brother and I, so that we would look sharp, just like him. I've taken interest in my own life as well, wearing a nice, sharp suit. That would come from him, given that he always took pride in that and introduced that to us."
It's one of many fond recollections Josh has of his father – a sportsman who played hockey, baseball and football, captaining many of the teams he played for. He also taught and coached high school and junior high in Calgary, leading the Father Lacombe boys' basketball team to a 4A provincial championship in 1983.
In 2005, Tom launched his own hockey camp for defenceman, D-Rules. For over 15 years, the camps hosted over 850 participants, helping young players to improve and achieve their goals.
He also coached both his sons, something he took great pride in.
"I was very lucky to have him as a coach," said Josh. "Not because he was my dad, but because he was a very good coach, someone who cared about all of his players and wanted them to enjoy the game and get as much out of it as they could."
That, along with several other recollections, will certainly come to mind when Josh walks into the arena on Winnipeg's Hockey Fights Cancer Night on November 22.
"I wouldn't have been able to achieve my NHL dream without my dad. I wouldn't be in the position I'm in with my career without him. He was always there for me. He told us that he would never force us to go to the rink, but if we wanted to keep going, he'd keep doing what he could to provide us with an opportunity to go play as much as we could and wanted to. There's a lot I'm grateful for when it comes to my dad."
Including a fashion sense that has become a perfect fit for Josh and Jake.
"My dad wore the traditional navy or dark grey suits with a white dress shirt," recalled Josh. "They were always very crisp and very sharp. My suits are much more adventurous than his, but I could probably put up a really good competition these days."
A friendly one, no doubt.
"I think with our shared love of the game, and what he went through with cancer, Hockey Fights Cancer Night will be extra special. There will be a range of emotions, but I will certainly be thinking of him that whole game."
Established in 1998 by the NHLPA and NHL, Hockey Fights Cancer unites the hockey community in support of cancer patients and their families. The initiative is supported by players, coaches, officials, equipment managers, front office staff, corporate partners, and fans. November, which is Hockey Fights Cancer Month across the NHL, sees each of the 32 NHL Clubs hold festivities through their own Hockey Fights Cancer Night. This season, all donors to Hockey Fights Cancer will be entered to win a trip to the 2022 NHL All-Star Weekend in Las Vegas. Click here for more information.