Skinner embracing leadership role within up-and-coming roster
With one of the NHL's youngest rosters, a team that's teeming with emerging talent, Jeff Skinner is embracing the opportunity of being a mentor.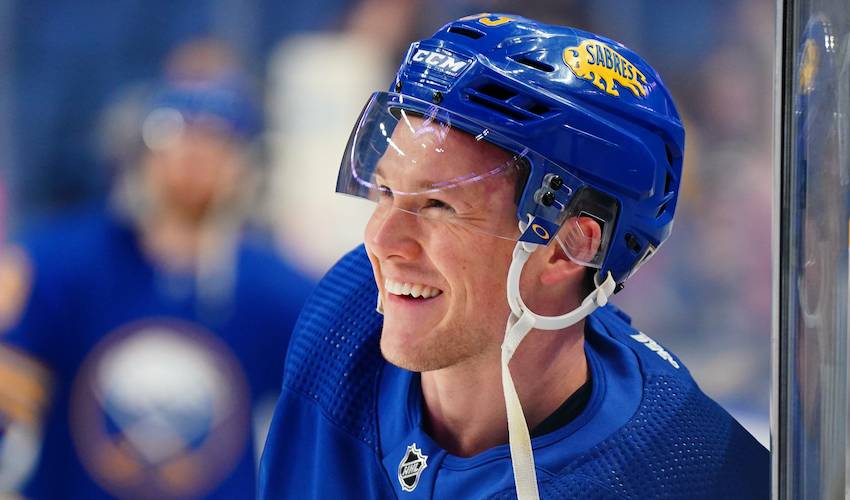 Jeff Skinner is settling into his newfound mentorship role.
Part of one of the NHL's youngest rosters, a team that's teeming with emerging talent, Skinner, 30, is embracing the opportunity to be a sounding board and, if needed, a dispenser of advice for his younger teammates.
"I'm really excited to be part of this group," the veteran of 12 NHL campaigns and 853 regular-season games told NHLPA.com. "Everyone knows that we finished the year pretty strong and a lot of our younger guys took some significant steps forward. That's what you want to see, a group that has younger guys eager to take that next step. It's encouraging to see those young guys taking those steps to become impact players, doing it on a consistent basis. I think a lot of people saw that. You need to carry that momentum forward. There will be some adversity, but there is a lot to look forward to."
Skinner is thrilled to play with the 2022-23 group, which should bring an entertaining style of game each night.
From defenceman Rasmus Dahlin and Owen Power to forwards Peyton Krebs, Dylan Cozens, and Tage Thompson, there are plenty of reasons for optimism in the Sabres locker room.
"For me, it's been a couple years of seeing these young guys come up and really be hungry to make a difference," said Skinner. "It's fun to see guys come in and be excited. It allows you, as one of the older players, to feed off that energy. A lot of these players, they come in so prepared. It's not as though you have to guide them along and constantly be helping them out."
Skinner's biggest assist for his young teammates comes in the form of an open ear.
"A lot of the time it's been guys wanting to bounce something off you, knowing that you've had that experience yourself when you first started out. It's fun and rewarding to let them know how you've seen things play out in the past and how you dealt with things in your career."
One bit of advice Skinner has shared and likely will share again is something he heard often during his early NHL days.
The seventh overall pick of Carolina Hurricanes in 2010, who skated in his first NHL game on October 7 of that year, heard a particular phrase from older teammates in the weeks leading up to his first big-league shift.
"It goes by quick, that's definitely true. When I first started out, I remember the more veteran players telling the younger guys, 'Enjoy it because it goes by quickly.' You hear that a lot. As a young guy, you hear it and you take it in, but you don't fully appreciate it until it happens to you. I guess that's the way it is a lot of the time when you're young. I feel fortunate to have met so many good people along the way and to have developed lifelong friendships. Those are things that I'm really grateful for. I'm also grateful to have played that many games, and I'm excited to play a lot more."
Before training camp begins, Skinner will embrace what is left of the summer, a mix of training and relaxation.
"Like most summers, there has been a lot of training, and then spending time with family and friends. My parents have a lake house, so I've been spending some time up north in Ontario on the weekends. My sisters are starting to have kids, so I'm just hanging out with them, which has been a lot of fun."
Perhaps life as an uncle will give Skinner another chance, this time outside of the arena, to take on a different mentorship role one day.
And that suits him just fine.
"It's been great [being an uncle]. I have five siblings, so any time we get to spend together is something you really appreciate. Being an uncle is exciting for sure."
For now, Skinner will continue to set an example with his game while being a respected role model, on and off the ice, for his Buffalo teammates.
And if they happen to have any questions, his door is always open.
"I'm there for anyone to bounce ideas off of, to listen, to answer any questions, to help in any way I can. It's a great situation for me to be in, to have so many talented players so eager to want to get better, and to want to succeed, all with a team-first attitude."
Just like Skinner himself.