12 years later, Kathy Kessel recalls son's promise
Kathy Kessel walked towards her son's car at Logan International Airport. She found herself at a loss for words. What Phil said brought a tear to her eye and a smile to her face.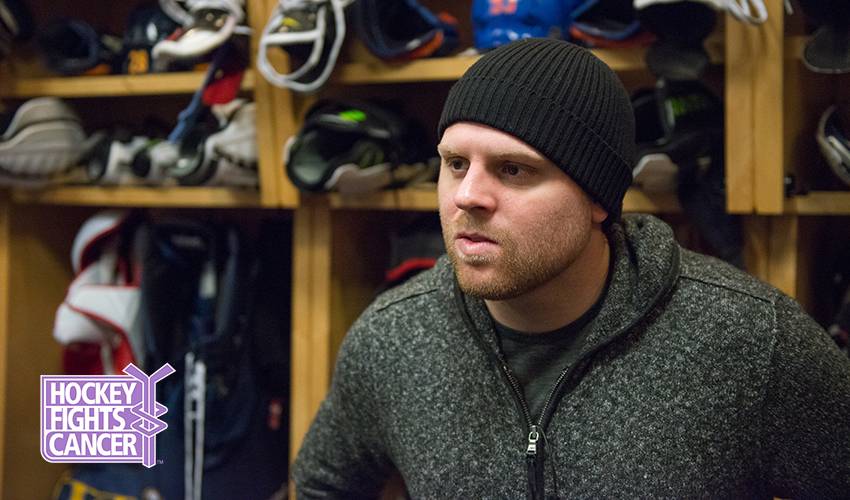 When Kathy Kessel walked towards her son's car at Logan International Airport on December 8, 2006, she found herself at a loss for words. But her son was not. And what he said brought a tear to her eye and a smile to her face.
Waiting for her hockey standout son, Phil, to arrive at the Boston airport, Kathy, a mother of three, had a tangle of thoughts running through her mind, none of which gave her any clarity on what she would or could say to a 19-year-old who had just told his family that he had cancer.
"I remember when I opened the door, he looked right at me and said, 'Don't worry. I'll be okay.' I didn't expect to hear that from a teenager. He truly felt that he could overcome this. He never thought for a second that this was going to stop him. That reassured me."

Less than 48 hours earlier, Phil, who had just come off a stellar season with the University of Minnesota, one in which he posted 51 points in 39 games, including 18 goals, had called his parents to break the news that he had been diagnosed with testicular cancer.
Their reaction was as expected.
"It was such a fast event," said Kathy on the phone from Florida. "I'll never forget those days. He called on a Thursday and by Saturday we were ready for his surgery by Monday. We didn't have much time to think about it. But I do remember all of us thinking, 'This can't be happening.' I'll be honest with you – whether it's a friend, a family member or anyone you know – when they share those words, 'I have cancer,' I feel that everyone believes the worst. You don't know quite how to react."
Prior to his diagnosis, with his hockey career on the rise – the Boston Bruins drafted the Wisconsin native fifth overall in June of 2006 – life, both on and off the ice, was as close to perfect as Phil could imagine.
While those closest to him – his mother and father (Phil Sr.), sister, Amanda (a multiple gold medal winner with Team USA) and brother, Blake (a pro defenceman) – struggled with his cancer announcement, the speedy forward remained steadfast in his belief that he'd be on NHL ice soon.
"When we saw Phil in Boston, he had such a positive attitude," recalled Kathy. "I think maybe people that are diagnosed with cancer are a little bit better at dealing with it than the people surrounding them. It's hard to know what to feel and it's hard to put that into words. It was very, very hard for my husband because he and Phil have a very close relationship.
"Everybody in the family was told and everybody dealt with it very quietly in their own way. Amanda called Phil. Blake called Phil and waited to hear how the surgery went. He came through and we got the good news."
That good news came five days after his surgery when doctors announced that Phil was cancer-free. He could finally shift his full focus back to his big-league aspirations.
On January 9, 2007, after missing just over 10 games, Phil returned to NHL action in a game against the Ottawa Senators. At season's end, he was named the recipient of the Bill Masterton Memorial Trophy, given annually to the player who 'best exemplifies the qualities of perseverance, sportsmanship, and dedication to hockey.'
Now, closing in on 1,000 NHL games, which he could reach in early 2019-20, the 31-year-old winger is a two-time Stanley Cup winner (with Pittsburgh, in 2016 and 2017) and six-time 30-goal scorer.
He's also a big advocate for early cancer detection and speaking with those who have been impacted by the disease.
"Our children are much more aware now and that was what Phil was preaching after he went through this," noted Kathy. "You have to be aware of what your body is telling you. He was very, very lucky. I think people get so busy in their lives that they forget to take care of themselves – they blow it off. Phil wasn't feeling well, so he checked himself out and went right to the doctor with it.
"That's been an important message from Phil. A week after surgery, the Boston Bruins doctor, GM, and Phil had a press interview with the three of them addressing questions from the Boston press. Phil told all who were there and those listening, to make sure you listen to your body and don't be ashamed or afraid of telling someone. Let the people who can take care of you do what they do best. Hopefully, people listened."
Many have over the years, all thanks to a person who covets his privacy, but openly shares his story with the hope of helping others.
"He's worked with and still does work with Sick Kids Hospital in Toronto," said Kathy. "When he brought the Stanley Cup there (in 2016), he wanted it to be for the kids, the ones he had met before. He was happy to see them and they were happy to see him. The kids were wondering how he was doing because he had just had surgery on his hand. Those little ones might not have known he had also had cancer, just like they are dealing with. Every time he goes there, it's a special thing. It's a beautiful scene when they are together.
"It's easy for anyone to push things off, but when Phil talks or is asked about his cancer, he is willing to tell them what he went through and to listen to anyone who may be dealing with cancer. It's hard to believe that it will be 12 years for Phil in December."
Even so, Kathy Kessel will always remember that moment at the Boston airport.
"The look he had and what he said… you just knew that he was going to fight it with everything he had. He kept that positivity throughout it all."
And Phil also did what his mother and family hoped for: he kept his word.
---
A new NHLPA and NHL joint initiative that complements this year's Hockey Fights Cancer program features Phil Kessel and other NHLPA members as part of a nine-player, limited edition Upper Deck hockey card set.
The special offering showcases cancer survivors Kessel, Brian Boyle and Olli Maatta, as well as Alexander Ovechkin, Henrik Lundqvist, Zdeno Chara, Connor McDavid, Auston Matthews and Devan Dubnyk.
The cards, specifically designed to raise awareness and funds for Hockey Fights Cancer, will be available soon.