It's all in good fun for Reaves, Kessel
From wearing his "Thriller" inspired Phil Kessel shirt to getting the better of him in a game of basketball – Ryan Reaves seemingly delights in tormenting his Pittsburgh teammate.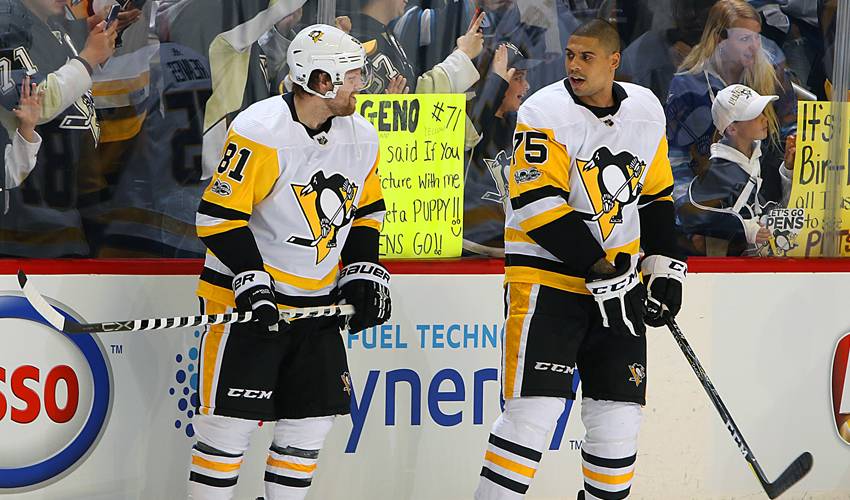 What's it like to have Phil Kessel as a teammate? Ryan Reaves and Bryan Rust are happy to share their thoughts.
There's enough evidence to suggest one of hockey's toughest players might not exactly be close friends with the Penguins No. 81.
From wearing a T-shirt with Kessel's face over Michael Jackson's body on a nationally televised hockey broadcast, to gleefully getting the better of him in a game of basketball, to one of the best sports pranks ever caught on camera – hiding in a hotel room and jumping out wearing a scary mask – Reaves seemingly delights in tormenting his Pittsburgh teammate.
Turns out, the imposing forward actually likes the player who bears the brunt of his good-natured ribbing.
How does Reaves feel about the opportunity to show Kessel some love?
"He's just a funny guy," said Reaves, who is in his first year with Pittsburgh after seven years with St. Louis. "He's funny to be around. But every conversation just seems to turn into a battle about something."
Rust, who has won a pair of Stanley Cups with Kessel, also points out the 30-year-old's sense of humour.
"Phil's just such an easy-going guy," offered Rust. "He's secretly one of the funnier guys in the locker room. He's got a good personality and any time it comes out, it definitely gets the guys laughing."
Kessel's on-ice contributions, however, are no laughing matter.
Since the trade that brought him to Pittsburgh on July 1, 2015, the Madison, Wisconsin native has 163 points in 193 games.
This season, Kessel has 13 goals and 34 points in 29 games.
"You can just see how good he is," said Rust. "His ability to make great plays out of nothing is something that stands out. He's been helping our team a lot."
In last season's Stanley Cup playoffs, Kessel led all scorers with five power-play tallies. In 25 games, he racked up 23 points.
"He led the playoffs in power-play goals and he's in the top 10 in points this year," noted Reaves. "That tells you a lot about what kind of player he is. He's just a very good player. He slows down the game very well.
"He knows how to float into those quiet areas and when he has the puck, you can really see the way he slows it all down," he continued. "He's a great passer. I always tell him to shoot the puck, but he always says he's a disher. He can find open guys and make some room for his teammates."
All the high praise doesn't mean Reaves is bucking to net Kessel as his road roommate.
"I think it would just be a battle the whole time," he said with a laugh. "One little conversation would turn into something big. The conversations would become a 45-minute argument that would get really loud. I just think about it and all I see is the two of us arguing the whole time."
Maybe they would get along better, offered Reaves, if Kessel would take his friendly advice.
"Exactly," he said. "I told him to shoot the puck two games in a row in overtime and two times in a row he scored. But he still won't listen to me. We're working on it."
Kessel might be wise to heed Reaves' words.
After all, you never know what, or who, is around the corner.