Jagr guiding Flames' youth by example
Dougie Hamilton is relishing the opportunity to play with Jaromir Jagr again after the 45-year-old forward and five-time NHL scoring champion recently inked a one-year deal with Calgary.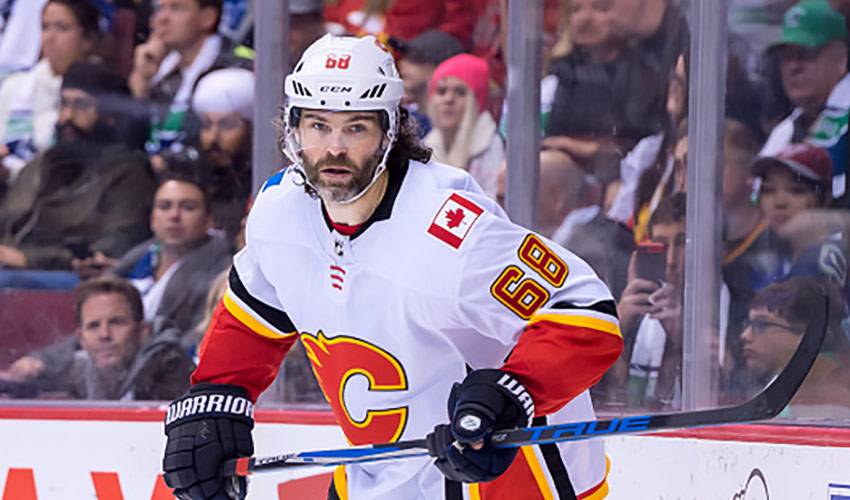 After going up against Jaormir Jagr one-on-one in a recent Calgary Flames practice, defenceman Dougie Hamilton paid the future Hall of Famer a compliment – one he's likely heard several times throughout his career.
The 6-foot-6 blueliner couldn't help but marvel at the skills displayed by the 45-year-old forward and five-time NHL scoring champion who recently inked a one-year deal with Calgary.
When the opportunity for a brief chat came about, Hamilton, who had caught up to Jagr, proceeded to tell his new teammate what he had been thinking ever since the two-time Stanley Cup winner (with Pittsburgh) joined the Western Conference club.
"It's definitely nice to have him here," said Hamilton. "Just having played against him in the past, you realize how good he is and some of the things he does – you know why he's had such an amazing career. He's tough to get off the puck, tough to defend, he's a big body and he has that ability to still make big plays. I experienced that in the last couple of practices.
"I said to him, 'It's nice that I don't have to play against you in games any more,'" continued Hamilton. "Now, I just have to do it in practice, so I'll take that. He's definitely a special player. We're all enjoying him being here."
Jagr, who helped his native Czech Republic claim Olympic gold in 1998 and gold at the world championships in 2005 and 2010, got a chuckle out of Hamilton's words.
"He laughed when I said it," said the 24-year-old defenceman. "I told him he's going to have to teach me some of his tricks. It will be fun to continue learning from him. But he's helping us on the ice, too. He's just not there to help us. He's there to help us win games. He's played well for us."
It's something Hamilton saw when he and Jagr were teammates with the Bruins in 2012-13.
The Ontario native didn't forget what he learned from the three-time Ted Lindsay Award recipient.
"One of the biggest things I took from him when we played together in Boston is his passion for the game," noted Hamilton. "You could just see that his life revolves around hockey and he's always thinking about it. You saw how he was always looking to get better and finding ways to achieve that – fixing his equipment, things like that. You could see that passion for hockey. I really appreciated seeing that. And he's still the same way. He loves hockey. You can take away a lot from that."
Taking away the puck from Jagr, even in practice, is a much different story.
Still, Hamilton relishes the chance to test himself on the ice and receive a hockey education of sorts after practice is over.
"He's been great with the young guys," said Hamilton. "We didn't really know what to expect coming in. He's been awesome with the young guys, teaching us different things. That's been great for us. You watch him, learn from him and you ask him questions. He's probably one of the smartest guys in the hockey world. It's a great tool for the young guys to use."
Just don't expect Hamilton to pay tribute to Jagr by emulating the famous hairstyles he's sported over the years."I don't know about that," he said. "Mine's pretty short right now. It might take a while, but it would be pretty funny.