Hamilton feeling at home in New Jersey
With over 600 NHL games to his name, Dougie Hamilton is feeling like a seasoned veteran as he helps lead a young New Jersey Devils core.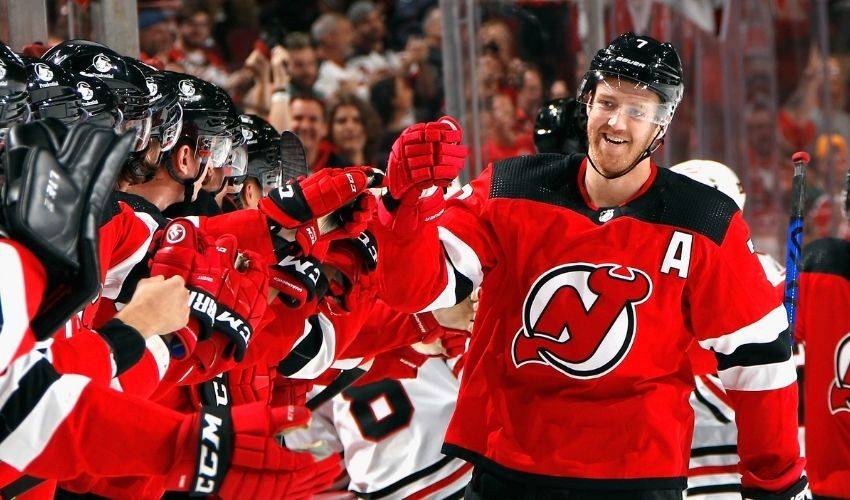 Feature photo: Getty Images
---
Dougie Hamilton is feeling quite comfortable in his new surroundings.
In an offseason of question marks as to where the 28-year-old would land, July 28 came as a huge relief to the defenceman with over 600 NHL games to his name. It was the day the New Jersey Devils announced Hamilton had signed a seven-year contract with the Metropolitan Division club, bringing in the versatile 6-foot-6, 230-pounder to help play a lead role as a member of the team's defensive corps.
"This offseason was a little bit different because I didn't know what was going to happen, where I was going to be," started Hamilton. "We had to wait a little bit after the playoffs ended for everything to come into focus. When I got back home to Canada, after everything with the borders being closed, I got back into training and then trying to figure out where I'd be playing this season. It was a little bit crazy. I wouldn't say that I was able to relax as much as I have in the past, but it all worked out in the end."
It worked out very well, indeed.
In Hamilton, the Devils get one of the game's most gifted offensive players.
The ninth overall pick of the Boston Bruins in 2011 had spent the past three seasons with the Carolina Hurricanes, totaling 121 points during his time in Raleigh. His 42 points in 55 games tied for seventh overall among all NHL defencemen last season. Since 2018-19, his 43 regular-season goals and 36 even-strength tallies lead his contemporaries, while his 612 shots rank third among blueliners.
Now in his 10th NHL season, Hamilton has recorded 107 goals and 235 assists for 342 points with a plus-75 rating and 392 penalty minutes.
Hamilton, who logged 25:54 in his first regular-season game with New Jersey on October 15 in a 4-3 overtime home win against Chicago, felt like he belonged well before that contest.
If he was motivated to make a good first impression on his teammates, he succeeded. He scored 17 seconds into the game on his first shot as a member of the Devils
"It's been great. The guys reached out right away, as did other people in the organization. Everyone has been so nice and helpful. We have a really good locker room. It's been really nice with how everything has gone."
Hamilton is far from a grizzled veteran, but on a team loaded with young talent, he is, in some ways, an elder statesman.

"I had a couple moments when I was skating with some of the guys and realized how young they were," he said with a laugh. "I was trying to remember being around 19 or 20 and being in their shoes when I started out in Boston. It's definitely pretty crazy to be on the opposite side of it already, but we have a lot of young, talented players. It's going to be exciting what steps we can take."
Having made the playoffs just once in the past nine seasons, the Devils will no doubt look to Hamilton, who has 54 games of postseason experience, as one of the players that can help get them back into contention for the Stanley Cup.
He's up for the challenge.
"That's the top priority, to do what I can to help the team succeed. I feel very good being part of this team."
Outside of the rink, Hamilton is feeling right at home too.
"It's been really good so far, getting to know the city and the surrounding areas. It's been cool to explore some different spots and get familiar with some new places and be so close to New York City."
Having a room with a view, literally, is certainly a welcome sight.
"I'll watch some sports on TV, some Netflix and the odd movie, but it's also been nice being where we are now. There are a lot of the guys in the same building, a spot that is right near the water, so it's pretty nice, mentally, to be looking at the water each day. You don't take that for granted. There's different scenery every day."
His vantage point at the rink has been equally pleasing.
What he's seeing has given him plenty of reason to be optimistic along his 2021-22 campaign.
"Watching the guys in practice, just to see their speed, talent and skill, it's been really great. I'm looking forward to building that chemistry with them and having success as a group. We've got an eager group, everyone is trying to get better every day, so it definitely makes you optimistic."