Less is More For Yandle
Standout Coyotes d-man Keith Yandle has become a top rear-guard in the league by maintaining his approach & trusting in his game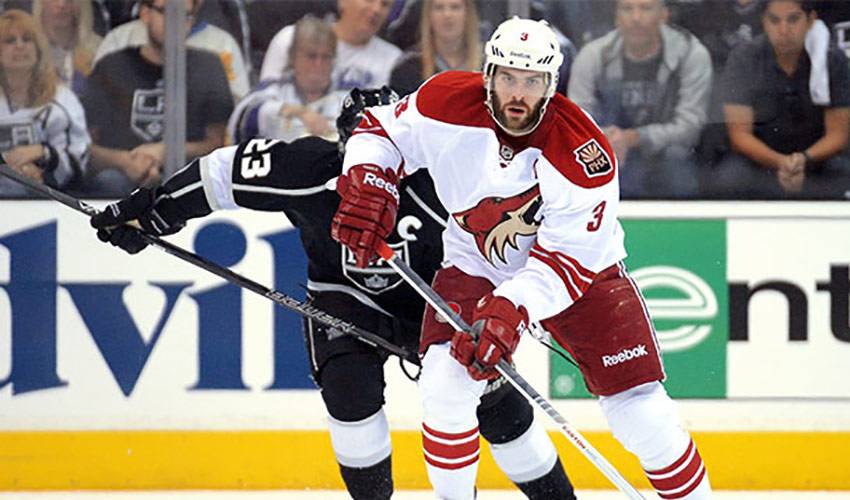 Keith Yandle playing goaltender for the Phoenix Coyotes? No, one of the game's top two-way defenceman won't be tending the twine in Arizona. But there was a time when the blueliner did turn away his fair share of slapshots.
During his days growing up in Massachusetts, Yandle had his sights set on the goaltending position when he first started playing minor hockey.
He ultimately got his wish, albeit not a full-time role between the pipes. In fact, it was not an uncommon sight to see Yandle split each game between defence and goalie.
"My dad and the other coach, I remember them having to rip off my goalie pads and put on shin pads really quick," recalled Yandle, who also excelled at several other sports, including baseball, football and lacrosse. "I enjoyed playing both positions. It was just a little hectic trying to do both."
The high cost of goalie equipment, accompanied by Yandle's strong play on the blueline, eventually led to him to settle on playing defence.
He has no regrets, especially after a recent attempt to relive his youth.
"During the (2012-13) lockout, I actually played net for fun," he offered.
The end result?
"Not good," he said with a laugh. "I don't think I stopped too many pucks. I guess I made the right decision."
One brilliant year with the Moncton Wildcats of the Quebec Major Junior Hockey League, including best defenceman honours, over 400 games of NHL experience, two All-Star Game appearances and an alternate captaincy role with the Coyotes certainly backs up Yandle's self-assessment.
Last season, the 27-year-old reached double digits in goals for the fourth consecutive campaign. He recorded 30 points in 48 games.
Yet for Yandle, it fell far short of what he would term a successful year.
"It's hard to be happy with any personal success when you don't make the playoffs," he offered. "It wasn't the outcome we expected. We had too many extended losing streaks and we put ourselves behind the eight ball in a season where we only played 48 games."
Yandle knows a full complement of games, 82, to be exact, presents just as much of a challenge.
"Getting into playoffs is never easy, regardless of the circumstances," he said. "The key is to maintain consistency throughout the year. Two seasons ago, we made it to the (Western) conference final. We know what we are capable of and what it takes to achieve success like that. No one was pleased about last season. The motivation is there."
A strong candidate to represent the United States at the 2014 Olympic Games in Sochi, Yandle will be a key figure in Phoenix's push to be a post-season participant.
Don't expect to see him redesign his approach or style when the curtain rises on the new campaign.
"I remember Ulf Samuelsson (a former defenceman and assistant coach with the Coyotes from 2006-11) once telling me that doing less is more. It took me a few years to figure out what that truly meant, but I got it. I just need to be myself and trust in my own game."
Which means Phoenix goalies, including No. 1 Mike Smith, don't have to worry about Yandle taking away their ice time.
"Not at all," he said. "It's scary to think about what that would be like."
Making good decisions, it seems, are just something Keith Yandle has a knack for.