Player of the Week | Keith Yandle
Keith Yandle scored eight points in three games (1-7–8) including a pair of three-point performances to extend his point streak to a season-high five games.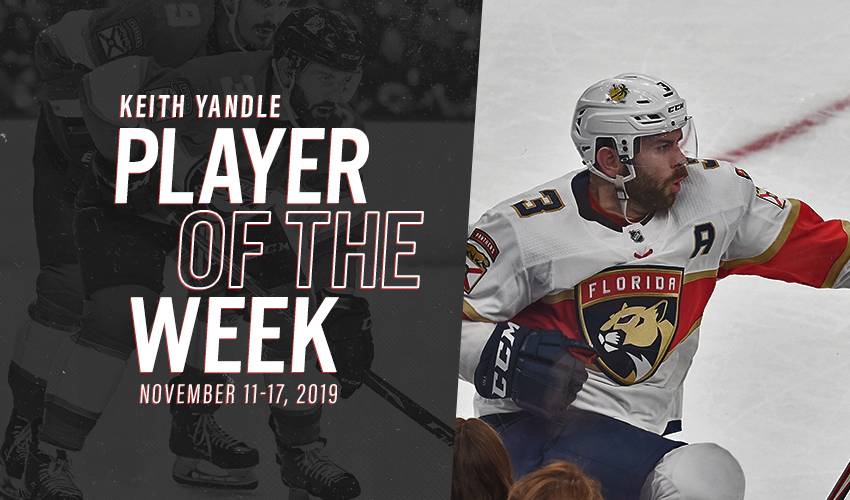 Feature photo: Getty Images.
KEITH YANDLE
NOV.11-17, 2019
1-7

–

8 OVER 3 GP
8 POINTS LED DEFENCEMEN, PLACED 3RD OVERALL IN SCORING AND T-2 IN POWER-PLAY POINTS (4) FOR THE WEEK
---
Keith Yandle scored eight points in three games (1-7–8) including a pair of three-point performances to extend his point streak to a season-high five games.
Yandle continues to find success on the powerplay and scored four such points over three straight games with at least a point on the man advantage. The Florida Panthers defenceman now sits tied in the top four with 11 power points to his name this season so far.
The notorious comic, deemed funniest by fellow members in the 2018-19 NHLPA Player Poll, proved just why he won the title when he was mic'd up on the road in New York.
He also passed Brian Campbell for fourth among Panthers defencemen on the all-time scoring list with 177 points (24-153–177) in 266 games.

LOOKING BACK

NOV. 12
1-2

–

3, 3 SOG, 25:48 TOI, GAME'S THIRD STAR
---
FLA 5
BOS 4, F/SO
Yandle extended his point streak to three games with a season-high three points in the Panthers' 5-4 come from behind win over the Boston Bruins at TD Garden Tuesday.
Trailing 4-0, Florida kick-started the biggest comeback in franchise history with Aaron Ekblad scoring his second on the season, assisted by Yandle. The Panthers scored two power-play goals in the period to pull within a goal.
With less than two minutes left in regulation, Yandle found the loose puck in front of the net and made no mistake beating Tuukka Rask to send the game to overtime.
The Panthers would complete the comeback in the shootout as Yandle finished the game with a goal and two assists, improving to eight assists in his last seven games.

NOV. 14
0-2

–

2, 2 SOG, 27:03 TOI
---
FLA 3
WPG 4
Yandle had a pair of assists to extend his personal point streak to four games in the Panthers' 4-3 loss to the Winnipeg Jets at BB&T Center Thursday.
The 33-year-old assisted on Aleksander Barkov's power-play goal in the second period making it the second-straight game where he had a point on the man advantage. He also played a season-high 27:03 TOI.
With Florida trailing late in the game, Yandle would pick up his second helper on Vincent Trocheck's second goal of the game, but the Panthers bid for a second-straight comeback win would come up short.

NOV. 16
0-3

–

3, 2 SOG, 24:30, GAME'S THIRD STAR
---
FLA 4
NYR 3
For the second time in the week, Yandle would put up three points to lead the Panthers to a 4-3 win over the New York Rangers on home ice Saturday.
The game was a memorable one for head coach Joel Quenneville, who earned his 900th career win in the regular season behind the bench.
Yandle would extend his point streak to five games as the Panthers' powerplay continued to fire on all cylinders, going two-for-four in the game. He helped Mike Hoffman open the game's scoring with the primary assist on a one-timer past Henrik Lundqvist.
His second assist, on Evgenii Dadonov's power-play goal in the first period, gave Yandle 11 points on the powerplay this season to tie Torey Krug of the Boston Bruins for the most points by a defenceman on the man advantage so far this season.
Yandle added his 16th assist of the season on Dadonov's second goal of the game, which is second among blueliners this season. He was also mic'd up for this game, and let's just say he didn't disappoint.

LOOKING AHEAD
Yandle has certainly lived up to his reputation as one of the top offensive defenceman this season with a goal and nine assists during his five-game point streak. While his recent stretch has been impressive, Yandle admits that he wouldn't be able to do it without his teammates.
"When you have the pleasure of playing with guys like Huby, Barky and Daddy, it's obviously one of those things where I'm not scoring goals and they're pretty much doing all the work," Yandle said modestly postgame. "I'm just trying to get it to them."

"I think we're all taking ownership of doing our job an extra 10-20 percent, whether it's making that crisp pass or shooting it. It's an unselfish group. I think everyone looks to make the pass, but I think we've been doing a good job of shooting pucks and backing teams off."
The Panthers continue their homestand hosting the Philadelphia Flyers Nov. 19 and Anaheim Ducks Nov. 21 before ending their week with a back-to-back against the Carolina Hurricanes Nov. 23 and Buffalo Sabres Nov. 24.