Ahead of jersey retirement, former teammates share favourite "Lu" moments
Ahead of becoming the first player in Florida Panthers' history to have his number retired, former teammates share their most memorable Roberto Luongo memories.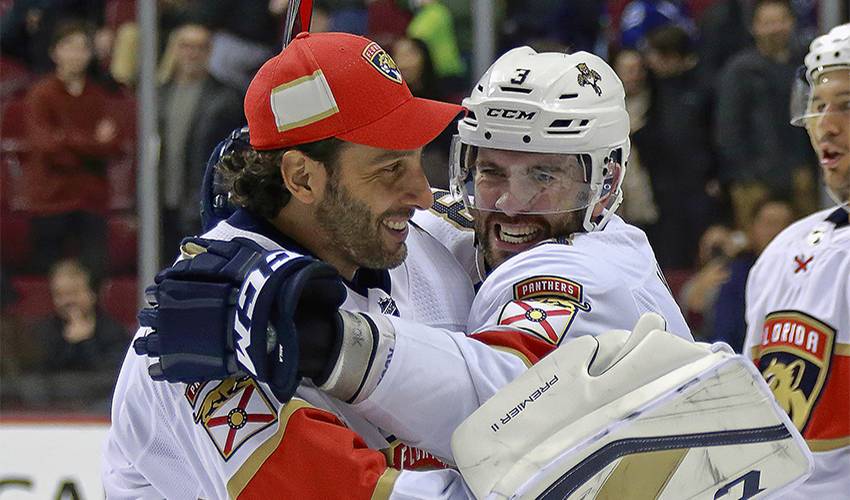 One of Keith Yandle's favourite memories of Roberto Luongo happens to be a dinner in Vancouver, an evening that included five-star service, a meal fit for a king, and one sweet ride.
Days ahead of March 7, the night Luongo will become the first player in Florida Panthers' history to have his number retired, his former teammates spoke with NHLPA.com about what made the goaltender a popular figure on and off the ice.
---
Yandle, a veteran of nearly 975 NHL games, including 312 with the Panthers, has several tales to share when it comes to the future Hockey Hall of Famer.
One story, in particular, stands out above all others.
It was during a road trip in Vancouver when Yandle convinced Luongo to go out for dinner the night before Florida's game against the Canucks.
And that's where things start to get interesting.
"One of my favorite memories of Lu is... he's a big room service guy and I would beg him to go to dinner all the time," began Yandle. "So we went out to dinner in Vancouver one night at the best restaurant in town, and you would have thought the President was at the restaurant. He would take a sip of water and there would be a guy behind refilling his glass. The owner would bring out the food for him, not the waiter. He would have some sauce on his mouth and someone would be there dabbing it off – it was incredible."
But it doesn't end there.
"When we were leaving, waiting for the taxi, the owner saw us waiting all of two minutes and handed Lu the keys to his Maserati and said, 'Take my car to the hotel and park it there. I will have someone drop me off there at the end of the night.' It was the most NHL thing I've ever seen."
---
Colton Sceviour has played 281 of his 451 big-league games with the Panthers. He recalled February 22, 2018, the night a visibly moved Luongo addressed the BB&T Center crowd in the wake of the Marjory Stoneman Douglas High School shooting.
Luongo lives in Parkland, and his son, who attends the school, was in lockdown hiding in a closet for three hours during that day.
"My most memorable moment with Lu would have to be his speech after the school shooting because it was so personal and from the heart," said Sceviour, of the man who ranks second in NHL history in games played by a goaltender (1,044), third in wins (489) and ninth in shutouts (77).
Fans will have a chance to take home a special memento from Luongo's number retirement ceremony Saturday. All those attending the game against the Montreal Canadiens will receive a Luongo replica banner to commemorate the event.
Florida first brought Luongo into the fold via a trade with the New York Islanders June 24, 2000. In his first five campaigns with the Panthers, he was a finalist for the 2003-04 Vezina Trophy and played in the 2004 NHL All-Star Game for the first of five times over his career ( also 2007, 2009, 2015 and 2016).
The fourth overall pick of the New York Islanders in 1997 played the next eight seasons with Vancouver before coming back to the Panthers in 2014. A five-time All-Star, he notched 489 career wins, putting him third on the all-time list, with Martin Brodeur and Patrick Roy holding down the top two spots, respectively.
Florida's all-time leader in wins (230), shutouts (38) and saves (16,068), Luongo won two gold medals (2010, 2014) as a member of Team Canada and played a prominent role in helping his country win the 2004 World Cup of Hockey crown.
Respect for the Montreal native runs deep. Not only for what he was able to achieve between the pipes, but also for his presence in the locker room and in the community.
That said, Luongo's achievements over a 20-year NHL career still earn high marks from those who he played with.
"Just watching him break records what seemed like every other week his last years, from games played to shutout to wins, he constantly was accomplishing great feats the whole time I played with him," noted Sceviour. "He was just the definition of professionalism, everything he did was with the intention of how it could make him or the team better. The amount of work he put in to get ready for practices and games showed his dedication to his craft."
Yandle, who has also played with Coyotes organization and the New York Rangers during his NHL career, often marveled at Luongo's efforts when facing off against him.
His admiration only grew once they wore the same colours.
"As far as being a teammate, he was amazing. I was always amazed playing against him and when I came to Florida, he was one of those guys that you look up to so much, you don't know really how they are as a person. He exceeded all my expectations. And it was amazing during practice… no one would shoot the puck more than waist-high on him. He had respect like I've never seen."
To his former teammates, he's much more than those numbers represent.
"He is a great family man, a great teammate and a great friend," praised Yandle. "I am so glad I got to play with him."