A Fresh Start For Simon Gagne
After a year away from the NHL, Simon Gagne is back with Boston & embracing the opportunity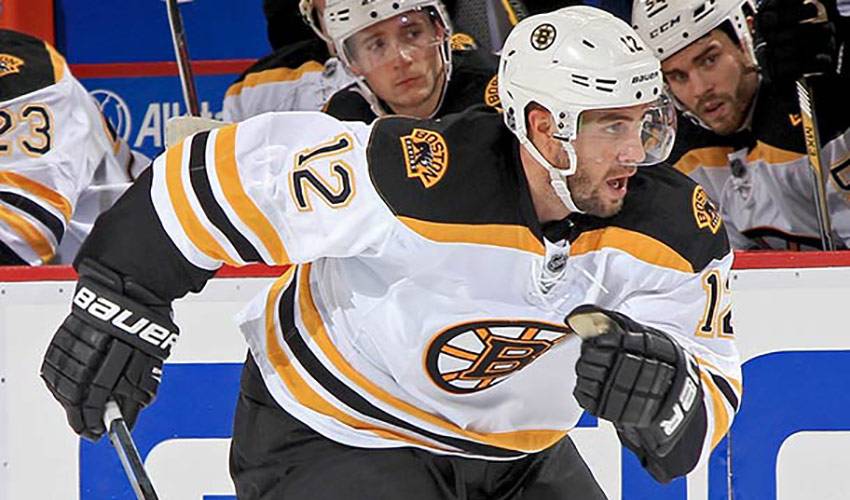 Simon Gagne won't be asking for any Christmas gifts this year. The veteran forward already received just what he was hoping for.
Last season, Gagne, who had last played in 2012-13, took on the role of spectator, rather than participant, after a deal with the Philadelphia Flyers fell through.
There were some options available to him over that period, and a few teams had inquired about his services, but there was little guarantee he'd get a shot to play in the NHL full-time again.
A call from the Boston Bruins before the start of the 2014-15 campaign would change everything.
"Boston reached out and mentioned there might be an opening available," recalled the 34-year-old Gagne. "They offered me a chance to tryout with the team. I was looking for a team that would make sense for me, one that would suit my style."
He didn't have to think very long about the offer.
"Having a shot to play again, to show myself that I still could, to be presented with that chance was a great opportunity," said Gagne. "I knew (head coach) Claude Julien. He was an assistant coach on Team Canada when we won a silver medal in 1999 at the World Juniors, and I played against him when he was coaching in the 'Q' (Quebec Major Junior Hockey League)."
That wasn't the only familiar face in the organization. Gagne and fellow forward Patrice Bergeron happen to be close friends.
"Patrice and I have a hockey charity event each year in the summer in Quebec and recently, Claude came up and helped coach," recalled Gagne.
Gagne must have done something to grab Julien's attention.
"So, he knew me and maybe he saw something he liked when I was out there," joked the 22nd overall pick in the 1998 Entry Draft. "It almost seemed like it was too good to be true." Getting back out on NHL ice, albeit in a tryout setting, was a welcome change of scenery for Gagne.
"At first it was not easy, but my family was very supportive when I took the season off," he noted. "At the beginning, they wanted to know how I was doing, to be there to make sure I was okay. And that means a lot. After a while, I think everyone understood that we didn't have to talk about it. And that meant a lot, too. I don't want to say I lost the fun I had for the game, but I really tried to take one day at a time."
The net result of the two-time all-star's story is a roster spot on one of hockey's deepest teams.
"It was like déjà vu, like my first training camp," remembered Gagne, who scored a goal in his second game after 12:13 of ice time and two shots in his Boston debut on October 15. "I didn't get a contract right away, but I was told to stick around. Then, the offer came. It felt like you were going back to your rookie days. My first game back, I figured I'd be nervous, but it wasn't like when I was a rookie. Very quickly, it was like riding a bicycle. I felt good. I felt comfortable."
Not much more he can ask for, right?
"It's a great team to be part of," said Gagne, who scored against Montreal in his second game. "I'm trying to enjoy every moment. I haven't seen my family in a month and a half, and they are flying in today (October 19). I really don't think I need to ask for anything for Christmas."
Well, with one exception: he wouldn't mind seeing his name on hockey's most prized team trophy one more time.
"I might just ask for that," said Gagne, who won the Stanley Cup with the Los Angeles Kings in 2012.