'Big Stride' Hoffman
One of the fastest skaters in the NHL is hitting his stride with the Ottawa Senators in 2014-15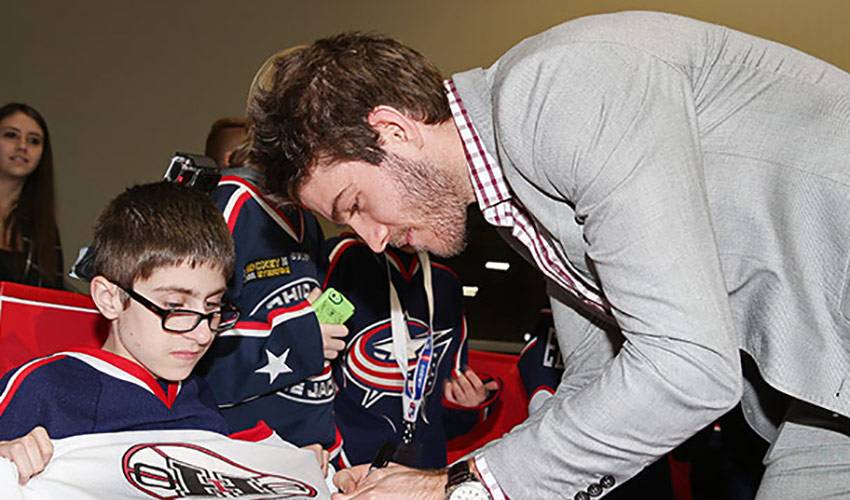 He's one of the fastest skaters in the league, having showcased it at the recent NHL All-Star Game. So, it was only fitting that Mike Hoffman used the term 'big strides' when it was time to talk about his 2014-15 campaign.
You can still hear a hint of excitement in his voice when Hoffman, 25, talks about All-Star weekend in Columbus, where the Ottawa forward scored a head-turning goal in the breakaway portion of the Skills Competition and blazed his way to a near victory in the fastest skater event.
"The whole experience was unbelievable," said the Kitchener-born forward, who had 16 goals and 25 points in 43 games prior to the All-Star break. "I can honestly say that at the beginning of the year I never would have expected to have been there. The only thing I was focusing on when the season started was to make some big strides this year."
He's definitely lived up to his own words.
Yet, despite rubbing elbows with the game's elite in Ohio, and in the midst of a breakout campaign, the speedster, who has an impressive plus-19 rating, stops on a dime when speaking about all the success.
"I haven't and I won't get too comfortable," said the 130th overall draft selection of the Senators in 2009. "It's far too good of a league to take anything for granted. I really just wanted to show that I could play in the NHL, and that I could contribute whenever I am called on. To be at the All-Star Game, to see the guys you watched on TV, it was an incredible experience. I want to take the confidence from that and put it into the second half of the season."
The former award-winning Quebec Major Junior Hockey League (QMJHL) graduate had skated in a grand total of 29 regular season NHL games prior to this year.
It's been a long road to get to this point for the player who scored 98 goals in the QMJHL (2008-09 to 2009-10).
He doesn't intend for it to head in any other direction.
"Ever since I was drafted into the organization, I've had so many people help me along the way," noted Hoffman. "I feel very fortunate to be here. Like everyone else on this team, it's all about making the playoffs. That's where the focus is."
If Hoffman, who won the AHL All-Star Game fastest skater competition last year, can help fast track that goal, he's certainly ready for the challenge.
"Confidence is such a key thing," he offered. "Throughout the season, I've tried hard to make adjustments throughout, to get better, to do the little things that can hopefully make a big difference. With each game being more and more important, you have to raise the bar. That's where my mind is."