Mike Hoffman shares special bond with his father
Coaches come and go in a hockey player's life. But when your father is also a coach, the wisdom keeps coming.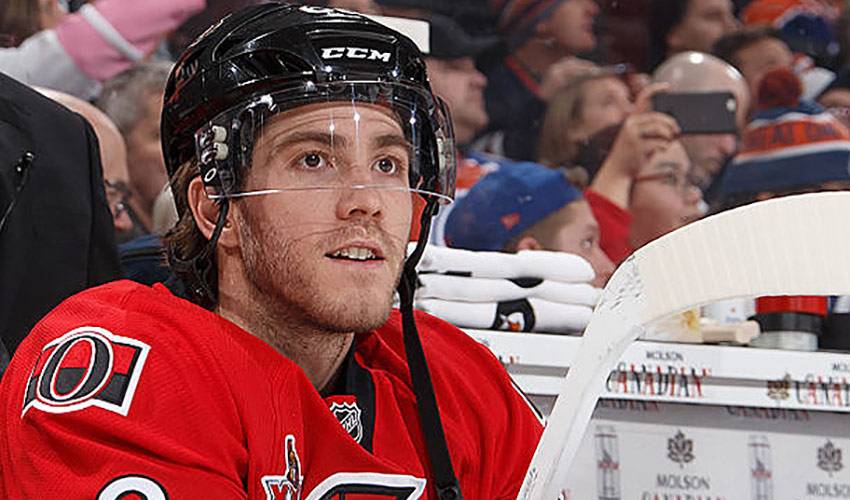 Coaches come and go in a hockey player's life. But when your father is also a coach, the wisdom keeps coming.
Such is the case for Ottawa Senators left wing Mike Hoffman. His 53-year-old father Todd was a pretty good player three decades ago who also just happens to be an accomplished head coach.
Last month, when the Senators held their annual father-son trip the Hoffmans spent time together and reflected on their tight relationship as well as Mike's remarkable journey to the NHL.
"Absolutely, we're proud of him," said Todd, who had to cut short his stay on the Senators trip in order to return to his post behind the Waterloo Siskins junior B bench.
The elder Hoffman always enjoys watching his son play live in person or on television. But this trip was particularly enlightening when Guy Boucher and the Senators coaching staff allowed the fathers to attend a video session with their sons.
"It obviously wasn't easy for Mike to get to this level," Todd continued. "But he never lost sight of that dream to play in the NHL."
Along the way, Todd and his wife Debb have been there for their son with sound advice. Todd had been through it all before in the early 1980s.
He won the Dudley Hewitt Cup (tier II junior) with the 1981-82 Guelph Platers. When the Platers organization made the jump for its inaugural year in the OHL the following season, Hoffman scored 36 times, second on the team behind Kirk Muller's 52 goals.
Fast forward three decades later, Mike's hopes were temporally dashed when he was cut from his AAA bantam team because he was too small at 5-foot-7 and 125 pounds. It was his OHL draft year and scouts didn't get an opportunity to see the younger Hoffman dominate with his AA team.
Hoffman, however, was promoted to AAA for the playoffs. He not only was one of the team's top scorers he caught the eye of his hometown Kitchener Rangers.
The next year Mike was 17 and played for the Kitchener junior B Dutchmen before receiving a late-season call-up to the Rangers. Once again, however, he was told there wouldn't be a spot for him with the Rangers in 2007-08 because coach Peter DeBoer wanted an older team because Kitchener was going to play host to the Memorial Cup.
DeBoer did help Hoffman land in the QMJHL, first with the Gatineau Olympiques and then with the Drummondville Voltigeurs. In his second season with the Voltigeurs, Hoffman scored 52 goals and helped Drummondville win the 2008-09 President's Cup championship with another 21 goals in 19 playoff games.
The Senators took notice and drafted Hoffman at age 19 in the fifth round, 130th overall. He was traded to Saint John Sea Dogs in his final year of junior and helped them advance to the final.
But despite his late success in junior, Hoffman had to start at the bottom as a professional with a brief four-game stint with the ECHL Elmira Jackals. That first pro season, however, ended on a high note when he helped the Binghamton Senators win the 2010-11 Calder Cup title.
Hoffman continued to develop the following season. He led Binghamton in scoring and during the season earned a promotion to the NHL, playing in his first game on Dec. 23, 2011.
He didn't become a full-time NHLer until 2014-15 at age 25, but a 27-goal campaign followed by a 29-goal season a year ago has made his long and winding journey worth the growing pains.
"It was never the easiest path for me," said Mike, who has 20 goals and 46 points in 59 games this season. "The biggest thing for me I had confidence in myself. I always felt I just needed a chance to prove myself and until I had that opportunity I wasn't going to stop working hard or trying."
Along the way, Todd has been there with advice for his on-ice play and encouragement to finish his schooling. Todd tapes the Senators games in case his son wants an extra set of eyes on what he's doing right or requires refinement on.
"My parents have been and continue to be a big influence. My Dad has worked with me on everything in my game," said Mike, recalling the long hours the two would spend in the garage shooting pucks and work on other skills.
"He's been a mentor and he's helped me get to where I am today. He enjoys the game and I love to give back."
As the Senators skate a path back to the playoffs in the last few weeks of the regular season, Todd, a cash management analyst with Manulife, will be busy guiding his Siskins in the first round of the playoffs against the Cambridge Winter Hawks.
But he'll find spare time to keep an eye on his son and his son will keep an eye on his Dad and the Siskins, who lead their best-of-seven first-round series 3-2 against Cambridge.