Wayne Simmonds: Making Hockey Dreams Come True
Wayne Simmonds doesn't need the NHL season to be a difference maker. Just ask anyone who has ever been to his annual summer charity event.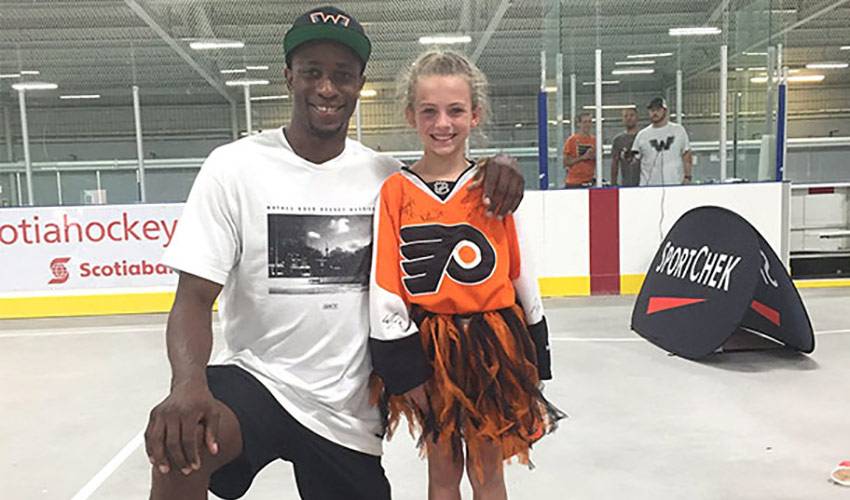 Wayne Simmonds doesn't need the NHL season to be a difference maker. Just ask anyone who has ever been to his annual summer charity event.
It was a day that brought out several familiar faces – parents, kids, sponsors and NHL players – and it also brought back cherished reminders of Simmonds' time in Scarborough, ON, the place he grew up in.
"Every year, I'm amazed," said the 27-year-old, of his Wayne's Road Hockey Warriors initiative, which celebrated its fifth anniversary on July 9. "The sponsors (including the NHLPA) have always been there for us. The people that come out, you see so many of the same faces year after year. Each time we do this, it makes you step back and reflect on how fortunate we've been to have such great support."
Over 150 kids came out to play alongside Simmonds and his NHL friends, including Darnell Nurse, Brayden Schenn, Mike Cammalleri, Chris Stewart, Anthony Stewart and Devante Smith-Pelly, who also took part in a celebrity game.
"To be able to be part of something like this, to help underprivileged kids have a chance to play hockey, to spend time in this community – that means the world to Wayne and to us, too," said Anthony Stewart, who played 262 career NHL games. "You get asked all kind of fun questions ('Do you know Sidney Crosby?' is a popular one) and you get to meet some really nice people."
Many of who come back each year.
"There was one kid who won MVP two years ago," noted Simmonds. "He's too old to win it again, but he's a volunteer now. That means a lot to me."
Prior to this year, Wayne's Road Hockey Warriors has outfitted nearly 270 local youth with new hockey gear, along with covering their registration fees and equipment costs for close to 20 kids.
"For me, it's seeing the smiles on the kids faces that always gets me," he continued. "Hockey has always been a big part of my life. You want to see every kid that loves the game have the opportunity to play. It has my name on it, but a lot of the same guys – Chris Stewart, Anthony Stewart, Devante Smith-Pelly (all with strong ties to Scarborough) – are back every summer. It might as well have their name on it, too. I know how much the community and the people mean to them."
And for Simmonds, too.
Plenty has changed for him since he left his hometown for the NHL life. A veteran of 605 NHL regular season games, he wears an 'A' on his jersey as one of Philadelphia's alternate captains and leaders.
Simmonds is also coming off his best year offensively speaking, netting a career-best 32 goals in 2015-16.
None of it, however, has stopped him from giving back.
"This is where my love for hockey started," he recalled. "I remember sitting on the fence, looking at the spot where the neighborhood kids would gather to play, and waiting for the guys to show up. This is home for me. It's where my closest friends are. I'll always have a close bond with Scarborough and to the people here."
Not that he needed any reminders of that, but he did get a very meaningful one the day before his event.
"I was driving along with my girlfriend and I was looking out the window," started Simmonds. "We went by Heron Park (hockey arena) and I had a big smile on my face. I turned to her and said, 'That's where it all started for me. That's the first rink I played in.' I was thinking it would be great to see more kids from Scarborough playing in the NHL one day."
With Wayne Simmonds in their corner, the odds are definitely in their favour.
Stick tap to our sponsors, were able to help so many because of you. 3 years running with @SportChek, a big thanks! pic.twitter.com/WGa29SXfiY

— Wayne Simmonds (@Simmonds17) July 9, 2016
It's more than showing up. Get involved. Coach the next wave of players. #WRHW2016 pic.twitter.com/jCCT98l8w2

— Wayne Simmonds (@Simmonds17) July 9, 2016