Hamilton brothers stick together in Calgary
There is a silent bond between brothers. That special bond connects Calgary Flames defenceman Dougie Hamilton with his older brother and teammate, Freddie.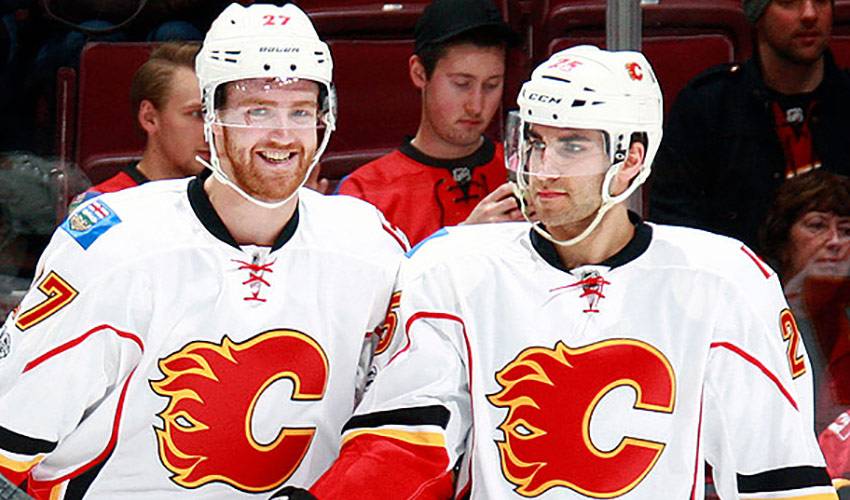 There is a silent bond between brothers. That special bond connects Calgary Flames defenceman Dougie Hamilton with his older brother and teammate, Freddie.
The two – born 534 days apart – enjoyed memorable times in junior with the Niagara IceDogs and winning a bronze medal for Canada at the 2012 IIHF World Junior Championship in Calgary, their current home.
The Hamiltons were the first brothers to perform for the Canadian junior team since Mike and Randy Moller in 1982. For Dougie and Freddie, the experience was emotional and unforgettable.
It was sort of like the day, 11 months ago, when Freddie was promoted from the Flames AHL-affiliate in Stockton, California to join his brother in Calgary for four games in March.
The two did not expect to be playing together in the NHL. Freddie, a forward, was taken in the fifth round (129th overall) of the 2010 draft by the San Jose Sharks. Dougie was selected ninth overall a year later by the Boston Bruins.
"No, not really," the 25-year-old Freddie said when asked if he thought he would play on the same team with Dougie in the NHL. "I thought it would take a lot of luck for that to happen. We were both really happy where we were, but things didn't work out and it just worked out that we both ended up in the same spot, which is pretty cool."
"We enjoyed playing together in Niagara and we dreamt that one day we'd play in the NHL together," 23-year-old Dougie added.
"But you never know if it would be a possibility. Maybe later in our careers, like the Niedermayers [Scott and Rob]. We feel fortunate to do this right now and we're enjoying it."
The two live downtown together, share the cooking and rides to the rink. Sure they talk hockey and they can give their sibling a lift when he is down in the dumps. They also know when to give each space because it's not easy to get along with your brother all the time.
"We know our limits and when we're spending too much time together," Dougie said.
"We're best friends and sometimes best friends get annoyed with each other," Freddie added. "But we never let it get any worse than that."
The Hamiltons come from an athletic family. Doug Sr. won a bronze medal in the quadruple sculls event at the 1984 Olympic Games in Los Angeles and gold in the same event at the 1985 world rowing championship.
The Hamilton's mother, Lynn, met her husband at the 1984 Summer Games. She was a guard with the Canadian women's basketball team, which finished fourth in Los Angeles. The former Lynn Polson played eight seasons on the national basketball team and won a bronze at the 1986 world championship.
"Even though they didn't play hockey, playing a sport at a high level is similar off the ice," Freddie said. "There is the commitment, time management and the whole mental side of sports. They have helped so much in terms of preparation and dealing with the highs and lows, and with training."
Dougie and Freddie got an up-close and personal view of how elite-level athletes perform at the 1999 Pan-American Games in Winnipeg when Doug was the Rowing Canada's high-performance director.
The Hamilton brothers used to play basketball. In fact, their mother was once their coach. They also tried rowing once but weren't very good. It was easy to fall back into hockey, a sport they liked from the first time they laced up their skates.
Doug and Lynn were not pushy sporting parents. They have been supportive and stressed education. Both Hamiltons were winners of the Ivan Tennant Memorial Award -- Freddie in 2010 and Dougie the next year -- as the OHL's scholastic player of the year. The parents also emphasized that the brothers get along.
"We were never in the same class or the same team growing up," Dougie said. "But I always looked up to him. When he stayed at home to play junior, I wanted to stay at home and play. When he got drafted, too."
The next step for the Hamiltons will be to finish the season strong and play in their first Stanley Cup playoff game together.