Anders Lee continues to make an impact with year-round charitable efforts
Lee has helped raise more than $300,000 for childhood cancer.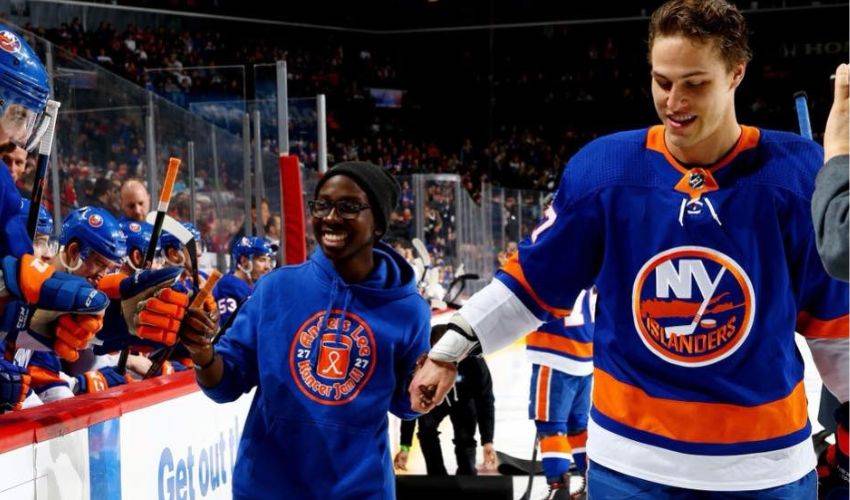 Feature Photo: Twitter / @leeberr09
---
Anders Lee's perspective of the charitable efforts he is involved with has changed over the past few years, and it has only strengthened his commitment to help others.
The 33-year-old captain of the New York Islanders is well-known around hockey circles as one of the sport's most giving citizens – a player whose acts of kindness have impacted the lives of many.
Now, as the father of two young girls, Ruby and Josephine, Lee sees that side of his life through a much different lens.
"I definitely have a new perspective, being a father. It's a new way of seeing what certain families are going through. I can't imagine what they are going through and the strength they have to have. It really is inspiring. I can't tell you how many incredible kids and families I have met throughout the years, to see their values and to appreciate even more what is important in life, to take care of one another and to have one another's backs."
One of the most rewarding initiatives for Lee has been raising money for families impacted by cancer through Jam Kancer in the Kan, an initiative he has been part of for over seven years.
The foundation helps raise funds for families affected by a cancer diagnosis and connects people to participate in "Kancer Jam" fundraising events. Since the first event, which brought in $14,296, over $2,140,000 has been raised over nearly 41 events to date (many of which Lee has participated in).
Lee has also helped raise more than $300,000 for childhood cancer research through his own "Kancer Jam" events and has established the Fenov Memorial Scholarship in memory of his late friend.
His friendship with Fenov Pierre-Louis, a teenager who fiercely battled Stage 4 Neuroblastoma, continues to have a huge impact on Lee, five years after Fenov passed away at the age of 17.
Every year, Lee and the foundation awards "Fenov Scholarships" worth $2,000 each to graduating high school seniors continuing on to college who have "provided help and sympathy" to someone with cancer.
It is far from the only off-ice initiative Lee lends his time and efforts to.
From meet and greets with fans, to hospital visits, to supporting his fellow players' charities, the veteran of nearly 700 NHL games continues to help others throughout the hockey season and beyond.
This past June, the Minnesota native was named a finalist for the King Clancy Memorial Trophy – awarded annually to the player who best exemplifies leadership qualities on and off the ice and has made a noteworthy humanitarian contribution to his community. It was the fifth time he was nominated for the award.
For Lee, the most important recognition is the one his charities receive around the King Clancy recipient announcement.
"It's a wonderful thing, to see the importance and impact of community and togetherness that something like Kancer Jam can have, and the difference it can make in so many ways. It's nice to see the people behind it and the charity itself get some exposure."
As for why he does what he does, Lee, had a simple, heartfelt answer.
"When this whole Kan Jam thing started, I wanted to find something that I could have an impact on in the community. It came together and it became a really important thing in my life and my wife Grace's life. It turned into something special that has made a lot of good things happen. Whatever I can do, even if it's a small impact, that's very important to me."
As it is to players throughout the league, including in the Islanders locker room.
Lee has seen it, first-hand, and through other channels, over his time in the NHL.
"For me, I'm living the dream, playing hockey, but there's more to life outside of that. You look at our team and throughout the league, I see so many teammates that are doing similar things, wanting to help, not because they feel they have to, but because they want to. It's the same thing with other guys around the league. It's a great part of our identity as hockey players."
Lee is already gearing up for the new campaign, one that starts on October 14 for the Islanders.
He is already in competitive mode.
"That's already happened, sooner than some people might think. It's always dependent on how the season went. I'm just looking forward to getting back at it. It was an up and down year for us. We were trying to find our consistency and put ourselves in a good spot. We had a tough January and had to make quite a push to get to the playoffs. We wound up in a tight series against Carolina and came out on the wrong end of a few games that could have gone either way. It was disappointing for us. The goal is to do more this year."
When speaking of doing more, Lee does not just mean on-ice results.
There is, as always, a desire to lend a helping hand to the people and community he plays in.
"It's a wonderful thing, to see the importance and impact of community, and the difference it can make in so many ways. Whenever I meet with families and kids who are going through a difficult time, I take that with me when I walk through the door and see my family. You never want to take anything for granted."
That is why, in those moments, he gives his girls a longer hug than usual.
"I definitely do."