Lee, Islanders banding together between games too
"About eight of us have our guitars here," began New York Islanders captain, Anders Lee.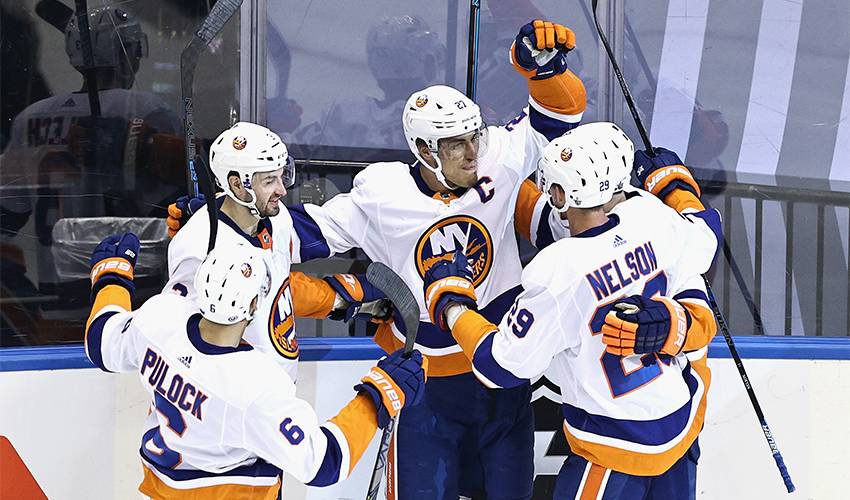 Feature photo: Getty Images
---
Anders Lee has struck a chord with his teammates.
As the captain of the New York Islanders – a role he's held since 2018 – the 30-year-old Lee has earned the widespread respect of teammates for his strong leadership skills.
Musically, it's a much different story.
Although he's not in the lead role when it comes to guitar skills on the Islanders, Lee, along with several teammates, has been enjoying the opportunity to learn how to play the musical instrument during downtime from playoff action.
"About eight of us have our guitars here," Lee told NHLPA.com from the team's hotel in the Toronto bubble. "We're all just hanging out and doing that when we can."
Admittedly, Lee won't be confused with Jimi Hendrix or other guitar greats any time soon.
And he's okay with that.
He's simply happy to be part of a yet-to-be-named group.
The team's massage therapist, Jim Miccio, is helping the players elevate their guitar skills.
"I'm just getting going here and it's been fun to challenge myself in a different way in the downtime," said Lee. "You start playing a few things together, different chords and stuff, putting little riffs together, and it becomes a really fun thing.
"Jim is phenomenal. He went to conservatory back in college and he can really play. He's taken a lot of us under his wing and done a few little concerts."
Aside from Miccio's expertise, there are some other Islanders who have caught Lee's attention.
"[Johnny] Boychuk, [Cal] Clutterbuck, [Jordan] Eberle, [Adam] Pelech – they're all really good. Barzy [Mathew Barzal] just started out, and he's flying. It's been a lot of fun. We all just sit around and share tips with each other."
Ping-pong tournaments have been another go-to team activity, with the singles event recently wrapping up.
It was Jean-Gabriel Pageau who wound up netting all the spoils in the "Boys of the Isles" tourney.
The 27-year-old's entrance for the final garnered rave reviews throughout Twitterverse and the social media world. As the video shows, Pageau's teammates were equal parts impressed and amused.
Although Lee went 1-3 in the tournament, he didn't throw shade at Pageau – who came to the Islanders via trade with the Ottawa Senators February 24 – or anyone else.
"We're already on to our next ping-pong tournament. We're doing doubles. It's just a fun way to get the boys out of their rooms for a chance to hang out. But that's easy for our group… we've got a great group of guys who always have something going on. It's been fun to get together in the afternoons and get competitive. It gets competitive pretty easily.
"Doubles is an open field. We handicapped it pretty well. The top players in the singles tournament got paired up with guys who finished in the middle of the pack, so it's pretty open. Pageau and Barzal were definitely the one-two punch. Fans have been following along and I think people are enjoying it."
When he's not picking up a guitar or paddle, Lee has been engaging in a little baby talk with some of his teammates, namely, Josh Bailey, Matt Martin and Eberle.
All four players, along with their respective significant others, recently welcomed daughters into the world.
"Grace and I had our first baby in March, a baby girl named Ruby. I got to spend some incredible time with her. The boys have been busy on FaceTime the past few weeks, that's for sure. Obviously, we're all excited. There's a lot of sharing photos and talking about being a dad."
After a four-game qualifying series win against the Florida Panthers, the Islanders will have to best the Washington Capitals in the first round of the 2020 NHL Playoffs.
The teams met four times during the 2019-20 regular season. Each team won two games with both teams scoring 14 goals.
New York bested Washington 4-2 in Game 1 of their series August 12. Lee tied the game early in the third, taking three shots in 12:32 of ice time.
As for what else is on the team activity list, a competition based on the popular television game show, Family Feud, has been in the works for a while.
"We've been able to have our energies expended on the ice now, but for the prior four months to that, with everyone sitting at home, guys were itching to get something competitive in the books. Now that hockey is back, that definitely takes a chunk, but regardless, any off-ice stuff, we do get pretty competitive."
Just what a captain wants to see both on and off the ice.