Zack MacEwen continues to honour late father through My Biggest Fan Foundation
The foundation offers support for young hockey players with scholarships for hockey schools, post-secondary education and camps.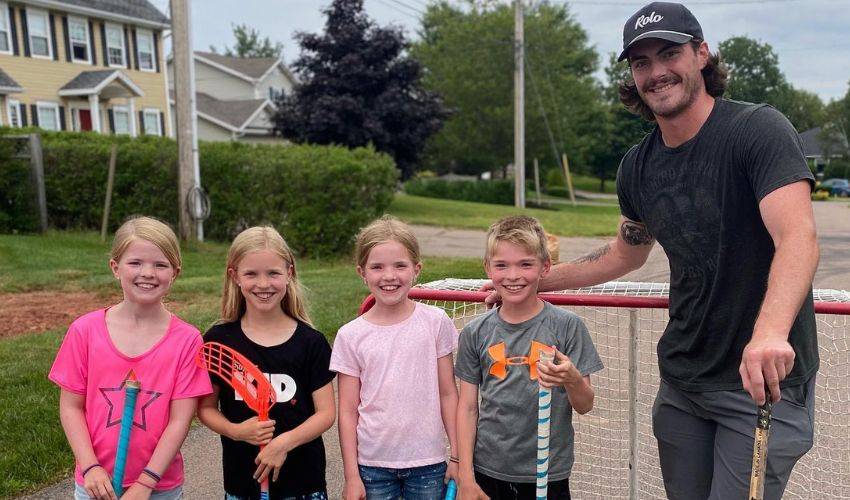 Feature Photo: IG / @mybiggestfanca
---
The My Biggest Fan Foundation continues to make a difference in the lives of many.
When Los Angeles Kings forward Zack MacEwen and his family launched the nonprofit organization based out of Stratford, Prince Edward Island, three years ago, the collective goal was to honour the legacy of Zack's late father, Craig MacEwen, who passed away in May 2020 after suffering a stroke.

The foundation, inspired by a photo of Zack with his father that his mother has held onto over the years, offers support for hockey players and their families in the form of scholarships for hockey schools, post-secondary education and camps. It also provides financial support for hockey registration, tournaments and equipment for players in need of support.
"Things are going really well," said Zack. "We've been able to give a lot of financial support to kids over the past hockey season. We supplied some kids with gear. This summer, we have our annual golf tournament coming up in July, which we are expecting to be even bigger than last year."
Assistance from the organization extends across Canada, with a focus on areas where Zack has played during his hockey career, including Prince Edward Island, Nova Scotia, New Brunswick and Quebec. In 2022, the foundation raised $100,000 for kids in need.
My Biggest Fan is, in every sense, a family affair.
"My family does such great work. My mom, Juliana, is president, my brother, Kurtis, is on the board, my cousin, Kayla, is the events director and my Uncle Jeff is also part of the events side and does some logistical work as well. It's really cool to see how much they undertake and how effortless it is for them because they are so committed to helping these kids and their families. It's a big team effort."
Both Zack and Kurtis have seen first-hand the impact the foundation's efforts have had on hundreds of people.
"That's the most rewarding part of it for all of us," said Zack. "I've had kids reach out, whether it was writing a letter or through social media. I had one kid reach out to say that his hockey team was able to get gear through the foundation. He was so grateful and he wants to work hard with his team to have a memorable year. That's the coolest part of it all, seeing how the kids are able to enjoy the game so many of us love and care about. We want to help as many kids as we can. I think it gives the kids a sense of work ethic, camaraderie and togetherness. A lot of them want to make the most of the opportunity to play hockey and if we can help with that, it makes us all very happy and humbled."
In the fall of 2021, the NHLPA Goals & Dreams fund donated 25 sets of equipment to assist in the foundation's efforts. Recipients of some of the gear included a young girl who wanted to try hockey for the first time and a Junior A hockey player from Ukraine.
"When we have the opportunity to help a child by providing them with the gear they need, it is truly a blessing," said Juliana. "We are so grateful for the support of the NHLPA to help our foundation make great things happen for so many kids."
Zack's brother, Kurtis, echoed his mother's sentiments in the joy of being able to provide for children in need through the foundation.
"It's a little bit of every emotion," admitted Kurtis. "You get the applications and you feel very sad when you read the stories, and then you get the responses when you tell them they are eligible for whatever the amount of money happens to be and you cry tears of joy. The stories we've received make you want to do whatever you can to help. Those letters and emails come from families who have experienced tragedy, to families who have had a tough year, to families dealing with other situations. We just want people to excel at hockey and experience the same love we all have for the game."
All the work is done with Craig MacEwen at top of mind.
"He gave me so much advice about hockey and life," said Zack in an earlier interview with NHLPA.com. "Before every game, I take a couple of minutes on the bench before warm-ups and think about the things my dad would say to me. I try to keep that close because he was my No. 1 fan. He was always there supporting me and the person I would talk to before and after every game. Everything that we talked about and shared over the years has stuck with me and it will forever.
It is a feeling echoed by Kurtis.
"I keep hearing from people how much good we're doing and that makes us happy. We never lose sight that this is about someone who continues to impact our lives and inspires us to help others. Zack and I didn't know our parents' financial situation growing up. We do now and we understand the sacrifices they made to put us through sports. I see that now when these applications … it's why we want to help as many people as we can."
Zack has no doubt that Craig MacEwen would be humbled by the selfless work his family is doing through the foundation.
"My dad was the type of person who treated everyone the same and that was something I took from him," said Zack. "He was always a very generous man. To be able to honour him in this fashion and carry on his name in doing good, to be motivated by him to keep paying it forward, is the biggest thing we take with us."