Zack MacEwen honouring his biggest fan
The memory of the man who loved hockey and life in equal measure will never be far from Zack MacEwen's mind.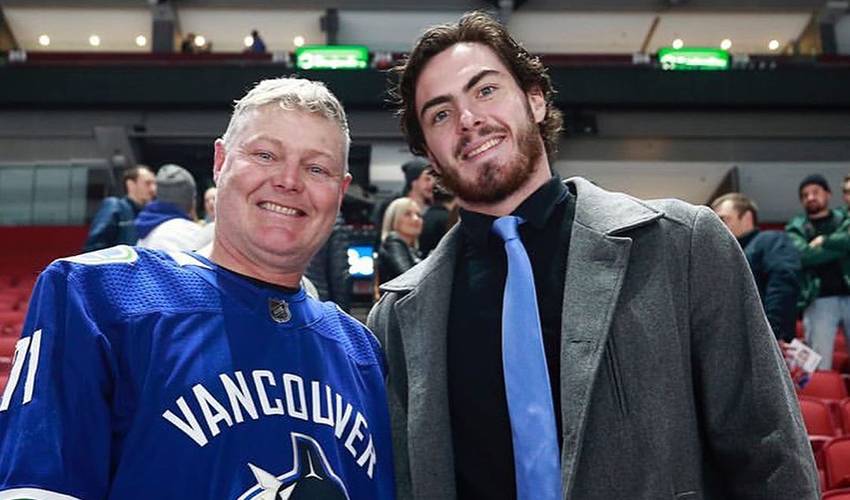 Feature photo: IG / @macewen66
---
Zack MacEwen always reserves the moments prior to his pre-game warmup to reflect, remembering the words of wisdom passed along from his late father, Craig.
"He gave me so much advice about hockey and life," explained the 24-year-old MacEwen. "Before every game, I take a couple of minutes on the bench before warmups and think about the things my dad would say to me. I try to keep that close because he was my number one fan. He was always there supporting me and the person I would talk to before and after every game. Everything that we talked about and shared over the years has stuck with me, and it will forever."
Craig MacEwen passed away suddenly last May after suffering a stroke. The immediate outpouring of support for the MacEwen family came from far and wide across the hockey community.
"You saw people there for us right away. My team and my teammates have been amazing throughout all of this. There have been so many people that have reached out and offered a kind word. That meant a lot to myself and my family. It's obviously a very difficult thing to go through, but we've been lucky to have such amazing support."
Eventually, conversations about how the family could best honour Craig's memory became more frequent. Those discussions eventually led to the establishment of My Biggest Fan Foundation (MBFF) – a name inspired by an old photo of Zack and his father.
Based in Stratford, Prince Edward Island, MBFF's mission is to help young kids realize their dream of playing hockey.
The foundation supports players and their families through scholarships for hockey schools, post-secondary education, camps and provides financial assistance for hockey registrations and tournaments – as well as equipment for players in need of support.
"After everything happened and just after my dad passed, there were a lot of donations coming in to the funeral home, people that wanted to reach out. We saw the donations coming in and started talking about what kind of good we could do with it, who we could help with it. As soon as we came up with this idea, everyone was on board. It's what my dad would have wanted and that's how it all started."
MBFF will help families across Canada, with an emphasis on communities where MacEwen has ties to through his hockey career, specifically, Prince Edward Island, Amherst, Gatineau, Moncton and Vancouver.
The MacEwens plan to host a golf tournament fundraiser in Prince Edward Island at the end of July.
"For me and the whole family, to be able to work on this and keep that memory close to us is so important. It's also important to us to see how much this will help the people the foundation will benefit. What we can do, it's going to be very rewarding and something good for our family for a lot of years to come."
Amplifying awareness of MBFF hasn't been an issue.
"When we launched the foundation, my teammates helped out right away. Whether it was sharing it or mentioning it on their social media, we have been able to get the word out to a lot of people. We saw how much it took off on the day we started the foundation and that made us very happy to see that."
A family affair in every way, the MBFF is headed by Zack, his mother, Juliana, and his brother, Kurtis.
Juliana is the president of the foundation and manages all projects, while Zack's girlfriend, Lindsay Gray, oversees the website and social media channels. Juliana's brother Jeff Affleck and her cousin Kayla Weatherbie were also pivotal in seeing the foundation come to fruition, while Doug Shepherd and Emily MacEwen dedicated hours of research to educate themselves and others on what was needed to establish MBFF.
Zack is grateful for the team effort that helped MBFF become a reality.
"Everyone has been such a big help. Each person has gone above and beyond. When you take on something of this scope, you need as much help as you can find. We've been very fortunate to have so many people pitch in and help us. To see it all come together is just amazing."
"This started as a simple idea, but it took a lot of work and effort. So many people came together, and to see that instant reaction, to see that work pay off, is something that makes you even more excited as to what you'll be able to do and what you'll be able to accomplish."
Best of all, Zack knows his father would be proud.
Whether it's through his work with MBFF or in those moments before warmups, the memory of the man who loved hockey and life in equal measure will never be far from Zack's mind.
"My dad, he was one-of-a-kind guy. Every room he was in, he had the attention of people and he loved that. He was a guy that would try and make you smile or laugh, just because. He was a generous person, and he always took care of us. For us to honour in him in this way and carry on his legacy, it's going to be amazing."