Adam Fox and Logan Thompson set to soak in first NHL All-Star experience
Both Fox and Thompson will be headed to South Florida to participate in their first NHL All-Star Game.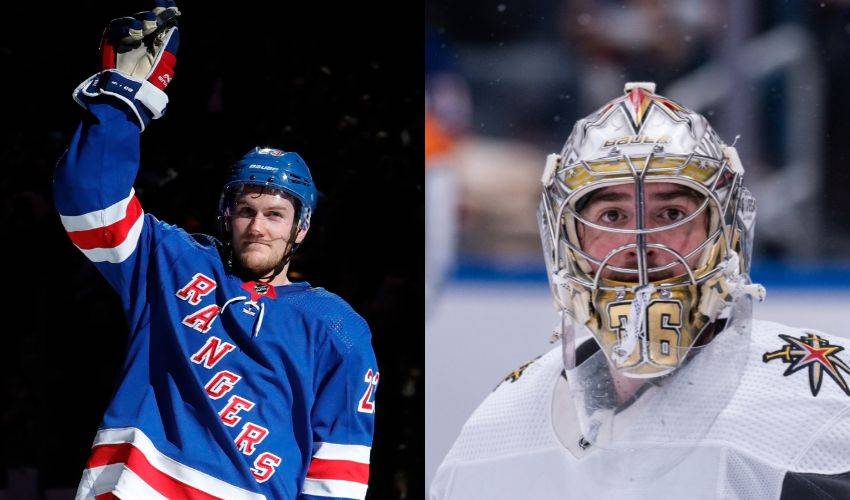 Feature photo: Getty Images
---
They took different paths to get here, but Adam Fox and Logan Thompson are both looking to make the most of their first NHL All-Star Game experience.
Fox, who is having another outstanding campaign with the New York Rangers, was named to the All-Star Game for a second consecutive season, but will participate for the first time after injury prevented him from taking part in 2022.
"It's nice, especially after not being able to play last year," Fox told NHLPA.com "I'm happy that it's in Florida too, maybe get some sun. It's a great event, and I'll have my parents down here to watch. My grandfather lives in Florida, so it should be a fun time. I don't know if we ever imagined that they would watch me play in an All-Star Game, but the fact that it's in Florida, and my grandpa can watch it – he's 96 – that's going to be really special."
A native of Jericho, New York, the 24-year-old continues to be viewed as one of the game's top defenceman after winning the Norris Trophy in 2020-21.
Fox will have familiar faces alongside him for the festivities in Florida.
Two of his Rangers teammates – goaltender Igor Shesterkin and forward Artemi Panarin – will also be testing out their talents against an impressive group of top players in the game.
Having the opportunity to share the experience with his teammates is a welcome one for Fox, who has posted 48 points in 49 games so far this season.
"It's great to have these guys along for this. I'm definitely happy that I have some guys on my team here with me to enjoy it with. They obviously deserve it and that just makes it even better having them in Florida."
The young defenceman will also be happy to be on the same side of two All-Star veterans – a duo who have combined to net over 2,900 career points over their respective Hall of Fame worthy careers.
"It will be fun to have [Sidney] Crosby and [Alex] Ovechkin on my team. Those are two guys I watched a lot growing up. Obviously, they are two of the best players the game has ever seen, so it will be a lot of fun to see them enjoying it and fun for me to be around those guys, knowing everything that they've accomplished."
Fox has long admired the pair, who have each been feted by their contemporaries on three occasions as the recipients of the coveted Ted Lindsay Award.
While he is excited to share the ice with some of the game's best players, don't expect Fox to be keeping tabs on his personal stats during the game on February 4.
"Guys are naturally competitive, but my approach is going to be more of a laid-back way, just enjoying it. It will be fun to meet guys, some of who I watched growing up. It's going to be a fun time and I'm looking forward to getting things going."
Like Fox, Vegas Golden Knights goaltender Logan Thompson will be making his first NHL All-Star appearance. With rookies Thompson and Stuart Skinner of the Edmonton Oilers sharing the Pacific team's net this year, they will represent the first time a rookie goalie has been named to the NHL All-Star Game since 2016 when John Gibson represented the Anaheim Ducks.
In November, Thompson became just the sixth goaltender in NHL history to earn at least six road victories during a calendar month.
The Calgary-born backstopper won the Aldege "Baz" Bastien Memorial Award as the AHL's outstanding goaltender for his 2020-21 season with the Henderson Silver Knights.
"When I got to Florida, that's when it started to hit me. I'm pretty lucky and I'm excited to be part of it. To have that chance to be around so many great players is something you really appreciate."
The 25-year-old's ascent to the NHL ranks has been well documented.
Thompson originally signed with the Golden Knights as an undrafted free agent in July 2020 after playing with the Adirondack Thunder and South Carolina Stingrays of the ECHL, at Brock University and with the Brandon Wheat Kings of the WHL. With his All-Star nod, he is set to become only the fourth player (following Al MacAdam, Paul MacLean and Mike Ridley) – and first goaltender – to dress in an NHL All-Star Game after playing hockey at a Canadian university.
He is looking forward to sharing the stage this weekend with some of the biggest names in the sport.
"There are so many guys I'm looking forward to seeing. Crosby, Ovechkin, [Andrei] Vasilevskiy, Shesterkin – these players and goalies who are so elite. I think a lot of what's happened to me lately, especially over the past three years, none of it was really on my mind. I know this is something I won't take for granted.
"A lot of the players here are people who I watched on TV before I was even in the league, so to be on the same ice on them will be that much more special. … What stood out for me when I was a kid was watching the shootout, seeing how talented the players were and watching the best goalie go up against them."
Thompson, who will have his father and stepmom in the stands, is looking to make the most of the two-day event before shifting his thoughts back to the intensity of the regular season.
"None of us were really expecting it – this wasn't on our radar – because there are so many talented and elite goalies in the league, so when I got the call, I was surprised as anyone. I think for me it's about having fun and I think that's the way the players look at it. I'm going to go enjoy it. There's no point in putting any pressure on myself. These guys are all talented and they're probably going to score goals, so I'm going to go in with that mindset of enjoying every minute of it.