Almost 900 NHL games behind him, Jordan Eberle adapts to the evolving game
Now in his second season with the Kraken, Eberle is enjoying hockey as much as he ever has.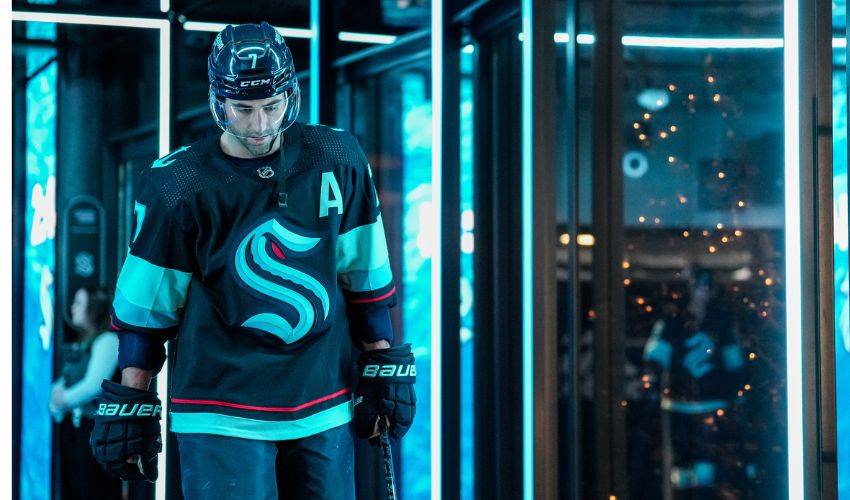 Feature photo: Getty Images
---
There isn't much Jordan Eberle would change when it comes to his hockey story.
"It goes by very quickly," said the NHL veteran, now in his 13th season. "I'm sure everyone says that, but it definitely has. It feels like yesterday that I was coming into the league. It's been a great ride so far, and I'm still chasing the Cup, but I still love coming to the rink every day. As long as you have that, it doesn't ever feel like a job.
Nearly 900 games into his big-league life, the 32-year-old forward, now in his second season with the Seattle Kraken, is enjoying hockey as much as he ever has.
Selected 22nd overall by the Edmonton Oilers in 2008, the Saskatchewan-born Eberle played 507 games with the Western Conference club before moving on to the New York Islanders, where he skated in 272 games.
Scooped up by the Kraken in the 2021 NHL Expansion Draft, Eberle was brought into the fold for his steady offensive contributions and veteran presence.
He has delivered on both fronts.
"It's a hard thing to get drafted, it's a hard thing to make it, but it's harder to stay. I think the biggest thing is being able to adapt. I think the league has become a lot faster over the last 10 years. The game has changed – I don't want to say a more skilled game – but there are less fights, less big hits, and the defencemen are these unbelievable skaters who can move the puck. You had to adapt."
As one of the team's elder statesmen and an alternate captain, Eberle is enjoying the opportunity to work with the Kraken's younger players, a group that includes 2021 second overall pick Matty Beniers and 2022 fourth overall selection Shane Wright.
He is happy to share some of the advice respected veterans imparted to him when he broke into the league in 2010.
"The biggest thing for me is to be as consistent as possible. Not only that but changing my game a bit to be a 200-foot player is also something I've done. I've tried to work on all of that to improve my game and stay in the league as long as possible."
Chasing a Cup remains the top priority for Eberle, who has 13 goals and 36 points in 62 career playoff games.
After a tough inaugural season, the Kraken have made huge strides in 2022-23, currently holding down a Wild Card spot in the Western Conference.
"I felt last year that our record was better than it looked. I didn't think we were a playoff-contending team last year, but I thought we were better than what our record showed. Coming into this year, I had a lot of excitement with our team. There were some big pieces, young guys coming in, so I knew we were going to be better. I think we've taken a bigger step than most people expected. It's still early and there's a lot left to go, but we're on the right track."
Thanks, in part, noted Eberle, to the team's up-and-coming talent.
"I think it's always important to have that young core. They add strength and youth to the group. It seems like the league is getting younger, but also the talent of those young players continues to grow. From my experience, when I came into the league at a young age, it's almost like a 'wow factor.' At least that's how it was for me. I feel like some of those young guys these days skip that factor and they're complete players right off the bat. It's fun having youth in your locker room, and it keeps the room loose, a real shot of fresh air."
It is one of many reasons Eberle is still excited every time he heads to the rink.
Chasing a spot in the postseason makes it that much more special.
"As you get older, and you're on the back nine of your career, the biggest thing on your mind is winning. And when you're on a team who is in contention, halfway through the season, it makes games exciting and worthwhile."
Eight games away from the 900-mark for his NHL career, Eberle, who remains one of the top players to ever suit up for Team Canada at the World Juniors, will continue to adapt his game in pursuit of adding a coveted Cup to his NHL résumé.
Regrets are few.
"You'd never be able to write the script at the start. When I started in Edmonton, I thought I'd be there forever. When I was traded to Long Island – we obviously had a very good team who made it to back-to-back conference finals – and I thought I'd be there forever. Then the Expansion Draft happened, and you're a little bit disappointed, but it has been great here, and we're having a great season.
"It's funny how things go, but I'm not sure I would change much of it. There are things you regret, like series losses, or things you felt you could have done to continue in the playoffs and not lost out on that, but the overall ride, the people I've met and the experiences I've had, I'm not sure you change it. Hopefully, there's still many more years to come."