'One of us' – players celebrate life and memory of Joey Moss
They don't play with the Edmonton Oilers any longer, but Jordan Eberle, Sam Gagner and Taylor Hall have no shortage of tales about iconic Albertan sports figure, Joey Moss.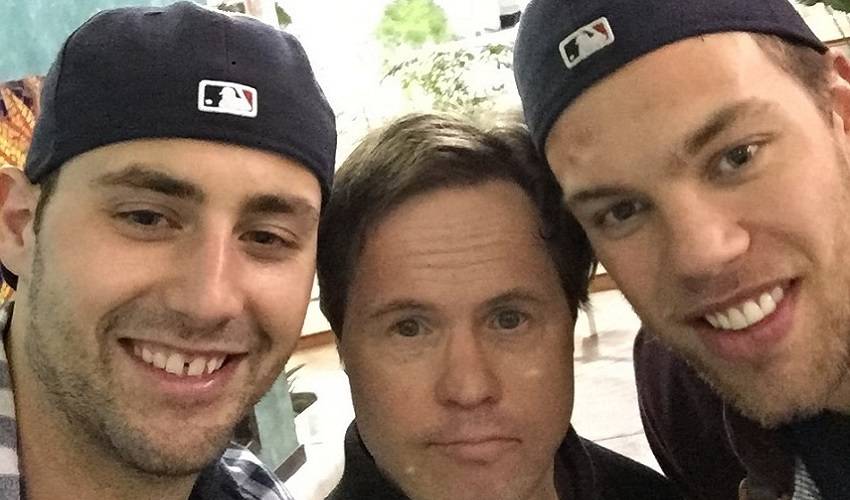 Feature photo: Twitter/ @hallsy09
---
Laundry lessons, stirring renditions of O Canada, and scorching hot cups of coffee. Jordan Eberle, Sam Gagner and Taylor Hall each have some great Joey Moss stories to share.
They don't play with the Edmonton Oilers any longer, but each player has no shortage of tales about the iconic Albertan sports figure who passed away recently on October 26 at the age of 57.
"The first recollection I have of Joey is when I messed up my laundry when I was a rookie in Edmonton," began Eberle, before he burst into a big laugh. "I won't forget that day and I certainly won't forget him."
Moss, who was born with Down syndrome, worked for the Oilers and Edmonton Football Team for decades as a locker room attendant. His contagious energy made him a fixture in the community and hearts of countless players.
From his daily duties of assisting staff with laundry, filling water bottles and various equipment tasks, Moss became just as well known in Edmonton as the players. Aside from his locker room duties, his name is also associated with his effusive renditions of O Canada.
Moss was the recipient of the 2003 NHL Alumni Association's "Seventh Man Award", which recognizes those "whose behind-the-scenes efforts make a difference in the lives of others."
Just over 12 years ago, he was honoured with a mural in Edmonton for his service with both clubs. In 2012, Moss was recognized with a Queen Elizabeth II Diamond Jubilee Medal.
All of them deserved acknowledgments for those lucky enough to know him well.
Eberle, who played with the Oilers spanning 2010-2017, has an abundance of stories about his friendship with the man who was inducted into the Alberta Sports Hall of Fame in 2015.
Those reminiscences include the time the right wing made a mess of his hockey uniform before and after it was tossed in the washing machine.
"I had been an Oiler fan growing up and I knew about Joey," started Eberle. "So, the first time I met him was centred around laundry. Every team has these laundry bags – in junior they're a little different – and I must have done it wrong my first camp. My laundry bag had broken in the machine. The trainer at the time had Joey come and show me how to do it. That was the first time I met Joey. I remember all the guys watching and laughing. But that was Joey. Every day you came to the rink, he put a smile on your face."
Sam Gagner, who has played with the Oilers on two occasions, including 2007-2014, also recalled his first interaction with Moss.
"I remember getting to Edmonton and I was just a kid, 18-years-old. I had heard lots of stories about Joey and what he meant to the franchise and to the players that were there before I came. He'd come in that room and he had that presence about him."
The sixth overall pick of Edmonton in 2007 learned early on that when it came to verbal jousting, Moss could give as well as he could take.
"He made fun of us and we made fun of him," said Gagner. "He always found a way to keep it light in the room. During some tough years in Edmonton, he was what kept things together, and made it a fun room to be a part of. That will be missed."
Eberle echoed the sentiment.
"That's the biggest thing with Joey. He was one of us. He picked on us, all in fun, and the guys gave it right back. He was part of our team and that's what made him such a great person. All of us will miss that."
Taylor Hall, the first overall pick of Edmonton in 2010, played 381 of his 627 regular season NHL games with the Oilers.
Like Eberle and Gagne, the 28-year-old left wing has been thinking of Moss a lot lately.
"He was such a huge part of the team and the culture in Edmonton," noted Hall. "He was really a ray of sunshine. He could brighten your day with a smile or a joke. He woke up happy every day. Being around someone like that makes you feel very fortunate."
According to Hall, Moss could handle a cup of coffee like no one else.
"He had his things that he liked. He liked his coffee super, super hot. It would be out of the pot steaming, and he'd put it back in the microwave for another minute. He just loved his coffee and he had about eight cups a day. He was just awesome.
"Another thing that stands out for me is that when we had a Halloween or Christmas party, the wives and the girlfriends would have a chance to meet him, and they were just blown away with the person he was and the energy he brought."
It's one of many examples as to why Eberle, Gagner and Hall often refer to Moss as "one of the guys," a person they regarded as a teammate.
Whenever Gagner needed the team to autograph something for charity, he always asked for Moss' signature on it.
"I always got Joey to sign it. We considered him one of the boys and he was part of our team. He was a huge part of things there. He was the life of the room."
Moss was just that on the ice as well.
His renditions of the Canadian national anthem earned rave reviews from the players.
"I remember that first training camp," Gagner started. "Every one is split up in different dressing rooms and you'd see Joey in passing. You'd meet him, but he had a lot going on during training camp. Our first game – it's always an intra-squad game called the Joey Moss Cup – he sings the anthem. That really stands out to me. He comes out and sings with such passion. All the new guys are looking around like this is incredible and the guys that have been there a while are standing there smiling. It was always a great moment, those games."
The news of Moss' passing brought out a myriad of emotions and recollections for Eberle, Gagner and Hall.
Despite the sadness of losing someone they considered a friend, each is grateful to have had the opportunity to know Moss.
"I'll never forget that smile," said Gagner. "He could certainly light up the room. He had a great sense of humour and he was always laughing. I always considered him one of us. I look back and think about what a full life he lived. [Fellow NHLer and former teammate] Andrew Cogliano and I lived together a number of years in Edmonton, and we developed a special relationship with Joey.
"I remember calling Andrew immediately after I found out Joey had died, and we just ended up sharing stories about him. As much as it was a sad day, it was a chance for us to celebrate everything he was able to accomplish and the impact he had on everybody. It's nice to have the chance to talk to guys, reminisce and share stories."
Hall, now a member of the Buffalo Sabres, has enjoyed the opportunity to speak about the impact Moss has had on his life.
"When you went out in the city, having people come up to him and say, 'Wow… that's Joey Moss,' he just loved that. He knew he was a rock star. There's something to be said for the impact he had on people. It's been nice to talk about those times with other guys."
Eberle, who was traded to the New York Islanders on June 22, 2017, has done the exact same, reaching out to former Oilers and talking about their time spent with Moss.
"It hit me pretty hard when I got the news. I was with him for seven years and we got really close. We would go for dinner all the time, and obviously, I saw him every day at the rink. He was big part of what it meant to be an Oiler.
"From the time he started with the Oilers in the 1980s up until his last year, every hockey player that was with the team knew him and have great stories about him. But the community, there are a lot of people with special needs in Edmonton and western Canada that look up to Joey. Not only that, but fans too. You have to look back at the life he lived and the amount of people he touched. It's amazing."
And thanks to Moss, Eberle knows how to do his hockey laundry properly.
"Honestly, my first interaction with Joey is him making fun of me. That's a great memory. He was a good friend and he'll always mean a lot to me."