400 NHL games onward, Jake Guentzel remains hungry for more
Coming off a personal-best 84-point season, Guentzel's approach to the game remains the same.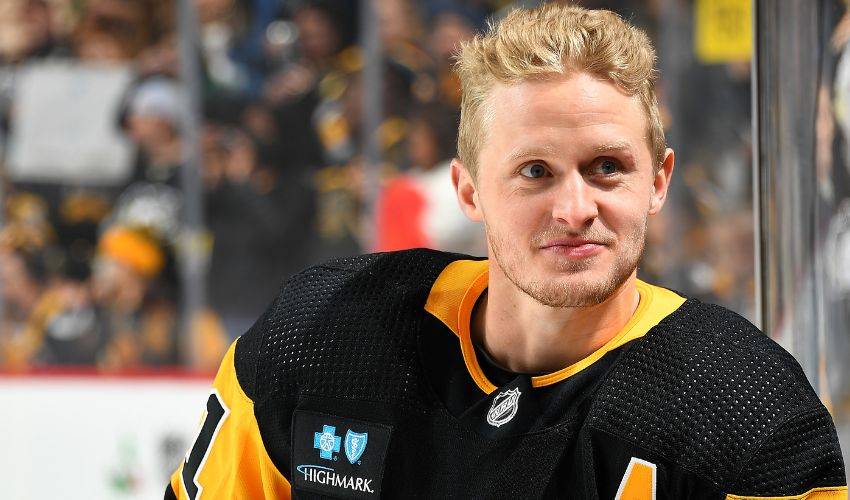 Feature photo: Getty Images
---
Despite making the transition to the NHL look seamless in his debut, Jake Guentzel never thought for a second that life in the big leagues would be easy.
It took all of one minute and two seconds for the Pittsburgh Penguins left winger from Omaha, Nebraska, to score his first NHL goal, the tally coming in his first shift and on his first shot. Twelve minutes and 10 seconds later, he lit the lamp again on his second shot.
"It's definitely a nerve-wracking day and you don't really know what to expect," recalled Guentzel. "To have my family there, it was a really special moment for me. Scoring on the first shift, I was just trying to put the puck on net and kind of blanked out after that. I can't say I remember too much after that. Unfortunately, we lost, but it was special to score those two goals."
His approach, nearly 400 games later and coming off a personal-best 84-point season, remains the same.
For all the successes, including a Stanley Cup in 2017 with the Penguins, and five consecutive campaigns recording over 20 goals, including a pair of 40-goal seasons, the 77th overall selection of the Penguins in 2013 has remained unaffected by the highlights, both team-wise and personal.
Instead, Guentzel opts for a game-by-game outlook, never willing to get too far ahead of himself or rest on any laurels.
"When you start out, you're just hoping to get a chance, to play a couple of games and hopefully make some kind of impact," said the 28-year-old, now in the midst of his seventh NHL campaign.
"Once you get a taste of it, you want more and more. At the time, you just think that it's a dream to play in this league, and that you feel very fortunate to be a part of it. It's been more than I could have ever dreamed it to be, to play in this league, and play against the best players in the world. I didn't take it for granted then and I still don't to this day."
Breaking in on a team that featured future hall of famers Sidney Crosby, Evgeni Malkin and Marc-Andre Fleury, Guentzel had a perfect cast of players to learn from.
Often, the then rookie picked up invaluable insight simply from observing.
"There's always someone that can take your spot, so you have to keep that competitive mindset and bring that every day. I'm just trying to make sure, day in and day out, that I'm bringing my best. I'm always trying to get better. I'm fortunate I came into the league where I was surrounded by superstars and good guys who helped pave the way, who showed that you have to work at it every day. It stuck with me, that no matter how old you are, how many games you've played, you always have to bring your best. I'm grateful for that."
Just as Guentzel is for the support of his parents, Mike and Sally, and brothers, Ryan and Gabe.
"They've been everything. My dad has been a college coach for a long time, so he knows the game of hockey," said Guentzel, who was a stick boy for the University of Minnesota when future Penguins teammate Phil Kessel played with the Mavericks. "Both my brothers played college hockey – they are six and eight years older than me – and I got to hang around them and play hockey. I always wanted to beat them wherever we were playing, and I think that competitive spirit is something I've always had. My dad was away a couple of years when he was coaching in Minnesota, so it was just me and my mom for a little bit. She took care of me and took me to all my games. I know I wouldn't be here without them."
Nor would he be without the experience of playing three years of collegiate hockey with the University of Nebraska Omaha.
In his freshman year, Guentzel was selected to the NCHC Academic All-Conference Team, the NCHC All-Conference Rookie Team and was a finalist for NCHC Rookie of the Year honours. In his sophomore campaign, he was part of the group that led the Mavericks to their first appearance in the Frozen Four. Prior to the start of the 2015 season, Guentzel was named a co-captain.
That time at Nebraska Omaha taught Guentzel, among many things, the importance of focusing on more than just the game.
"When I was at Nebraska, I was fortunate to have great coaches and great teammates. I stay in touch with a lot of them to this day. You have to be a good person outside of the rink. You also have to be a good teammate. You might be a good hockey player, but if you're not a good person, you might not fit in with the group. It's a big part of it, to be the type of player and person that is unselfish and doing what you can to make a difference."
Something that Guentzel continues to do with the Penguins.